With somewhat of a 4 hrs delay (they didn't get us out of the aircraft at Stockholm airport for some reason) and still hangover-tormented, I arrived in Stockholm city during the rush-hour in the early evening. With the night closing in under a grey and clouded sky I didn't see that much from the city and still felt bad as hell… the sky answered with big rain drops. Well, wanted to have a shower anyway… Soaking wet I arrived at me boat hotel, added some shampoo to the wet hair, tried to shape me up as a human being again and had a chilling hour before I headed for the Debaser club, which was just around the corner, more or less ;)
:: pics ::
"Under the bridge downtown, I could not get enough"… The Debaser club is literally located under the bridge, which connects the old town of Stockholm on the isle Gamla Stan with the isle called Södermalm. It's actually a great location, where the architecture of the bridge got cleverly integrated into the club. Unfortunately the club was just moderately filled, at best two-thirds at the end. Not much going on at the merchandise either…
Step by step I caught sight on the band members and they looked devastated *lol* I meanwhile tried it carefully with a glass of water and some eatable food, which indeed was exquisite and delighted my senses ;) My stomach seemed to be calmed and so I was ready for the first (and very expensive) beer again ;)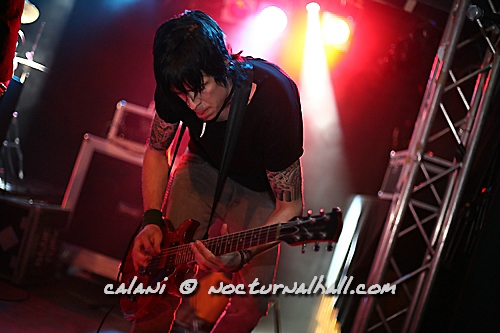 This evening's support came from Borlänge-based act :: STONEWALL NOISE ORCHESTRA :: They kicked off on time at 8pm and just blown me away. Waaah, what great sound! 70's influenced Stoner Rock with a shot of Doom and somewhat of a Postrock/core attitude. Black Sabbath meets Kyuss meets St. Vitus or so. Groovy, dusty and pure Rock'n'Roll! Since I just could make out 2 songs from the 2005 debut Vol.1 I assume the rest have been new songs, especially since the band has announced to work on a follower ;) In the meantime this mentioned debut record got re-released with bonus tracks. Just for ones interested in STONEWALL NOISE ORCHESTRA ;) C'mon guys, shake a leg. I definitely keep an eye on these cats ;)
Setlist: Super Fortress, Hollow Parade, Venus Travel Agency, Two Sides Of A Sin, Sideshow Messiah, Clone Baby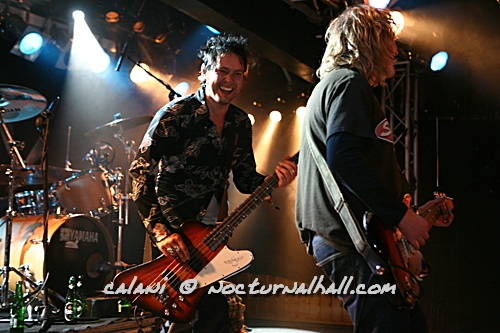 Afterwards :: WARRIOR SOUL :: took a cultivated hour of time till they jumped onto stage. A bit too long if you ask me. Janne Jarvis was the only one halfway looking fresh and agile, but that didn't restrain the band from rocking like hell ;) Just Kory's voice was crappy, being evidence of the last night's party. On the other hand it seemed that Johnny H got infected by the aggressive stage performance of Rille and Janne and started to rock on the same high level of energy ;) The first rows downright freaked out, leaving no room for anything but movements. The rest of the audience took it easier. Setlist was almost the same; just a few songs from LDDC were left aside. Admittedly the beginning was quite… weary, but with every new song WARRIOR SOUL came more and more alive and represented themselves at the end as they use to be: wild, stirring and energetic. And suddenly… no one wanted to stop anymore! Fuck yeah, first getting late in action and then not wanting to stop… tststs… *lol* After Wasteland was played the band didn't think of leaving the stage. No way! They had a short chat and played another three songs. The crowd looked quite… strange about this situation *lol* But the first rows of course much welcomed this additional encore… hehehe. Indestructible these guys. That's why I love them so much! :)
Setlist: Intro, Interzone, Love Destruction, Punk And Beligerant, No No No, We Cry Out, Losers, Downtown, Trippin' On Ecstasy, Super Power Dreamland, Charlie's Out Of Prison, Lullaby // The Drug, Let's Get Wasted, Shuck Um Down, Party // Wasteland
Ok, this Swedish show wasn't that great as the UK shows have been, but it again was a blast.
And one thing became clear: Kory's voice is damageable, no matter if due to illness or hard partying nights and booze. You will hear it and a show suffers from such circumstances a bit. Should WARRIOR SOUL embark on a longer running tour, Mr. Clarke better contains himself a little; otherwise I'm afraid, he will end up at a speech therapist with shredded vocal chords…
Another after show party followed, more fun, more booze ;) Although alcohol is so damn fucking expensive here people quaff like heretics. Swedish people must earn a lot of money then ;) However, me, I and myself kept a low profile, because I didn't want to die again and I wanted to do some sight-seeing next day, without a huge hangover ;) And so I did… great city… I'm coming back!