C U LaTour
Well, here we are… 27 years later, after one of the most legendary, pioneering and highly influencing band was founded, we are here and now to lay this band to rest forevermore, at least here in Cologne. Yes, tonight's show has to be the very last MINISTRY show ever for me. What wasted musical genius! But… as he said, Al Jourgensen will keep the things going with his label 13th Planet and in all of his countless band and projects. I think he will still surprise us in the future… ;)
It actually was a nice day so far, quite relaxed, but arriving at the Live Music Hall some chaos was again unleashed upon me. A little bit belated (but still within the academic quarter) I messed up with my interview date, leaving the tourmanager pissed off (he had my mobile number but I didn't have his one to call him up for that *sighs*). Punishment overtook me straight away… my photopass was missed.
To make matters worse a second support band started playing no one had on its schedule dismissing the noise as soundcheck. Took some time till we got it and jumped into the hall to see what's going on there… ;)
:: pics ::
…at least no soundcheck anyway ;) The hall was gaping empty with the Germany, Berlin-based surprising guests rocking the stage. :: SELECT YOUR FIGHTER :: played a 20 minutes gig more or less for themselves than for anybody else, and – as so usual at the LMH – without a lightshow. And since Ministry already had their equipment on stage, including their mesh-wire fences, the Berlin cats had to arrange themselves on a little space.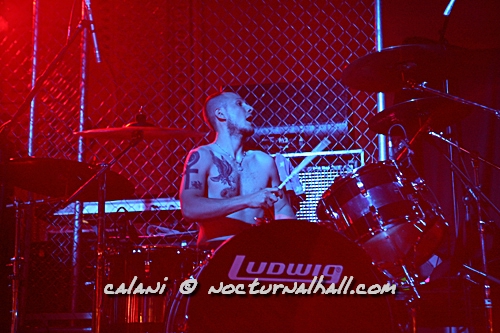 The announced support band :: MY UNCLE THE WOLF :: I almost completely missed, because I still got my interview date with Tommy Victor and was chatting with him during their set ;) When I was back again I just could witness the band playing the last two songs. I wish organizers would have cut out the first band and MY UNCLE THE WOLF given more time. I never has heard of this band before, but being described as Southern Rock with a psychedelic Stoner touch, more alternative than metal, like a softer version of Down, made me much curious. Anyway, what I got to hear was much heavier than the songs I was listening to on myspace ;)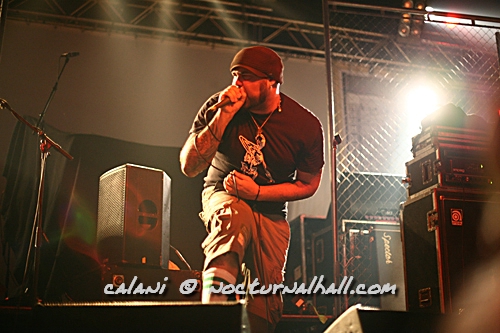 :: MINISTRY :: took up much time to allow the fans to buy more beer and to prepare themselves ;) While the stage-techs changed the backline and pushed the fences at the front of the stage one could immediately see photographers taxing their brains how to take photos best through the mesh…
The hall finally got crowded and half past nine MINISTRY entered the stage accompanied by lotsa noise and screams, choirs and the intro ;)
MINISTRY kicked off with thundering power and energy and their last record The Last Sucker, stopped at Houses Of The Molé, cruised to the Rio Grande Blood and then let the fans completely freak out with the old classics. Fuck! Was that great! Al acted quite reserved and just leant over the fence at the end of the show to wave to the crowd. Tommy, Toni and Sin made it better and rampaged the stage like lunatics, pulled faces and made other nonsense behind and at the fence, while hundreds of bodies twitched and fidgeted under hammering Industrial sounds to ecstasy. Ok, setlist was still the same, nothing has changed on it and so it was clear what to expect next, never mind, wasn't tragically, although I'd have had some nice ideas for a different one *lol* BUT… despite of an almost 2 hrs running show they cut two songs from the setlist (Just Got Paid, Roadhouse Blues)… *buuhuu*. These two songs more … wouldn't have done any harm, would they?
Setlist: Let's Go, The Dick Song, Watch Yourself, Life Is Good, The Last Sucker, No W, Waiting, Worthless, Wrong, Rio Grande Blood, Senor Peligro, LiesLiesLies, Khyber Pass // So What, N.W.O., Just One Fix, Thieves // Wonderful World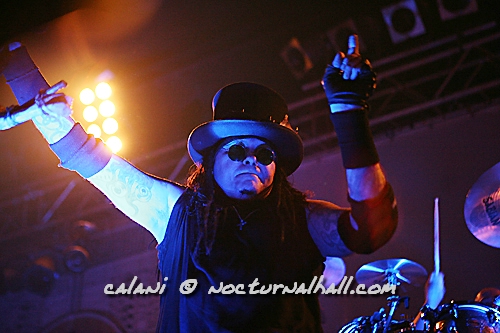 After almost 2 hrs playing time fans got MINISTRY bid farewell to the spirited crowd with the grandiose cover version Wonderful World. Everybody was drenched in sweat, exhausted but happy till death having been here tonight. At least I haven't heard anything to the contrary. Atmosphere was really marvellous as well as the farewell show itself. Attending several shows is probably like dying many little deaths, every night, especially for the band members, since it is known that these guys would have been more than just lucky to continue in MINISTRY. Well, there are still around 4 weeks to play over Europe, but the end is in sight, it's unavoidable *sighs*
What a great show!
Funny note: Just at this day Al's arch enemy G. Dubya B. was in Germany on his own CU LaTour, munching asparagus with la Merkel. Dunno if he knew about that, if so, I'd like to have seen his face ;)
Apropos… has Ace Frehley been there at the end?
What's still left to say? With a laughing and a weeping eye we say rest in peace MINISTRY and goodbye Al, see ya soon!