Bohren & Der Club Of Gore - Entombed - The Ocean - Wolves In The Throne Room - Master Musicians Of Bukkake - Hacride - The Pattern Theory • Second Stage: PG.Lost - Arms & Sleepers - Monotekktoni - Der Weg Einer Freiheit - Fredy Rotten • Efterklang - The Black Heart Procession - Olafur Arnalds - Crippled Black Phoenix - Long Distance Calling - Grails - Samavayo - Nils Frahm - Aucan • Amen Ra - Taint - Tephra - Leech - Elyjah - Robin Tom Ring - Kam:As - Formelwesen - Zatorkrev
When it comes to festivals in Germany and Europe only a sigh escapes my lips due to the countless ones already existing and still springing up like mushrooms. Seems like everybody involved in the music biz wants to seek financial salvation in festivals… So, are we in need of a new festival? No! Or maybe we are? There is a niche still unoccupied ;) A risky thing but worth a try, so at least Berlin-based guys Robin Steps of THE OCEAN, Thomas of • Viva Hate Records • and Marco of • Octacle Booking • might have thought and started into the FRICTION FEST. A brand new festival living up to its name with such a multi-colored line-up, musically, that is unique! The gents got balls!
When I came aware of this festival first time I was left stunned. In a twinkling of an eye it was clear, this is an event of "must-be-there"!
:: Live reports :: Friday :: Saturday :: Photos :: Friday :: Saturday ::
First the FRICTION FEST was planned to have two stages in two different clubs on the same area. A few days prior the festival the owner of • Astra Club • managed to unite both stages under his own roof. In retrospect not the worst idea. The lounge of Astra Club was big enough for the second stage and so we did not have to switch quickly between both clubs and almost overlapping stage times. Very comfortable ;) Admittedly the sound was really bad at the lounge.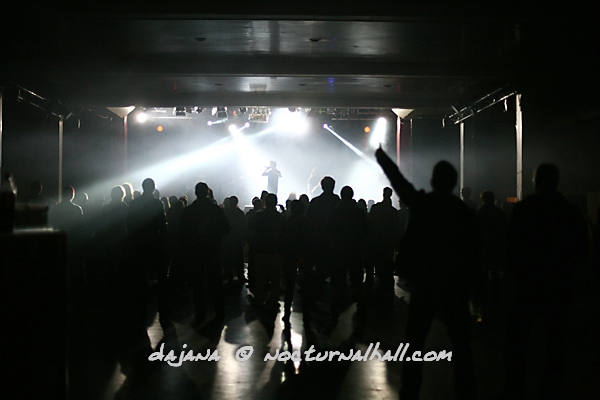 Musically organizers focused on Indie- and Post Rock with a few (black) metallic splashes and some very rare bands and performers from the US and Iceland for example. Half of the bands emanates from Germany and by the majority directly from Berlin. If you know Berlin you won't wonder that every creative mind wants, if at all, relocate there ;)
However, one third of the billing I have never heard of but first audio samples on myspace rose expectations and I was really, really looking forward. There were so many new bands and music to discover. A festival turns into Cockaigne… ;)
Summary: An awesome festival with a breathtaking line-up and a very relaxed atmosphere. Also the
Peripherals were nice: the obligatory merchandise, really tasty vegan food (meals and cakes) and a bratwurst stand, all for 2 Euros, beer 3 Euros. Almost perfect ;)
If there is anything to nag about, then first the lights (What light? There was not any at all?). Not only as a photographer, but also as a fan, you mostly got to see some shadow plays. And second the fact that is wasn't allowed to leave this area. If necessary at all, please announce it next time clearly before and put more food on the area. There is enough room left.
Oh… and maybe less bands and longer playing times. Most bands only played for a half hour…
So, and now I hope the FRICTION FEST gives a good return, I want to see a second edition! :)