Die Krupps • Diary Of Dreams • Qntal • Soko Friedhof • Rozenkrantz
Grendel • Xotox • Noisuf-X • Sam
• pics •
This year's third edition of DARK AREA FESTIVAL had to be my debut there, while the festival itself blossoms into an essential indoor event. I didn't really know what to expect and so I was much looking forward and was very excited about the things to come ;) The trip to Kassel was an easy task and after a little break and some good food in an Italian restaurant we got driven to the Nachthallen. And this location downright blew me away! Wow, what a great venue! I was totally enthused, really. The Nachthallen is a huge hall system with many nooks and crannies, giving room for bars and corners to meet, 2 event halls and a dancefloor, and an own bistro, really open till the end and serving delicious food ;) Ok, at 3.30am, when we descend on the bistro hungry like wolves, we were not the only ones and had to wait 15 minutes. Time to fool around… hehehe… "I am a chicken meal"… I tell ya… ;)
After an extended exploration I paid attention to the mainstage, where :: ROZENCRANTZ :: opened the festival evening. The Gothic rockers from Osnabrueck didn't have an easy start since the main hall was still empty and the few attendees quite reserved. The band was seemingly nervous and still less experienced but played their show with much heart and soul :) All four tracks from the upcoming EP Romancer were played (to be released on Nov 11), plus three other ones, whereas Dissolve got stuck in my ears.
Setlist: Forsaken, Right From The Start, Bound To You, Dissolve, The Price We Pay, Skin On Skin, Into My Heart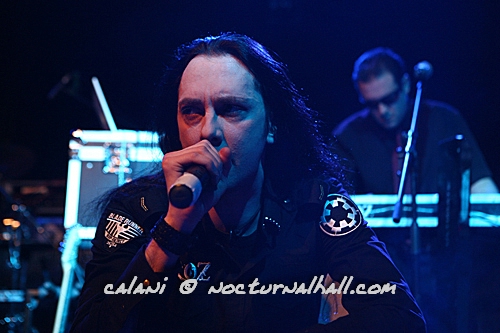 Time to switch to the Industrial stage, where :: S.A.M. :: (Synthetic Adrenaline Music) got in with harsh and technoid beats. This smaller venue was all the time very crowded, with a stage wrapped in much smoke and stroboscope battering on a lively dancing audience. This stage became immediately magic to me, SAM just started to hypnotize me ;)
Setlist: Arm Of Justice, Catatonic Dreams, Hard Technology, World Of Shit, 24 Stunden, Burn, Buzz Chamber, Enemy List, Bull Fucking Shit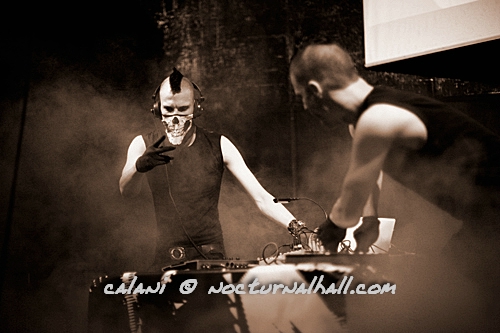 Back to the mainstage I had to experience the most embarrassing and ridiculous show of the evening. :: SOKO FRIEDHOF :: consisting of David A. Line and Greta Csatlós, came up with three dancers that tried to move lascivious and erotic while looking deadly bored. Frontwoman shined with infantile lyrics and an absolutely no-go in fashion. Everybody knows her panties now, but you definitely don't want. Her partner in crimes appeared likewise bored; even worse, he noticed her fashion disaster and didn't give her a hint. Not my cup of tea.
I left early, got armed with beers and strolled back to the Industrial stage to check out :: NOISUF-X :: I haven't seen any of the bands on here before, what made me very curious about every act. More smoke, less light and once again visuals on a huge screen behind. Mastermind Jan, also known as X-Fusion, got accompanied by a live drummer. I put the cam aside and joined the dancing mob.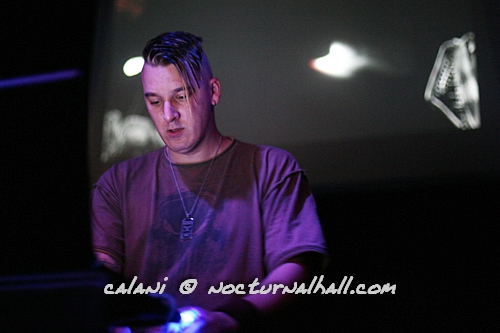 A hyper jump into a completely different world :: QNTAL :: brought, when singer Syrah was angelic floating over the stage and enchanted every romantic soul in the hall with electronically touched mediaeval tunes. Michael Popp was picking different kind of instruments the band normally creates on their own from medieval instructions. Also QNTAL have a new record up their sleeves entitled Transcludia that wants to be supported, with another tour in the near future ;) Just wonderful!
Setlist: Translucida, Palästinalied, Dulcis Amor, Departir, Ecce Gratum, Entre Moi Et Mon Amin, Glacies, Mayden In The Moor, Veni, Sumer // Ad Mortem Festinamus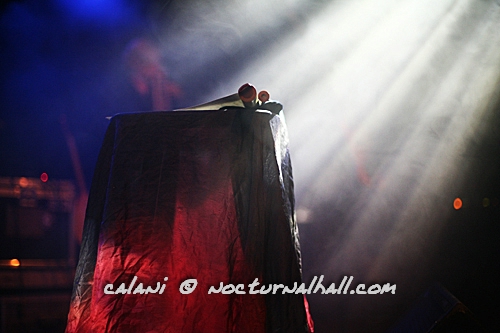 While the mainstage offered a much varied program, nothing did on the Industrial stage. A crowded place, smoke, strobos, a screen and another duo entering the stage :: XOTOX :: Ok, one single difference was to made out: one part of the duo was female. Took some time to realize that under these huge Mickey-mouse-headphones and the black mask ;) Quite whimsical a lighted plush drum was, which got fed with smoke and sent out rays while drumming.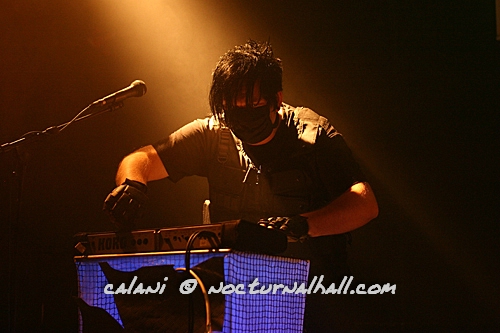 Now it was upon time to adore one of my all time fave :: DIARY OF DREAMS :: Just back from a short UK stint the guys around mastermind Adrian Hates were in best mood and rocked down the mainstage as thrilling and captivating as always ;) Ok, no surprises so far in performance or setlist, on the other hand, DIARY OF DREAM were on the way to Australia the next day, so when and where to rehearsal for something new? ;) Traumtänzer was sung again by the audience and Soulstripper was the cue for Adrian's to open his mane. Both parts burnt out themselves: the crowd while dancing, singing and frenetically celebrating, the band while rocking. Only faster songs were played keeping up the high level of energy from the first till the last second of this show. Again an awesome show! DIARY OF DREAMS make you addicted!
Setlist: Nekrolog 43, The Plague, Chemicals, She, Butterfly: Dance!, Hypo)crypticK(al, MenschFeind, AmoK, UnWanted, Traumtänzer, Soul Stripper, The Curse // Kindrom
Finally :: GRENDEL :: were up to finish the Industrial turn. Owning their CD's I though haven't seen them playing live yet. Singer Jos aka [VLRK] got supported by one drummer and one guy behind the knobs. Jos himself didn't stand still any second, causing much movement on this tiny stage ;) It goes without saying that the hall was much crowded again, and of course smoke, strobos, screen… ya know ;) Best show on the Industrial stage, although I was begging for more light…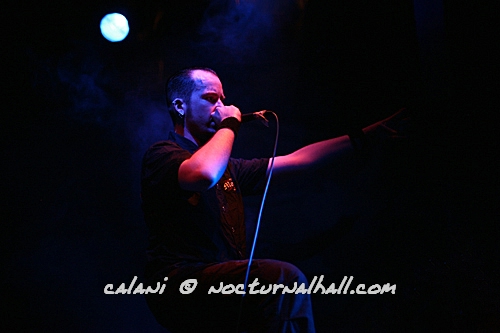 After 1pm, the main hall draining and people becoming tired and exhausted :: DIE KRUPPS :: made it to pump energy into audience, getting it up and partying again. Singer Jürgen Engler got seemingly inspired by Grendel's Jos and was running over the stage all the time, stopped every now and then to maltreat his "steelophon" or to pose menacingly. The classics of course made the crowd freakin' out, egging on the band for an explosive show. Ok, I had to listen twice when they played a cover version of Propaganda's Dr. Mabuse, but hey, it was late… ;) A great finish for a great festival evening and an even greater location ;)
Setlist: Crossfire, Isolation, The Great Divide, 5 Millionen, Germaniac, Der Amboss, Dr. Mabuse, Zwei Herzen, ein Rhythmus, Tod und Teufel, Alive, Dawning Of Doom, High Tech, Low Life, Metal Machine Music, To The Hilt, Fatherland // Machineries Of Joy, Bloodsuckers
No one wanted to leave afterwards, but the employees were merciless sweeping the people out from one corner after the next with us ending up at the bistro hungry like wolves. And here the circle closes. Mission complete! ;)
Upshot: Great festival! I had a lot of fun, got surprised and I'm… coming back next year! For sure! Only little downer was the badly smoked Industrial stage and the fact, that I had to switch between both stages, covering this festival all alone for the mag.
Next day me and the dreamer girls started for some sight-seeing to the Wilhelmshoehe, with the Hercules monument on it, the castles, fountains and grottos. Once down and up again. Really strenuous I tell ya, but worth it ;)