Polish black metallers BEHEMOTH have come a long way, building an almost three decades spanning career that is quite impressive. They have released 11 records so far, almost each of them a conceptual and profound masterpiece with excellent artwork, booklet and merch design. For their art BEHEMOTH do not fear to upset authorities of governments and churches, which already led to an expulsion or an entry ban. They fight for their art, develop and evolve musically, experiment and are open minded to various influences. And their shows are phenomenal live ceremonies.
I remember times when I have seen BEHEMOTH in small clubs like the Turock for example. Now, their gatherings need big venues.
BEHEMOTH have released a new album in October last year. The excellent I Loved You At Your Darkest received widespread acclaim by both critics and audiences and made it up the charts around the globe. With a new live and light show BEHEMOTH embarked on a headlining tour across Europe that made its way to the :: Turbinenhalle 2 :: in Oberhausen, Germany. Since it was a mid-week show, it was an easy travel. No organizational chaos either. The show was not sold out but packed. No price regulation at the merch for the support bands but the usual high-range price segment for BEHEMOTH. Tees 30 Euro, hoodies 50 Euro, you know...
:: pics :: WOLVES IN THE THRONE ROOM ::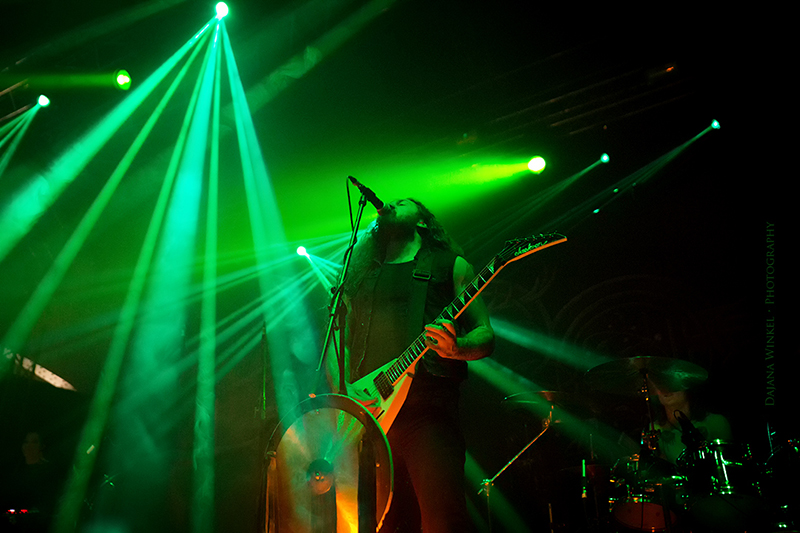 The evening was kicked off by Olympia, Washington-based stellar Ambient black metallers :: WOLVES IN THE THRONE ROOM ::. Their short 30 minutes time slot only allowed them to play three tracks, all of them from their latest effort, Thrice Woven, which still conjures magic two and a half year after its release. The conditions were a bit hectic and the show was way too short to build up that unique and mesmerizing atmosphere, WITTR are known for. I missed the intimate surroundings of a club, where the incense makes the whole venue smell like the West Pacific forests they emanate from. Tonight the incense reached the first row at best. It all did not redound to their advantage but WOLVES IN THE THRONE ROOM made the best out of it. The show was well received by the crowd yet with a certain aloofness.
Luckily have seen them in full length on their headliner tour in summer last year, so I was still happy for what I got tonight. Great show!
Setlist: Angrboda, The Old Ones Are With Us, Born From the Serpent's Eye
:: pics :: AT THE GATES ::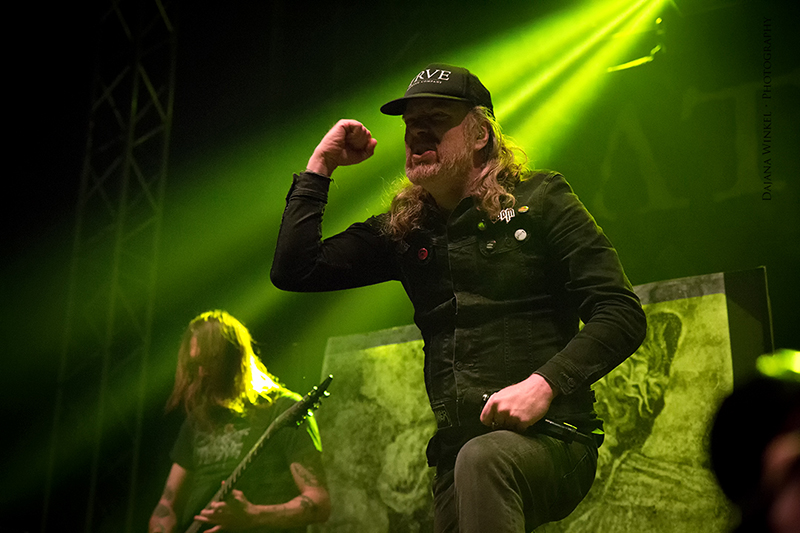 To see :: AT THE GATES :: not headlining is as odd as rare. But this package as a whole is worth to make an exception, and I'm sure it paid off for the Swedes.
To Drink From The Night Itself is the second record in the second coming of the band. It was released in May last year but so far only presented live in Europe on festivals. To give even more to the fans, AT THE GATES released two exclusive tour EPs, The Mirror Black as 7" vinyl and With The Pantheons Blind as digital EP right on time the tour was kicked off.
The creators of the Gothenburg Death Metal sound now had more room on stage, giving fronter Tompa Lindberg the possibility to cover every corner. Under blazing white lights, smoke and stroboscopes, AT THE GATES did not take any prisoners. From the first second on, the Swedes brutally went through their set of old and new songs with hardly any pause to take a breath. Tomas Lindberg always tried to animate the crowd. Not the easiest task, again. Methinks, the German audience learned how to be cool and reserved by watching Dutch or Belgian fans way too often. To freak out at shows seems not to be hip anymore. And AT THE GATES would be predestined to actually do so, wholeheartedly. I anyway have not seen any circle pits going on, haven't I? Did anyone else?
However, AT THE GATES played their asses off, made jaws drop by the precise and relentless high-energy drumming of Adrian Erlandsson.
The Swedes killed it. It was a stunning show that put a big and long-lasting smile on my face. 50 minutes of pure old school Gothenburg Death Metal at its best. Yeah!
Setlist: Der Widerstand (Intro), To Drink From The Night Itself, Slaughter Of The Soul, At War With Reality, A Stare Bound In Stone, Cold, El Altar Del Dios Desconocido (Interlude), Death And The Labyrinth, Heroes And Tombs, Suicide Nation, Daggers Of Black Haze, The Book Of Sand (The Abomination), Blinded By Fear, The Night Eternal
:: pics :: BEHEMOTH ::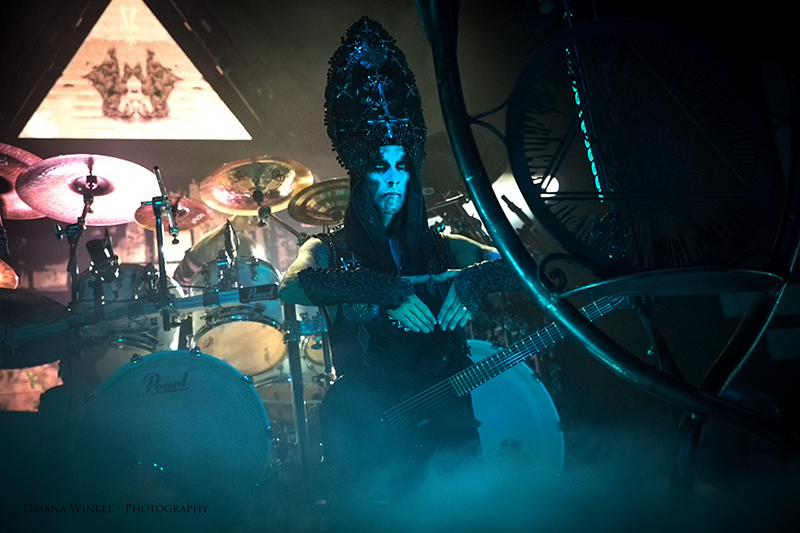 Curtains were raised and the change-over took a bit longer while serpent's heads and other symbols were flickering over the canvas as the children chant "Jesus Christ, I forgive thee not!". Pyros, smoke and jets were announced to us photographers so that we had to leave the pit and were not allowed to photograph exactly this. Damn…
:: BEHEMOTH :: are known for their exceptional live shows. Performance, make-up, stage-setting, lights and sound were indeed spectacular. Whatever they do BEHEMOTH are perfectionist. The whole show might in fact feel like too choreographed and too smooth but this way it has the maximum impact visually. You eat with your eyes too, so to say…
When the curtain fell BEHEMOTH were frenetically welcomed. The whole venue was about to freak out. Okay, such kind of show is what the kids want today and came for tonight ;) The band of course focused on their newest masterpiece I Loved You At Your Darkest, were they played 7 of 12 tracks (okay, 2 were the intro and the outro ;)). Additionally they played two songs from each Demigod and Satanica.
Columns of fire were shot and CO2 jets created inverted crosses. For sure an eye-catcher. The fans screamed, shouted and raised fists and horns, cheered and adored the band. Fronter Nergal did not say much but when he thanked the fans for their ongoing support. Professional to the bone but in no way snotty or airs and graces-ridden.
The show came to an end the way it begun: with the second to last track from the new album and the outro. The circle closed.
That was a killer package of two outstanding support bands and a mind-blowing headliner, a memorable concert evening and an early highlight of the year. Love you at your darkest, baby!
Setlist: Solve (Intro), Wolves Ov Siberia, Daimonos, Ora Pro Nobis Lucifer, Bartzabel, Ov Fire And The Void, God = Dog, Conquer All, Ecclesia Diabolica Catholica, Decade Of Therion, Blow Your Trumpets Gabriel, Slaves Shall Serve, Chant For Eschaton 2000, Lucifer, We Are The Next 1000 Years, Coagvla (Outro)