It has been 8 years now that BAUHAUS played any show, except the one for their second reunion on last year's Coachella Festival in California. The more I was surprised to get to know about a European tour in 2006 giving me the possibility to see them performing live again. But, to be honest, I did not expect to get just a chance again, even if I wished. Too many rumors were afloat about differences between within the members. But it seems that is now history. In recent interviews they even announced to write new material… as they did 8 years ago without recording any new songs apart from Serverance. So let's wait and see…
The current tour is called Near The Atmosphere without any new album but in support of their latest DVD (re)release, which does not contain any new or unseen material but the Shadow Of Light and Archive video. Both of them were just available as VHS tapes. Now they are in the shops in brilliant quality and much better super sound.
:: pics ::
Compared with the concert hall in Cologne the venue in Berlin was really a big one. Great to see approx. 4000 people going mad, while seeing their heroes that kicked off the Gothic movement in the early eighties. Likewise interesting was the fact that there were not many young people. So the audience contained more fans in the thirties and forties from all over Europe. Even some Americans came over to Berlin. BAUHAUS played without any support act, so the show started on time at 20.30h.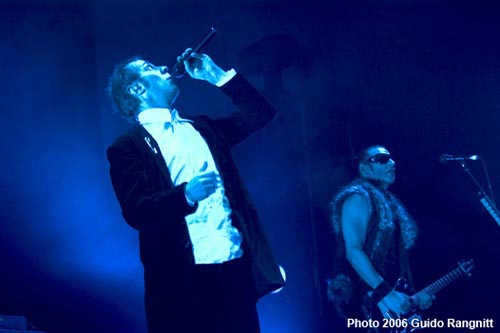 :: BAUHAUS :: introduced their show with a very slow Burning From The Inside before they kicked off properly with In The Flat Field. Definitely one of the highlights of every BAUHAUS gig. Hellish loud and driving drums with sawing guitar… Ahhh, really amazing! Peter Murphy and Daniel Ash were moving a lot on stage, changing instruments and communicating quite a lot with each other.
When BAUHAUS had a lot of different creative stage decorations 8 years ago, their stage was now kind of naked. Just a few spotlights, most of them not even colored. So they focused on their music and the band's performance. Peter Murphy was downright romping the stage; he screamed and jumped and changed his position every second. One BAUHAUS classic were played after another. So, at the end, all of my favorite songs were played (except Spirit…).
The encore set offered some surprises. After All We Ever Wanted, Severance was played, which is a Dead Can Dance cover they already played years ago during their last tour. But then Joy Divisions Transmission was number next, a cover version very close to the original. Peter Murphy even imitated Ian Curtis' "Idiot Dancing". The whole audience sang along every single line as if it was one of a BAUHAUS classic. Brilliant!!!
For the second encore part Peter was wearing a red velvet cape and everybody expected Bela. Shit happens, nothing ;) Instead the crowd got another BAUHAUS song and one of David Bowie's songs before they left for a second time. And again they came back and every band member entered the stage in black. Time has come for the special BAUHAUS song everybody wanted to see performed: Bela Lugosi Is Dead. Peter was acting like Bela did in his Dracula movies of the thirties. It was nice to see him fading away backwards off the stage. Just like Bela did…
Show took around 90 minutes. Just amazing, grandiose!
Setlist: Burning From The Inside, In The Flat Field, God In An Alcove, In Fear Of Fear, Terror Couple Kill Colonel, Swing The Heartache, She's In Parties, The Passion Of Lovers, Silent Hedges, Kick In The Eye, Hollow Hills, Rose Garden Funeral Of Sores, Stigmata Martyr, Hair Of The Dog, Dark Entries // All We Ever Wanted, Severance, Transmission // Telegram Sam/ Ziggy Stardust // Bela Lugosi's Dead
And I'm still hoping to get to listen to new BAUHAUS songs, one day, and I still wonder how they would sound these days…