Backed with a day off I spontaneously decided to make a visit when WITHIN TEMPTATION stopped for their show in Dortmund (thanks to the label that supported such spontaneity ;)). Since the Dutch epic metal band has such success with their albums Mother Earth and now The Silent Force one could expect a spectacular show...
Hardly arrived I rapidly had to revise all my expectations, in many ways. First I had to run through a huge queue. Passing the doors the line behind was not any foot shorter. So it was clear The Soundgarden would be almost sold out, what stand for an intimate crush on all levels, floors, balconies, niches and corners of the angular hall. Not to forget the two massive pillars in the middle of the dance floor, taking off a lot of sight... Ticket prices of 29,30 Euro in advance are sassy, in addition 3 Euros for drinks (0,25l)! C'mon, that is a rip-off!
Second thing that got me really upset was the fact, that the support band AUTUMN was not mentioned anywhere, although the play all German dates and a few dates in Holland and Belgium too. Furthermore it was not allowed to take photos of the support band. WITHIN TEMPTATION only... Dunno, who has concoct this bollocks, but for that I give the red card. That is definitely not a way to deal with bands!
:: pics ::
:. AUTUMN ~ was thus support band kept dark. They started their set on time with an atmospheric intro. Since the Dutch gents around front woman Nienke de Jong have just released their sophomore Summer's End in Germany, they put 7 of 11 tracks from this album in their 30 minutes slot. Although band members were wildly head-banging, started to growl and the show was really heavy you cannot speak of a metal band in a literally sense. Founded as a Gothic/Doom band in the middle of the 90's AUTUMN convince nowadays with a lot of Rock influences, searching for an own identity aside from the metal fields. One might state that the band is following sort of paths, bands like The Gathering and Anathema once paved. Singer Nienke has a wonderful rock voice, giving much power and expressive harmonies to the songs. Let me recommend Summer's End warmly to all of you who are interested in metal-driven great rock songs. Anyways, the audience liked the show a lot and gave a good feedback to the band. I – again spontaneously – invited the guys afterward to an interview… by the way their first one, they did entirely in German! Well done AUTUMN!
Setlist: Intro, The Coven, Gospels In Dusk, Gallery Of Reality, Silent Madness, The Green Angel, This Night, Summers End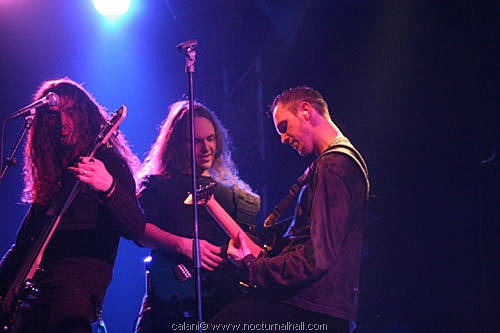 :. WITHIN TEMPTATION ~ after changing the backline within 20 minutes and another 15 minutes idle flambeaus got finally lighted and the drop felt down. Behind ancient looking stage constructions appeared, flanked by angel statues. In each corner drummer Stephen van Haestregt and keyboarder Martijn Spierenburg were placed on higher platforms, while guitarists Robert Westerholt, Ruud Jolie, bassist Jeroen van Veen and front woman Sharon den Adel could use the entire stage. A stylish light show and a huge screen for visualizations made this show to a great event. Everything was harmonically balanced, not that kitschy anymore some might knew from past tours. One thing was really impressing: Sharon den Adel's voice! She was easily running the octaves up and down; hit every tone with a clear and powerful voice. She can really sing! However, most of the songs came from their latest release The Silent Force, but they also played highlights from Mother Earth and the Kate Bush cover version Running Up That Hill (which was as terrible as on CD). After one hour the show was over but the fans called the band back for two encores. After two hours WITHIN TEMPTATION released the audience into the night with Ice Queen. A grandiose show in front of an enthusiastic audience!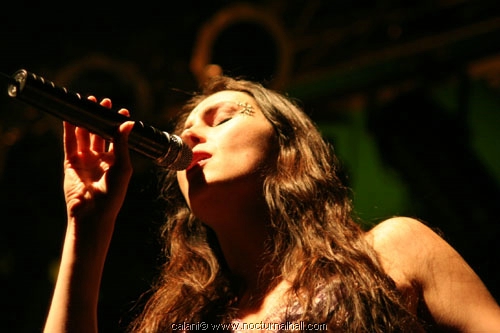 Upshot: Both bands had good sound and delivered great shows. And I think such a big tour it is a big chance for AUTUMN to get good access to the German audience.
The organisational stuff around… well. Me and the other photographers had to leave the photopit after three songs, which is usual, but we also had to leave the concert hall, to report to the security anywhere upstairs. They took our passes away and strictly forbid to take photos with our "professional" cams. The way they acted I actually expected that they would demand the memory cards. Have never experienced such behave during a show, really! Also a few other fans had some ungentle meetings with the security.
Anyway, of course I was weaving back into the hall, watching the rest of the show. During the AUTUMN interview after the show, same security was ranging between to boot us out and to offer chairs, making the interview more comfortable. Isn't it strange?
By the way, according to AUTUMN, neither WITHIN TEMPTATION nor their management is to blame for that. Must be the organizers in Dortmund…