HAMMER BATTALION UNLEASHED!
Turock the second. In two days ;) A Saturday evening and a first-class tour package, yeah! ;) UNLEASHED always kick ass, I never have seen a bad show, and I love to see them playing live. Besides, with Hammer Battalion they have released another neck-killing record that is in fact in no need to be promoted but a great reason to tour ;) Great! KRISUN and ONE MAN ARMY are likewise guarantors for sweaty shows and hurting necks and… and then… I was confused *lol* As local support MOURNING CARESS was announced, but from the current tour package only COMMANDER played, but wasn't mentioned anywhere. Never mind! Five asskicking bands… this evening was promised to turn out just brutal.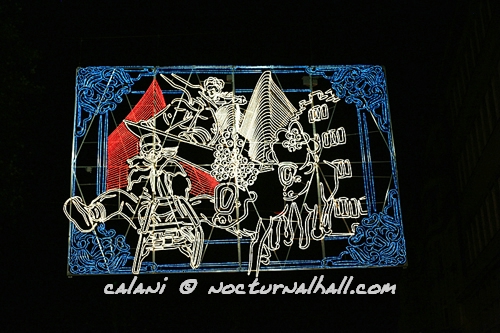 Before joining the massacre we took time for tasty food, gazing at this gleaming mesh-wire-fence-tree under a shining reindeer and then… it was upon time to enjoy ourselves ;)
As for a Saturday evening the location wasn't sold (what I actually expected) but crowded, especially the coffee bar was packed, since that is now the smoking area. No chance to find anyone in this smoke…
» pics «
Long, long time there was silence around Muenster-based :: MOURNING CARESS :: Now they are back with a brand new album entitled Inner Exile, and the first live shows here and there. So they opened for the Hammer Battalion Tour at the (almost) homelike Turock. Singer Gerrit much casually wore a Preußen Muenster jacket (soccer club from my hometown), offering a bit of local color. The guys grew older but musically nothing has changed ;) MOURNING CARESS still play Swedish-styled melodic Death Metal, with a dash of Thrash Metal in between. Singing is nowadays not that overstrung anymore as on Imbalance. And the big gestures Gerrit hasn't forgotten either. Five songs from the new record were played, plus two classics from Imbalance. MOURNING CARESS left quite a positive impression. Yes, the boys are back!
Setlist: Creating A Hell, …Of Fortune And Failure, Towards The Decline Of Existence, As Long As We Are One, Enter Today, Sorrows, Corroded By Fear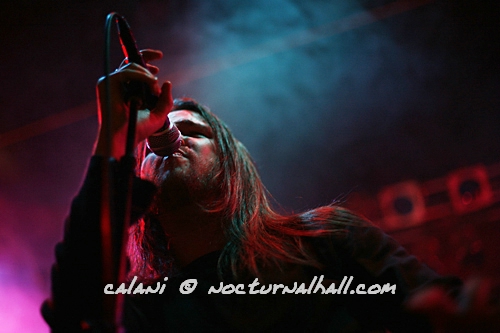 Unequally more brutal the evening went on with :: COMMANDER :: Still Death Metal with a touch of Thrash, but the brute and raw way. Singer Nick has such a deep voice, made me going weak at the knees ;) In a twinkling of an eye COMMANDER had the crowd on toast. Audience was downright swept off the feet and surprised. No one had the Munich guys on the bill. They also have a new record out, The Enemies We Create, they played songs from, alternating with the ones from the previous album World's Destructive Domination. Musically not really innovative, but with a strong impact! Just great!
Setlist: The Enemies We Create, Salvation For A Dead World, Vengeful Angel, Dead But Alive, My Worst Enemy, Ira, Valley Of Fallen Stars, Modern Slavery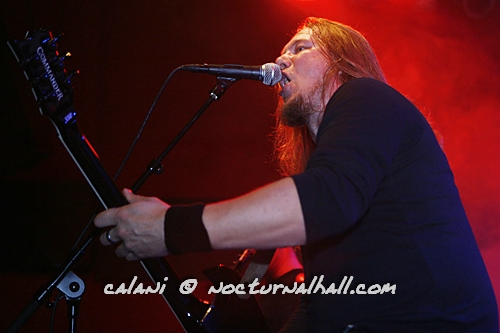 A short break and Johan Lindstrand as :: ONE MAN ARMY AND THE UNDEAD QUARTET :: entered the stage. This Swedish act never disappointed me so far, but tonight sparks didn't want to fly. Sound was good, songs as brutal as always and the guys as lively as ever. And though… it didn't work out the way I'm used to. Hmm. Too bad. Audience seemed to share my impression and responded likewise reserved. Songs from all three albums were played, focusing on Grim Tales. Nice, but pallid.
Setlist: Intro, Misfit With A Machinegun, Saint Lucifer, Such A Sick Boy, Cursed By The Knife, A Date With Suicide, Devil On The Red Carpet, So Grim So True So Real // Bastards Of Monstrosity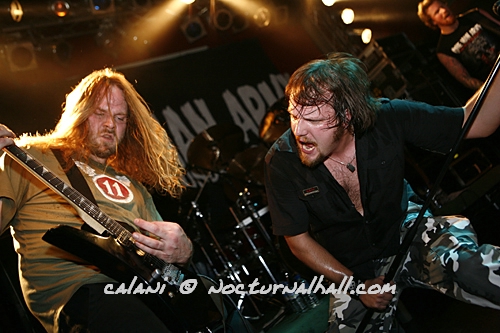 And again the course got changed! :: KRISIUN :: kicked off and the Turock was freakin' out! Immediately! Everybody was moshing and headbanging as if there were no tomorrow, while the trio stood like nailed but playing their ass off. Ok, what these Brazilian gents play there ain't that easy, but a little more movement wouldn't have done any harm. I haven't seen the guys for a very long time what made the tonight's show to somewhat of a revelation. Damn, ain't they great? Taking the new album title literally, KRISIUN bludgeoned thru their set like a true Southern Storm. No neck untouched. Of course, they also played classic from older records such as Assassination (Bloodcraft, Vicious Wrath, House Of God).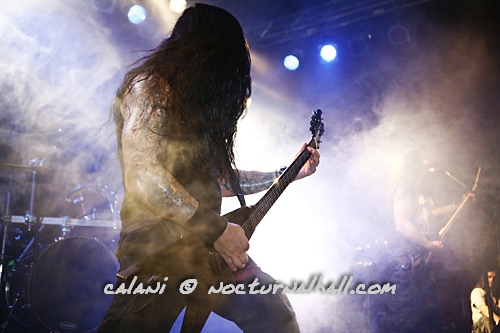 *Phew* Survived. Another beer. Faces around are happy but still waiting of what has still to come. "Scream for me Johnny!!!!" Erm… *lol*… yes. The call for :: UNLEASHED :: facing a very crowded location. Not even a mouse could have passed. The question, which band got more feedback is... debatable, as well as about the level of energy spreading. As for me, I had lotsa fun with the Swedes ;) I like the band; I know their songs and was screaming along... hehe. Seemed like the rest couldn't get enough either. With the clock ticking (curfew) UNLEASHED played one song after another, through the entire history starting with Hammer Battalion via Midvinterblot back till the debut Where No Life Dwells (Into Glory Ride). Woah! Just the communication didn't work the way Johnny wanted. Fans always screamed a different song he was hinting at in his "song game" *lol* Never mind! UNLEASHED were much enthused about the enthusiasm of the crowd ;) They tried it with German language and never forgot to raise a beer to the fans. Awesome!
Setlist: The Greatest Of All Lies, Legal Rapes, This Is Our World, Your Children Will Burn, In Victory Or Defeat, Mrs. Minister, Don't Want To Be Born, The Finale Silence, Warriors Of Midgard, Midvinterblot, Into Glory Ride, Hammer Battalion // Victims Of War, Black Horizon
Sweating and breathless we stayed for a while, drinking some beers with the metal disco closing in. Luckily they played some really cool classics right in the beginning. On the way back home (to the parking area) we stopped for a little photo session under this mesh-wrire-fence-tree, before we headed home towards our beds. I had to work next day… what else… :/
Oh, btw… UNLEASHED are already confirmed for the Winterfire Festival *rubs hands* And… to be honest… KRISIUN made it by a short head… ;)