Around two years ago I heard for the first time of Wadaiko, the Japanese drum art. If I remember right, there have been trailers for an ensemble touring through Germany back then. I watched videos of various groups and was downright fascinated. While doing so, I stumbled over tour dates of DRUM TAO, a Japanese drum and dance ensemble formed in 1993. Oh dear, I so wanted to go to one of those shows! I applied and behold… I got accredited. So it happened that I attended the TAO - The Samurai Of The Drums show in 2017. And this truly was a mind-blowing experience! A breathtaking performance that left me speechless (live review here). I'm a fan girl since then, of DRUM TAO and the Wadaiko art in general. However, I kept an eye on the ensemble to not miss upcoming shows.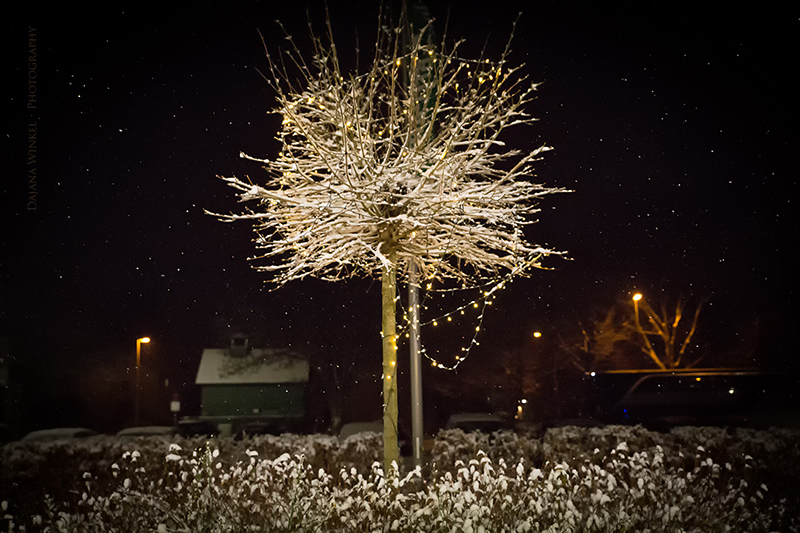 Two years after Samurai Of The Drums DRUM TAO returns to Europe with a brand new show called Drum Heart. The ensemble kicked off the German part of the tour with a one-week residence in Hamburg, followed by an extended part through German cities. Düsseldorf and Iserlohn were the nearest dates – I decided for the latter one, because I never was in Iserlohn before. And again I was granted an accreditation and a photo permission to cover the new show. For that I have to say THANK YOU and to send thousands of hearts towards Wuco Concerts and the municipality/office for culture Iserlohn :)
For my drive to Iserlohn I allowed myself a lot of time. I wanted to be there early enough to have a look around and to learn from where I would be allowed to take photos. Besides, it started snowing in the afternoon and I could watch the traffics grow kilometer by kilometer on the notorious highways I had to ride. A plus of one hour more driving time was not rare. You know, one flake of snow always causes an unpredictable driving style by many. But, thank Buddha, I made it through untroubled :)
:: pics :: TAO – Drum Heart ::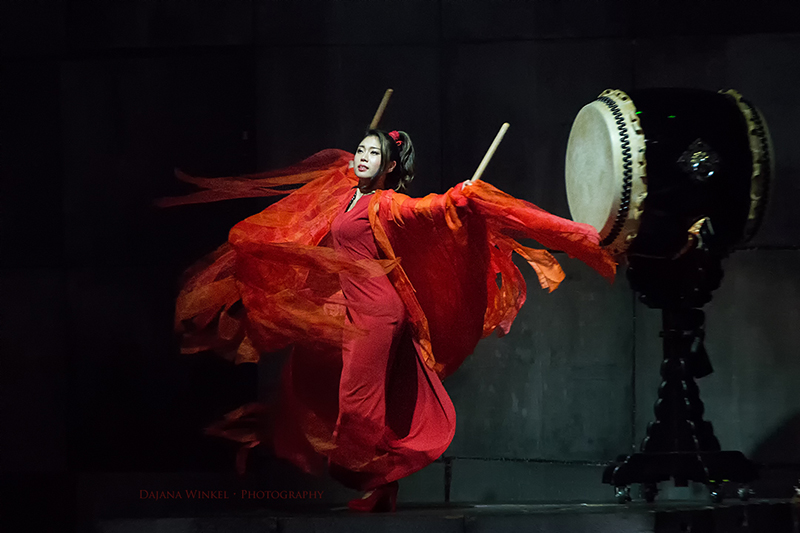 Extremely on time I arrived at the snowy :: Parktheater :: with a parking in front of the door. Despite of a later door time the attendees were already allowed to get in. No parking fee, no coat check fee. How cool is that? A lady has shown me around (I was the only photographer that night) and even the director of the Parktheater, "Jo-Jo" Jostmann, said hello. Wow! Such lovely people there! I'm blown away! There was a bar and a booth with appetizers – I tried out. Very delicious and fair priced. The Parktheater was well attended but many a chair was was probably left empty due to the weather conditions.
At 8 pm the lights went out but the curtain remained closed. A spot was set on Mr. Werner Ewest, a spokesperson of the theater's association, who made a short announcement to invite visitors to join them in support of local art and culture. Done. Finally, the curtain opened and the first Taiko drums made the theater echoing their low-tuned and mystical sounds. With an overwhelming energy, dancers whirled around and made bigger and smaller drums fly. Quickly, the show became wild and martial, astonishing the elder audience. To watch the show was as thrilling as to watch the reactions in people faces.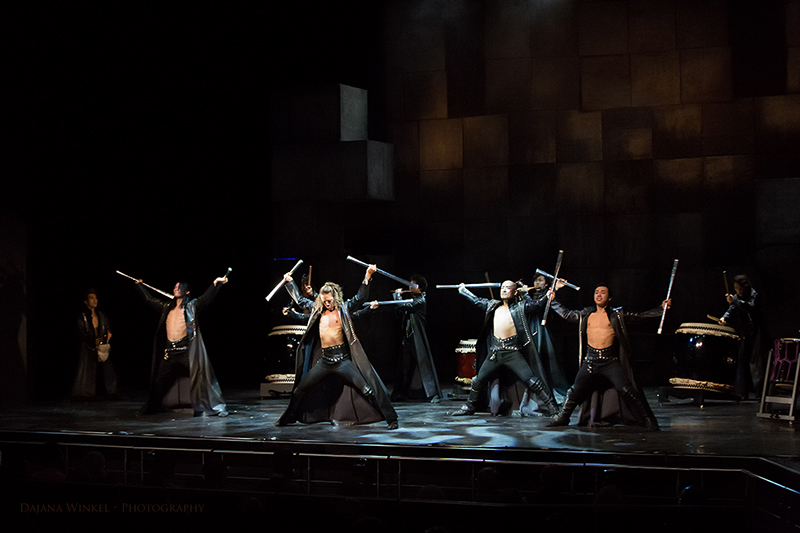 The body control of the dancers is truly phenomenal. Once you have seen them you realize why they had to build their own training center and need to train almost two years to master a new show. Some drums are really huge and get handled as if they were fluffy small pieces. Compared to the Samurai Of The Drums show two years ago, Drum Heart is frenzied, more energetic and of high motions. The drumbeats were heavy and fast. As for that, the movements were not that elaborated and aesthetic but fierce and masculine. Except for the ladies of course, dressed with a traditional Obi or flowing robes they were a paragon of grace and beauty.
The show features many new elements but also some I already knew from the last show two years ago, just slightly changed. One highlight for sure was the balancing act on hover boards, the glowing men and, extremely cute, the… um… let me call them Manga smurfs ;)
Of course, there was a part again where the audience was invited to interact, to clap the hands to special rhythms. A tough task. It took time until the attendees got it how to clap properly. At least the audience had fun and the "disharmony" caused a lot of laughing.
Scene changes happened in no time like from ghost hands. Erhu and flute solos distracted the attention while equipment was changed mostly invisible behind a second curtain. Logistical a masterstroke.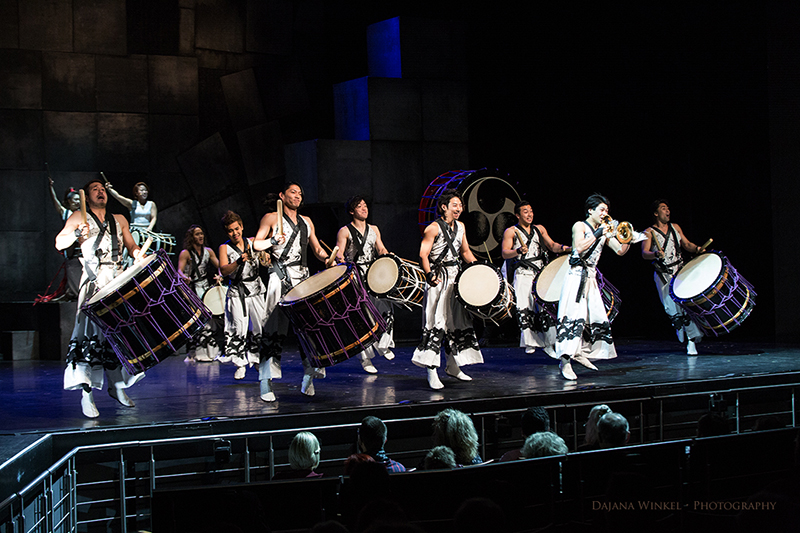 The 13-head DRUM TAO ensemble offered a two hours show with an encore and a 15 minutes intermission, where some of the artists appeared at the merch to take photos with fans, to sign autographs and most of all, to sell merchandise. Also after the show, most members of the ensemble did not dare to socialize with the fans.
To sum up the evening: it was once again a stunning performance. Perhaps not as magic and mind-blowing as the Samurai Of The Drums show two years ago yet of excellence mastery. In my opinion, light and sound were not as brilliant as I already witnessed it. The ensemble focused more on movements and dynamics, so atmosphere and magic faded a bit. Nonetheless, to experience a DRUM TAO show is always an exceptional event and worth every effort. It is definitely a highlight in everybody's concert or theater year. All I can do is to highly recommend this show. TAO is still around, go and experience something really special!