Entombed - Skeleton Witch - Darkane - Grand Magus - Warbringer - (Dew Scented) - Destinity - Angelus Apatrida - (Big Ball) Final Depravity
Unleashed - Debauchery - The Very End - Accu§er - Franitc Flintstones (Pitmen) - The Platzwarts - Obscurity - Face Facts - Wortmord
[Dajana] As it does since now 15 years the Essen.Original city festival offers a weekend full of music, theater and comedy. Much more in the year of being part of the European Capital Of Culture this city open air gives its best to deliver the best and finest in Rock, Pop, Jazz and Folk on 4 stages in the middle of the town. Destination for the Rock fans was the stage at Viehofer Platz in front of legendary Turock club and was meant to be pure METAL on 2 of these 3 day weekend :)
:: pics ::
[Dajana] On Friday and Saturday it was up to the Turock crew to organize the open air program on this stage, and they delivered a great billing in the shadow of the St. Gertrud Church, its saint graciously hold her protective hands over bad boys, inverted crosses and pentagrams ;) And all that FOR FREE!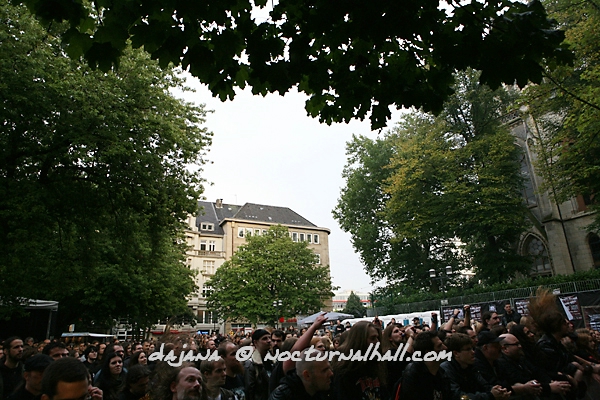 [Dajana] Nevertheless, a Friday still means to do some work what brought be to Essen around 6 pm. So I unfortunately had to miss DESTINITY, ANGELUS APATRIDA and FINAL DEPRAVITY this way. Much more it seemed that the billing has changed. When I arrived WARBRINGER, originally set to be the co-headliner, stood on stage. Ooooohhhh… I did miss GRAND MAGUS??? No! *phew* I did not :) What has happened? DEW-SCENTED had to cancel due to illness and DARKANE were too late due to a missed flight, so that their slot got switched. Anyway, it was enough for the weather to cry us a river. Luckily rain stopped later this evening and it was not generally cold…
Besides, our former writer BRT attended this festival too, even earlier as I did, so that we could share work, beer and thoughts ;)
Reasons To See
[BRT] Yep… that's why I can tell a little bit about :: DESTINITY :: These French gents liked to rock out excellently ranging between Thrash and Death Metal and delivering a varied potpourri without worn out melodic Death or Metalcore leanings. But yeah, melodies have been ther, a lot, adding a special not to the band's blend and reminded me on bands like Malevolent Creation, at least live, who cover a similar terrain.
Waking Into Nightmares
[Dajana] getting me wrist band I started with :: WARBRINGER :: or better said, with their end *hmpf* They left me 3 songs to shot them and to get pleased by their racy Thrash Metal attack. Once again the sunny Cali dudes delivered an all destroying highly energetic live performance. As usual singer John Kevill left his "personal mark" in front of stage (due to unrestrained screams and for sure some beers) and forced us to maneuver us carefully ;) Yes, that was a great pleasure again! And now I need a beer and to say hello to friends ;)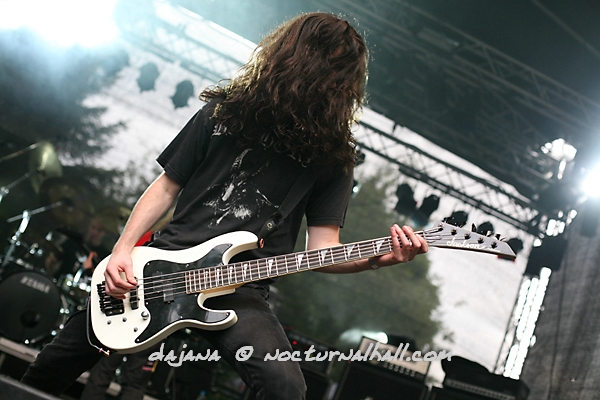 Black Wings Lead Us To The Fray
[Dajana] Meanwhile :: GRAND MAGUS :: took it very easy with the change over and soundcheck, but in return we got an extended set offered :) JB still had some guitar problems when kicking off but for that his singing was brilliant this time. So what to tell? GRAND MAGUS were so incredibly great! Awesome! That is pure Heavy Metal, the essence we are dying for! Songs from the band's newest masterpiece Hammer Of North got played, as well as tracks from debut (Lodbrok). Generally it was a nice best-of set. As for me THE highlight on the first open air day! So! Time to get me a shirt and another beer.
Setlist: Storm, Kingslayer, Åran, At Midnight They'll Get Wise, Silver Into Steel, Wolf's Return, I The Jury, Hammer Of The North, Ulvaskall, Black Sails, Lodbrok, I Am The North, Northern Star, The Shadow Knows, Ravens Guide Our Way, Iron Will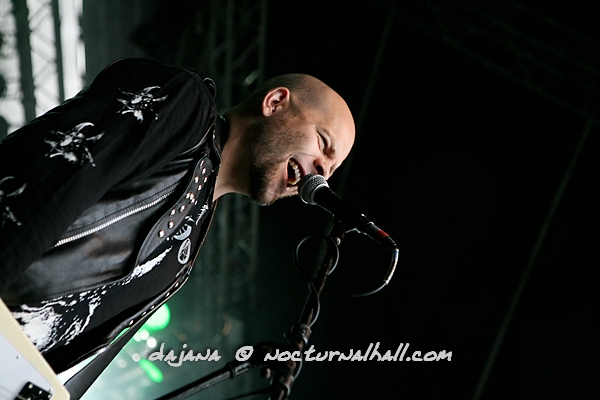 Stand, Fight And Die!
[Dajana] Next up was :: SKELETONWITCH :: with inverted crosses and pentagrams ;) Have not seen them playing live so far and was much excited since our US writer Sioux warmly recommended this band. It was said that SKELETONWITCH is a mighty force on stage… yes, I agree! 110%! :) The next band that only left scorched earth, so to say. In support of their current release Breathing The Fire the cats were as witty as in a bloody good mood. They had a blast on stage, while serving us their hard hitting Thrash/Death Metal. Damn, gonna keep an eye on them to catch them when they tour next throughout Europe. Wanna see a club show! I would have loved to talk to the guys after show (as well as to Grand Magus), but could not see them. I guess they had to leave early for their ferry to UK.
Setlist: Submit To The Suffering, Blinding Black Rage, Upon Wings Of Black, The Despoiler Of Human Life, Strangled By Unseen Hands, Sacrifice For The Slaughtergod, Baptized In Flames, Fire From The Sky, Limb From Limb, Stand Fight And Die, Beyond The Permafrost, Crushed Beyond Dust, Repulsive Salvation, Vengeance Will Be Mine, Within My Blood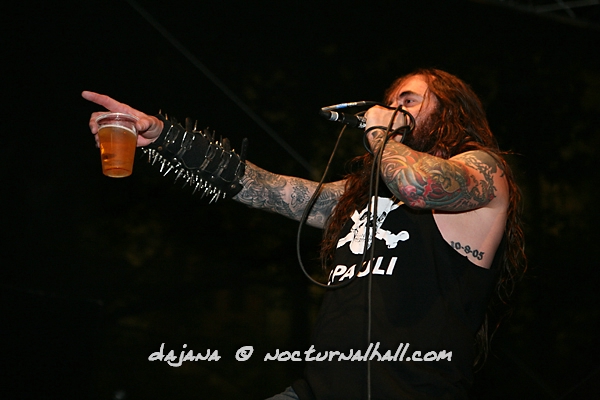 Variations Of An Eye Crush
[Dajana] :: DARKANE :: right after I found totally boring. Much more, they got on nerves after a while. No doubt, technically DARKANE are awesome, but they went down somehow pale and inspireless. Not a single spark jumping over… BRT you wanna have another beer?
[BRT] Yep, that's for sure the better idea. With their blend of modern Metal and high tech Thrash DARKANE were somehow misplaced, since the billing was more or less old school. To show off skills not necessarily means to create songs with recognition value, especially if you totally deny on melodies. To support Meshuggah, DARKANE would surely not have been that annoying, at this evening this band was just… needless.
Sons Of Satan Praise The Lord
[Dajana] Hahahaha… yeah, what burst of laughter :: ENTOMBED :: kicked off their set with the tearjerker Satan Is Real by The Louvin Brothers. Just google this song and you will die of laughter. And all that happened face to face with St. Gertrud *lol* Killingly funny, really. After ages has passed by I saw ENTOMBED playing live in May at this year's Friction Fest, so I knew that these Swedes still can rock the stage (btw… what flood of Swedish bands here ;)). And so they did on the Turock stage, delivering a breathtaking show again. For the first time as a five-piece band again (Victor Brandt joined in as the band's new bass player). Great best-of show, even Night Of The Vampire was played :)
[Dajana] That's that. It's 10.30 pm and the first day of TUROCK OPEN AIR found its end. I actually intended to leave early to cure myself from the cold but I could not part from place and people and it became… late *lol* Well, and the next day… I had two shows and despite of soulful prayers time did not want to match. I decided for the other show in Bochum *sighs*
Nevertheless, it was a short but great evening, I had a blast here at the Turock stage and next year I'll come over again!