[Dajana] I actually do not know anymore when and where I heard first of THE MYSTERY OF THE BULGARIAN VOICES. It was not such a long time ago. At the latest however, when Prophecy Productions announced its signing and that Dead Can Dance icon LISA GERRARD would sing on the choir's new record.
I was deeply fascinated when I heard the choir for the first time. It was downright magic, almost otherworldly. I was probably as enthralled as LISA GERRARD was back then, what led to her collaboration with the folkloristic choir. I was even more excited, when the first single Pora Sotunda was released. Meanwhile, the album, BooCheeMish, is released and THE MYSTERY OF THE BULGARIAN VOICES and LISA GERRARD have embarked on a small tour to present the album live at special places.
I would have loved to see the choir and Lisa at the ancient Amphitheater Philippopolis in Plovdiv, Bulgaria, last year, where they played only a few weeks before I visited this place. It must have been pure magic back then. Well… you can't have it all.
THE MYSTERY OF THE BULGARIAN VOICES tour only spanned four German shows and one of them took place at the wonderful :: Christ Church :: in Bochum. Home match so to say. This concert was a must-attend-event for every open-minded music enthusiast. It was not easy to get the day off, however, the only fact that counts is that I stood in that church!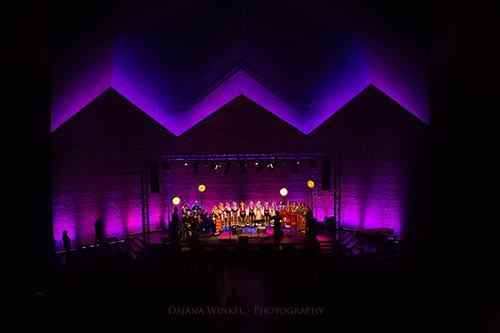 :: pics :: THE MYSTERY OF THE BULGARIAN VOICES feat. LISA GERRARD ::
[Dajana] There could not have been a better place for this concert. Acoustics in this church are perfectly made for such kind of music. I just wish more people would have gathered for this unique listening experience. The church was in fact well attended but far away from being sold out. This I found quite disappointing. The ensemble would have deserved so much more.
[BRT] Being hooked on the albums of the other big Bulgarian choir - The Bulgarian Voices Angelite - I was extremely curios, how such kind of music will turn out live on stage. And yes, the church is a perfect place.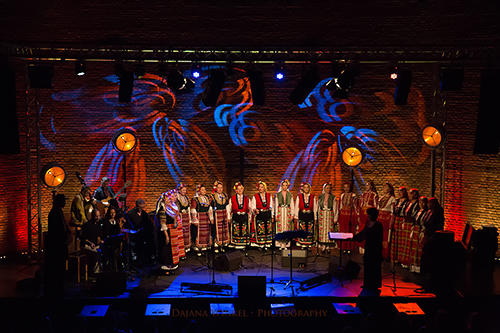 [Dajana] The evening began with an instrumental piece by the live ensemble including a Gădulka - a traditional Bulgarian bowed string instrument (sounds almost like a Chinese Erhu and looks beautiful), a Kaval - a chromatic end-blown flute traditionally played throughout Armenia, the Balkans and Turkey (sounds a bit like a panpipe), guitar (10-stringed if I saw it right), a cello, a handpan, played by Dead Can Dance live percussionist David Kuckhermann, and a "human beatbox" – Mr. SkilleR (Alexander Dejanow – world champion in 2012).
Right after frenetic applause accompanied :: THE MYSTERY OF THE BULGARIAN VOICES :: on their way onto stage. They started with Mome Malenko, the opening track of BooCheeMish. The album was played in its entirety but in a different order of songs.
The first tunes immediately caused goose bumps and sent shivers up and down the spine. It not not stop till the last tone was gone. People were so quiet one could have heard a pin drop. Instead it were the glass bottles clinking on the stone floor…
It took a while till I really realized what SkilleR was doing there, exactly first, when he was doing a highly acclaimed solo after Stanka. Freaking rad what a wide arrange of tunes and rhythms one could do just by that kind of vocal performance. Even radder the idea to combine beatboxing with this time-honored choir. That I call open-minded, free-spirited and innovative!
Also the highly talented David Kuckhermann came to the fore playing a duet with Gădulka player Hristin, which was meant to be a bridge to the second part of the show featuring :: LISA GERRARD ::. What a presence the grand dame has! I felt so small when she passed by. Her voice calls for a rapt audience and tonight it got one.
Next to Pora Sotunda, LISA GERRARD presented two songs (In The Beginning and Rite Of Passage) from her collaboration with David Kuckhermann, which were taken from the August-released album Hiraeth. The part got finished with a tambourine solo by David.
Another instrumental part by the live ensemble lead over to the last chapter of the concert – the remaining songs featuring LISA GERRARD as an encore, with an overall playing time of almost two hours. Always again one of the choir singers came to the fore for a solo or duet. And every time I was deeply touched and emotionally driven by the clear, powerful and resonant voices that soaring up into the heights of the church. It made me burst into tears…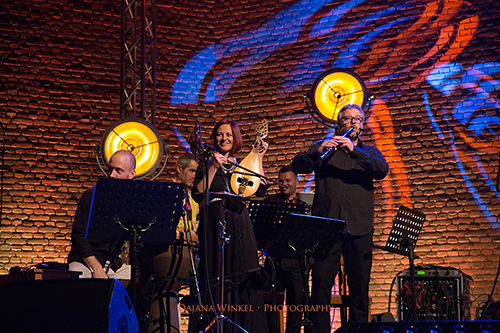 [Dajana] Tears and laughter. That's the way this unique evening ended. Not just yet…
Many fans were undetermined whether to stay or to go. Those who stayed got rewarded. Not only with some of the choir singers and the conductor but also with the one and only LISA GERRARD coming to the merch and signing all kind of stuff calmly and patiently. Not only this. After Lisa had worked off the queue she posed with the fans to get photographed. I saw many happy faces :) A grand diva so dear, down to earth and close to the fans – just wow! I also saw many jaws drop…
[BRT] There is not that much to add actually. Atmosphere, dynamics, the tone color of the voices seem to emanate from a different century. It was interesting to see how choir singers changed their places, as if certain voices need to be next to each other to work best. The choir itself does not have soloists in the way LISA GERRARD is, but almost every voice has its solo or duet/trio part. Those single voices significantly differ in their pitches yet result in an incredible harmony within the choir. Likewise awesome it was to experience how down-to-earth LISA GERRARD acted. No airs and graces, nope, she is downright likeable.
[Dajana] This concert is definitely one of the highlights in 2018. As already mentioned, this tour was short, very short. That made every show to something really special. Since LISA GERRARD will tour with Dead Can Dance next year I guess, shows with THE MYSTERY OF THE BULGARIAN VOICES will be unlikely next year. So, if you missed them now… bummer!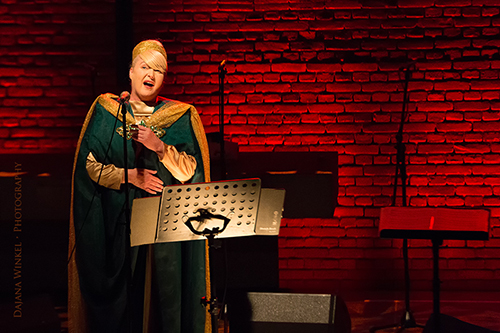 Chor: Elena Bozkova, Olga Borisova, Gergana Dimitrova, Gergana Popova, Snezhana Kastelova, Violeta Eftimova, Violeta Marinova, Binka Dobreva, Dafinka Damyanova, Daniela Kostova, Rulana Asparuhova, Marina Boiadjieva, Elichka Krastanova, Mariya Leshkova, Rada Nankova, Evelina Hristova, Evguenia Milousheva, Daniela Dimitrova, Tsvetelina Velyovska, Silvia Vladmirova, Sofiya Yaneva, Nevyana Ganeva, Elizabet Georgieva, Mirrela Asenova, Polina Paunova, Lyubomira Pavlova, Tsonka Dimtrova-Manolova, Diyana Visileva
Conductor: Dora Hristova
Live Musicians: Hristina Beleva (Gadulka), Kostadin Genchev (Kaval), SkilleR (Beatbox), David Kuckhermann (Handpan), Dimitar Tenchev (Cello), Petar Milanov (Gitarre)
Setlist: Graovsko Horo, Mome Malenko, Ganka, Yove, Zableyalo Agne, Tropanitsa, Sluntse, Stanka, (SkilleR solo), Rano Ranila, Zokuso // The Beginning, Pora Sotunda, Rite Of Passage, (percussion solo) // Unison, Mani Yani, Shanday Ya