To finish a year with a Teutonic Thrash Metal show… can't do any harm ;)
On four days, German Thrash Metal veterans SODOM invited to rock off the flab between Christmas and New Year's Eve, and to present their brand new EP Out Of The Frontline Trench live on stage. The last day of that short round trip brought them home to the Ruhr area into the :: Turbinenhalle :: Oberhausen. The party before THE party was joined by German Thrash Metal institution HOLY MOSES, a band that is even longer in business (1980) than SODOM (1981), as well as by ASSASSIN (founded 1983). A Thrash Metal meeting as old school as fuck!
When I arrived at the "Tubse", the parking was frightening empty. My first thought: the show was cancelled. Nope, it was not. But doors opened belated (sound check probs, so the security told) and the gallery was closed. I guess the venue was only half filled. Apart from that, same procedure as always at this location. Merchandise was ok, shirts for 20 Euro. HOLY MOSES sold their stuff for 15 Euro. There is a new security team, isn't there? Ok, let's thrash!
:: pics :: ASSASSIN ::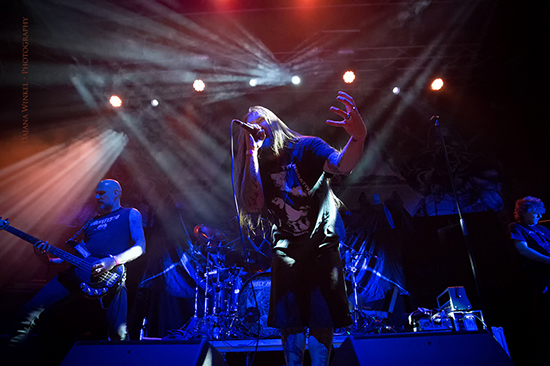 I think, I have never seen :: ASSASSIN :: playing live before. When I was "able", they were already disbanded and after their reunion, they never crossed my way. However. There is only one member left from the original line-up these days, guitarist Scholli. ASSASSIN 2019 consists of an illustrious group of musicians as there is singer Ingo Bajonczak, known from the much cherished Stoner/Sludge rockers Supersoma, and meanwhile singing for lately founded Thrash Metal band Bonded too, a band that consists of fired Sodom members. And there is guitarist Mr. Blackfire, ex- and returning Sodom member. What a mess ;) Yes, I was indeed curious to see them live.
ASSASSIN kicked off the evening with Chemtrails Part One, a brand new song from the upcoming new album Bestia Immundis (to be released on February 7 via Massacre Records). This was the only new one, just as an appetizer. Right after the band played songs from recent records but most of all classics focusing on the 1987 released debut The Upcoming Terror.
The venue is loosely filled and the crowd very lame. Said singer Ingo: "You're the most polite Thrash Metal audience I ever experienced. You are much welcome to misbehave, to start pushing, moshing, screaming and headbanging". It did not really help. His demand to sing along at Baka was responded by a tortured try. Must be due to the Christmas gluttony. Only the last track Assassin brought some life into the audience.
Overall, I liked the groovy parts and the progressive touch in the music. On the other hand, quite a few solos made the songs lengthy. The band seemed to be technically top but not really well attuned to each other. Sound was ok, lights were shit, and the playing time of 55 minutes was a bit too much.
Band: Ingo "Crowzac" Bajonczak (vox), Frank "Blackfire" Gosdzik (git), Jürgen "Scholli" Scholz (git), Joachim Kremer (bass), Björn "Burn" Sondermann (drums)
Setlist: Chemtrails Part One, Forbidden Reality (Intro), Fight, Breaking The Silence, The Last Man, Destroy The State, Baka, Red Alert, Assassin
:: pics :: HOLY MOSES ::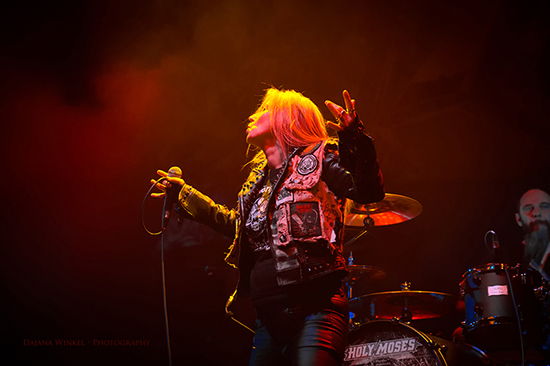 Next up was :: HOLY MOSES ::. I have not seen them for ages. Oh wait… I actually listened to them with closed eyes 2012 during the Barge To Hell. After all. On the other hand, they hardly ever toured during the last couple of years, played festivals shows only, and their latest effort, Redefined Mayhem, dates back to 2014. Therefore, the HOLY MOSES set was a journey through the turbulent history of the band, focused on the very old stuff from the 80s.
Front woman Sabina Classen roamed the stage from one side to the other and hardly ever stood still. She only stopped at her micro to read the lyrics of the songs she performed. She did so at every song. She seemed to be rather unprepared to be honest.
Lights went much worse making it the visual low of the evening. Bad for the band too as the pinky pasting lights made them look unflattering.
Meanwhile the crowd woke up and reacted much more lively now, following Sabinas orders to raise fists and to headbang. Even HOLY MOSES chants were to hear every now and then. The show came to an end with Too Drunk To Fuck. For this song, Sabina called front row girls on stage to party with her but she had forgotten the Jack Daniels backstage. Well, it worked without booze too ;)
HOLY MOSES can surely fill a 2-hours show with material, though, again, the 60 minutes playing time was too long. At least for me. By the way, did Sabina mention anything about a possible new album?
Band: Sabina Classen (vox), Peter Geltat (git), Thomas Neitsch (bass), Gerd Lücking (drums)
Setlist: Near Dark, Def Con II, Panic, Finished With The Dogs, Hellhound, Undead Dogs, World Chaos, Nothing For My Mum, Reborn Dogs, Jungle Of Lies, SSP, Life's Destroyer, Current Of Death, Too Drunk To Fuck
:: pics :: SODOM ::
No rest for the wicked, time has come for the mighty headliner. I actually did not expect such long playing times and thus expected :: SODOM :: earlier on stage (had some plans after the show). Never mind. Blue lights, the glowing eyes of soldiers and a lot of dry ice heralded the second to last night of 2019. After a short intro SODOM broke into Genesis XIX, the opening track from their just released EP Out Of The Frontline Trench. The title track followed a little later. Furthermore, SODOM played a best-of set too, going through the whole discography of the band, until the debut In The Sign Of Evil.
Compared to last year's lackadaisical headlining show at Rock Hard festival, the boys acted much livelier, well-rehearsed and with verve tonight. Okay, the one or the other show they meanwhile had. Guitarist Frank Blackfire, who mostly stood shy in the shadows during the Assassin show, came much more to the front and displayed his skills. He seems to feel home again. Tom Angelripper… is just Tom Angelripper ;) Here, it was guitarist York, who hardly stepped into the limelight. And drummer Husky was hardly ever seen behind his kit. Lights went much better now; there was indeed something to see on stage, despite of the smoke ;)
Everything new and fresh Tom Angelripper wanted to have in his newly arranged band, everything more trve and old school, he said. To be honest, with the second EP out I still don't hear much of a difference to what he's done before with his now ex-members. It is still the very own SODOM sound we are so used to it. Maybe the new album will give me a deeper insight. But yes, I agree, a second guitar makes the sound more brutal and more powerful and thus makes more fun ;)
With Ausgebomt by the Bombenhagel my last show of the year and decade reached its final and it was a good one to finish 2019. I wish you all a splendid NYE party and a happy new year. See you in 2020 :)
Band: Tom Angelripper (Thomas Such bass&vox), Frank "Blackfire" Gosdzik (git), Yorck Segatz (git), Stefan "Husky" Hüskens (drums)
Setlist: Genesis XIX, Sodomy And Lust, The Saw Is The Law, The Crippler, Outbreak Of Evil, Conflagration, Agent Orange, Out Of The Frontline Trench, Blasphemer, Suicidal Justice, Nuclear Winter, One Step Over The Line, Persecution Mania, Partisan, Witching Metal, Tired And Red, Deathlike Silence, Remember The Fallen, Ausgebombt, Bombenhagel