Ok, and here we go again ;) SLAYER the… um… 4th try!? For over one year now the cats known as Araya, King, Hanneman and Lombardo try to get their tour finally going. Two times completely postponed the Bay Area thrashers put their rescheduled dates now between the Sonipshere dates, not without cancelling the one or the other show again (as experienced in Bochum, and now in Paris too… for the third time).
:: pics ::
However, SLAYER arrived Herford and Tom Araya was neither suffering from throat nor back nor neck ;) Nope… surprise, surprise… SLAYER deigned to play… brazen-faced 68.37 minutes! What a bunch of old farts…
A propos old… Especially because SLAYER are old farts and nobody knows when and if at all they will tour again, t was important to me to get them shot officially. I got a photo accreditation but due to fucking business shit I was not allowed to take photos, just because my accreditation was not submitted to the master guru of the Marek Lieberberg for confirmation *grrrrrrrrr* WTF???
Well, anyway… the 2nd July turns out to be the hottest day in year so far with 37°C / 98°F and we had to face a sold out venue with no air condition. In a twinkling of an eye we were soooo all in a sweat that our clothes were dripping, creating a little pond to our feet. Luckily a bit was just water the security was spilling over the first rows ;)
The doors of the X club opened an half hour belated, for that :: THE HAUNTED :: kicked off their show a quarter of an hour too early. The Swedes explosively got into their set with (almost) three new songs from the just released album Roadkill. Right after they went across through the band's history till the sophomore The Haunted Made Me Do It, which in fact reflects in the new record. It was incredible hot, but the band got a couple of fans on stage. Additionally singer Peter Dolving got a 1 kg bag of ice he put alternatively on his shoulders and neck or put it into his pants ;) Axe-man Jensen again was kind of pissed off coz of the audience's lame response. And the permanently raised \m/ was a bit too goofy. All in all a great and aggressive show… that just went up in… erm… heat.
Setlist: Dark Intentions, Bury Your Dead, 99, Trespass, The Flood, The Medication, Iron Mask, Bloodletting, Little Cage, D.O.A., No Compromise, Moronic Colossus, The Guilt Trip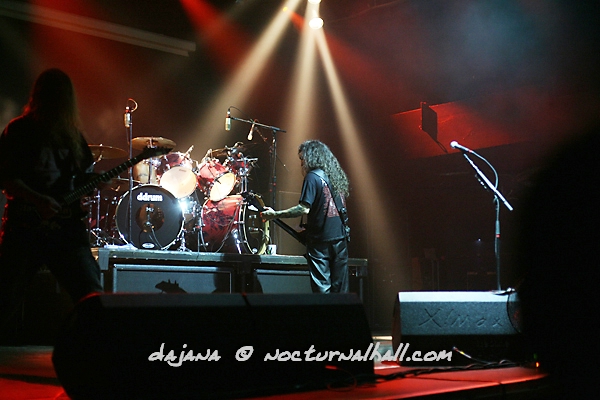 Short break, the clock strikes 9 and :: SLAYER :: enter the stage under frenetic screams. More fans for the band and more water for the first rows :)
Bathed in blood-red lights SLAYER fittingly set in with World Painted Blood and delivered somewhat of a best-of set. Tom Araya wears leather pants and I cannot help waiting if a pond gets formed to his feet. It does not… Instead his twee hip swing attracted me attention ;) Seems to be his replacement action for not being allowed to headbang anymore…
Besides, not that much happens on stage. Araya does not talk either. Only one reserved "thank you" is to hear but he obviously enjoys all the avowals of love by the fans. And the fans almost completely freak out! Despite all the heat and humidity I saw them moshing running circle pits, headbanging and crowdsurfing. It was so incredible. Really.
After 60 minutes the spook was over and SLAYER quickly came back for a two-song encore. Over and out. By the way… methinks the intro of one of the classic was not played live…
Setlist: World Painted Blood, Hate Worldwide, Cult, Disciple, Expendable Youth, War Ensemble, Jihad, Beauty Through Order, Payback, Seasons In The Abyss, Hell Awaits, Mandatory Suicide, Chemical Warfare, Raining Blood, Aggressive Perfector // South Of Heaven, Angel Of Death
Upshot: This evening was very, very hot, intensive, very crowded, very short but utmost entertaining :)
It's 10:20pm on a Friday night and we are already on the way back home wrapped in the lovely odor of our own cold sweat…