OMG… SKUNK ANANSIE! Back in the times… 1995… when NH writer Psycho recommended their debut album Paranoid And Sunburnt to me. I so totally got hooked on them ;) I loved this band for being so different and giving a fucking shit about anything. And no doubt, singer Skin is probably the most eye-catching front-demon ever. Incredible! Unfortunately SKUNK ANANSIE soon started following the mainstream path and the money. Their success proved them right, but I quickly lost sight of them. 2001 SKUNK ANANSIE disbanded. I never saw them live.
BUT… there's always a second chance in life! Reunion 2009, new album (Wonderlustre) 2010, and now the tour. And guess what… Dajana is part of it, yay! :)
:: pics ::
Hardly announced the tour was sold out faster than you could say… whatever ;) Though, I got the chance to embark with the final confirmation one day prior the show. Waiting for weeks was… grinding. However, expectations were high and I was psyched to the max ;) A sleepless and exhausting weekend? Who the fuck cares *laughs* I was so squirrelly, survived work and arrived early. Lucky me, because finding parking was a tricky thing, since 1500 like-minded people tried the same. I made it, without getting a ticket or getting towed. On time I appeared at the booking office to get me photo pass :)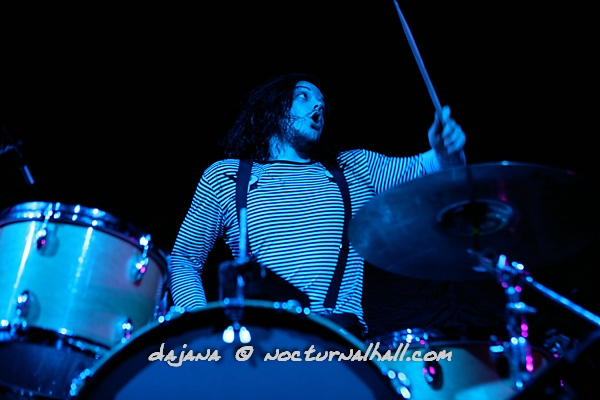 Likewise on time opening act :: THE VIRGINMARYS :: got on stage. They did not leave much space for the British hopefuls; at least we had the drummer directly in front of our lenses, not too bad I'd say ;) I never heard of this band before, didn't know what to expect, but got downright addicted. Such awesome band! Really! Singer and guitarist Ally Dickaty reminded me of a mixture of Marc Bolan and Lemmy, while skin-man Danny Dolan totally freaked out behind his kit. Four-stringer Matt Rosequasi again was something like the calming influence. Musically we got pure Rock'n'Roll! Dirty, Whiskey-soaked and Blues-tinged, and a rhythm you cannot elude. I was electrified and so downright stoked *laughs* How to get a grip on myself again? THE VIRGINMARYS released a debut EP in June 2010 entitled Cast The First Stone, its tracks they completely played during their show. So, if there is just a dash of Rock'n'Roll running through your veins, then check them out! THE VIRGINMARYS so damn fkg kick ass!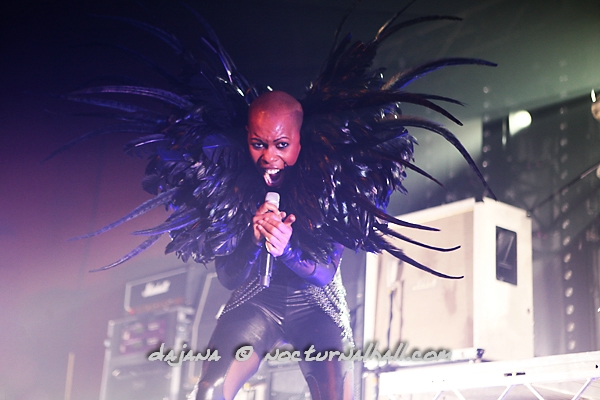 Ok, a 20 minutes break and curtains to hide what's happening behind. The intro sets in and strangely shaped bloody shadows appear. Skin screams Yes, It's Fucking Political and the curtains fall. Dressed in a black catsuit and huge feathers on her shoulders, Skin immediately rules the hall, and fans… freak out. Our sorts was permanently pressing the release and though had time to enjoy the pieces of the show we had our eyes off the cam ;) Skin is going wild like the devil himself, pulls faces, uncovers her shining white teeth or rolls her eyes. Such overwhelming and untamed energy, aggression… Her presence is mighty. :: SKUNK ANANSIE :: play two hours, going through their entire history but, of course, focusing on the most recent record Wonderlustre. Ok, I have to confess, I would have loved to get more of the old material ;) Me... of yesterday :P. Two encores were demanded and granted, not enough for the fans of course, I so agree ;) Though… at this sold out venue I'm sure only the half has seen anything. After we had to leave the pit and to give away our cams we came in and literally had our backs up against the (back) wall. No see, only listen. Nevertheless… breathtaking show. Titanic. Unbelievable. Such happy girl I am, partaking in this event, I tell ya ;)
Setlist: Yes, It's Fucking Political, Charlie Big Potato, Because Of You, God Loves Only You, (All In The Name Of Pity), 100 Ways To Be A Good Girl, Secretly, Over The Love, I Can Dream, The Sweetest Thing, (Intellectualise My Blackness), My Ugly Boy, Weak, Brazen (Weep), My Love Will Fall, Twisted (Everyday Hurts), Feeling The Itch, On My Hotel T.V., Tear The Place Up, The Skank Heads // Hedonism (Just Because You Feel Good), You Saved Me, Little Baby Swastikka // You'll Follow Me Down