I had assumed that SAMAEL's triumphant return to English soil would be a near sell-out and so I was confused to find The Scala less than full for tonight's show. It wasn't until later that I discovered, for reasons known only to the promoters, that this gig happened to fall on the same night that Machine Head were playing only a few miles away at the Astoria. This obviously left more than a few London metalheads with a decision to make, with many choosing the Americans over Switzerland's finest metal export. All I have to say is that I hope Machine Head were worth it, because SAMAEL were absolutely mindblowing...
:: pics ::
::. Frenchmen DAGOBA were first on the bill, playing rhythm-heavy tunes in the style of Fear Factory. This was the first I'd heard of them and they sounded quite good with tight guitars and a pummelling rhythm section. I was a bit surprised though when they began jumping up and down in unison during the intro of one of their songs, nu-metal style. This would've probably worked a bit better across town at the Machine Head gig, but it seemed a little out of place here. Still a solid performance though to get things going.
::. From one end of the heavy metal spectrum to the other, next up were Polish death metallers SUPREME LORD, playing blasting old-school death/thrash. I missed quite a bit of their set as I was rushing around trying to tee up my interview with SAMAEL, but from what I saw and heard their set was raw, brutal and fast, slowing down only a few times for some-mid paced riffing. SUPREME LORD might not have been the most appropriate band to support SAMAEL but they came out and did their best to tear the slowly massing crowd to shreds.
::. Dry ice filled the air as two giant projector screens were unfurled and SAMAEL's intro began rolling. The band took the stage to huge cheers from the crowd and immediately broke into a thunderous rendition of Rain, closely followed by The Shining Kingdom. Sounding enormously heavy and very clear thanks to an excellent mix, the guys have a stage prescence to match their sound. Vorph is every bit the frontman, moving his arms in time with the music, confidently belting out lyrics and thrashing his guitar, then striding around the stage like a man possessed. Likewise, Masmiseim and Makro thrash around to the driving rhythms, and Xytras has to be seen to be believed - on keys he dances and bangs his head in time with the music, but when he switches to his drum rig he swings his drum sticks like a madman, literally jumping in the air and bringing them down on his floor toms during a breathtaking Jupiterian Vibe.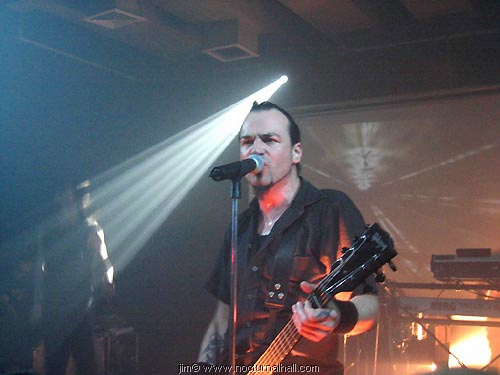 New tracks Inch'Allah and On Earth both sounded amazing live, and the atmosphere was completed by the video projected onto the screens behind the band. Unlike many times when I've seen bands use video, the imagery here changed from song to song, and really suited each track. After new single Telepath, the band slowed things down a bit for a very powerful Nautilus And Zeppelin, a haunting track that gave everyone a chance to get their breath back. Then we were taken back to the Ceremony Of Opposites album for Black Trip and then Baphomet's Throne – the intro to the later prompting a huge cheer and some frenzied headbanging from the crowd.
Vorph's voice was in fine form for the whole night, sounding perfect from the frenzied growls of the older material to the more clean style of the Reign Of Light tracks. Towards the end of the set, Vorph even put down his guitar for a few songs and was really getting into the swing of things, dancing and throwing out hand gestures. After finishing their set with The Ones Who Came Before the stage the band returned with a crushing encore. They finished off with The Cross and finally My Saviour and left the stage having put in a truly outstanding performance. Their material, most notably that taken from new album Reign Of Light, sounds utterly devestating live - a huge wall of rhythm interwoven with intricate melody. Once again, SAMAEL proved that they are one of the finest acts in extreme music today, and now that they're back with a new album I can only hope we see them on this year's festival circuit. If so, I'll see you down the front!