It once again becomes apparent this year that the SUMMER BREEZE FESTIVAL has become a serious competitor to mass events such as the Wacken Open Air or the With Full Force. Both for fans and bands extremely popular, the festival is a guarantor for best-humored guests and musicians. The weather was pretty unsettled on Thursday, but from Friday on the sun burned mercilessly on the heads of roughly 20.000 fans. And this year it became clear to me that there's much more of a Black Metal ideology in me than I would like to: the sun sapped my energy in such a way that I had to grapple with a headache the whole Friday and Saturday... But, it was definitely worth it!
:: Thursday :: Friday :: Saturday :: Pics ::
This year one can once again come to a predominantly positive conclusion: the traffic jams at the entrance were as far as possible acceptable, the allocation of the campsites passed off pretty smoothly – whereas especially the brand new launched campsite for people who wanted to reserve a free site for friends who arrived later, can be regarded as a big gain. The toilet situation was qualitatively better than the years before, but still far from being perfect. The organizers are still depending on portaloos due to the poor water supply – but I was struck that the visitors pulled themselves together this year and concentrated more on aiming while having a shit… ;) So, respect for the others is the key here, too!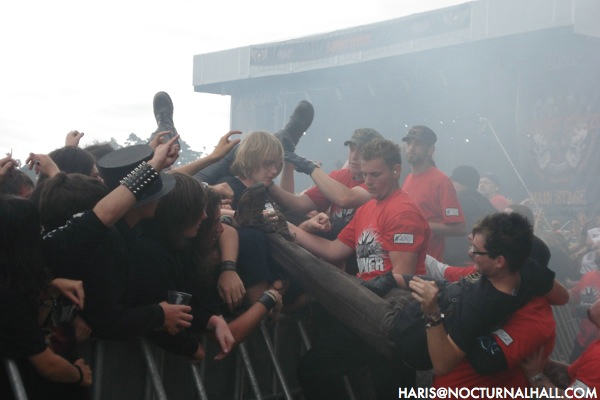 A big minus has to be mentioned here concerning the so-called headliner press card for photographers. One wasn't allowed to access the media pit during the last three bands both on the main and pain stage if the journalist couldn't get hold of one of these special press cards. And that pertains to all in all 18 out of 45 bands – among others to the great gigs of AMORPHIS or AMON AMARTH. It's a pity for the bands, which worked their asses off on stage. The ladies and gentlemen organizers don't need to tell me that there were too many photographers or that there might have been other problems. The photographers were sent into the media pit group-wise even during gigs of bands such as THE HAUNTED in the Friday afternoon program. And I think it doesn't really matter if there are e.g. four instead of two groups during a headliner gig, does it? Personally, I was really pissed, particularly as each band would have deserved it to be photographed by a photographer with a press card to be able to have the live review appropriately documented with pictures.
As I wanted to attend the SUMMER BREEZE first time for the Nocturnal Hall Magazine this year, I had to get an accreditation, of course. It was quite disadvantageous the confirmation arrived Dajana about one and a half week before the festival started – if you have to plan your holidays and so on, then it's pretty barely calculated. I hope that I have the certainty whether I'll be accredited or not earlier. Otherwise I'd take care of buying a normal ticket…
As the negative aspects are once again far from getting out of hand this time, I'll be up for it next year again – then hopefully again with my best buddy Holla.
Beforehand I would like to thank Johannes who agreed to review the gig of PSYCROPTIC.