[Dajana] Finally! Hardly to believe (if you look out of the window) we managed to reach the merry month of May starting into the open air festival season, of course kicked off by the annual ROCK HARD FESTIVAL on the Pentecost weekend at the lovely • Amphitheater • in Gelsenkirchen, Germany. And yes, everybody was downright starving to lie in the sun while great bands are playing the arena. But... well… For the first 2 festival days the weather mode was switched to winter again. It was grey and cold but luckily no rain. As for that we got roasted on day 3 with excessive sun under a blue sky, including sunburn…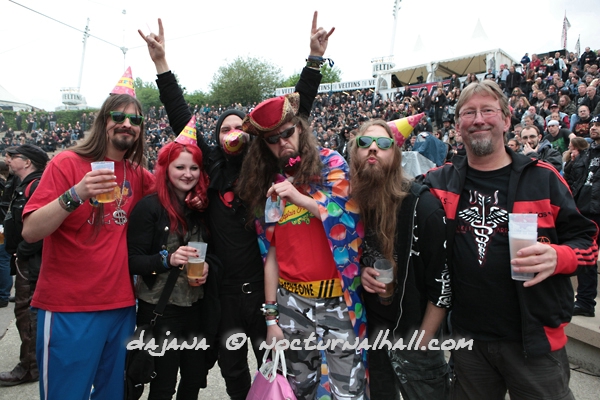 Ashes Of Ares - Attic - Audrey Horne - D-A-D - Denial Of God - Desaster - Ensiferum - Fleshcrawl - Gospel Of The Horns - Hellish Crossfire - Horisont - King Diamond - Mustasch - Naglfar - Orden Ogan - Orchid - Queensrÿche - Sepultura - Slingblade - Tank - Threshold - U.D.O.
:: Stories :: Friday :: Saturday :: Sunday ::
:: Photos :: Friday :: Saturday :: Sunday :: Fans & Fun ::
[Dajana] Last year's line-up already led to a lot of discussions and these ones got even lit up at this year's edition of ROCK HARD FESTIVAL.
[Psycho] And this was not only due to the nominally weaker billing generally but most of all because of the Friday with its running order. It was really difficult to comprehend why a band without any record out got the co-headlining slot on such a festival. And it should turn out to be a heavy burden for ASHES OF ARES.
[Sui] Unfortunately I spent most of the Friday afternoon in traffic jams. So I'm not really able to judge if the billing on Friday was as disputable as previously stated. I traveled to the ROCK HARD FESTIVAL 2013 without big expectations as well as without big fears, probably due to the fact that the line-up did not contain that many big names.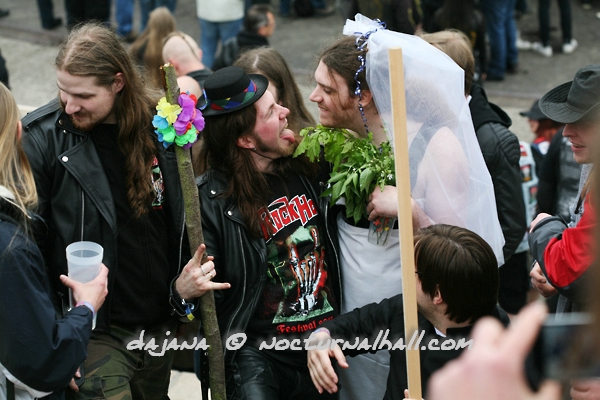 [Dajana] From an organizational point of view nothing has changed, everything went smooth. At least I did not hear about bigger problems. Steady prices for drinks and food, only the parking garage increased from 4.50 up to 6 Euro each day. And while roaming the food mile I had the impression of a better waste management. I saw many big rubbish bins that either did not get full or got emptied regularly. There was significant less waste lying around anyway. Thumbs up! If same can be said about the camping area… I actually don't know.
[Psycho] Unfortunately there were still no bins or bags in the theater, so it did not take a long time till the echelons got filled with trash.
What actually has changed was the absence of the Karaoke shows, an inherent part of the festival during the last years and - as I sensed out - something people really liked. I could not find any statement or announcement about this.
Furthermore there have been new clothing booths introducing itself the worst way - outrageously expensive. A zipped hoodie for example was priced at 55 Euro. Well, established competitors will have liked the more of buyers at their own booths.
As already mentioned, food and beer booths have been the same, some variety wouldn't have done any harm either. Why there was a booth for wooden dildos I guess only sexdog Albrecht knows…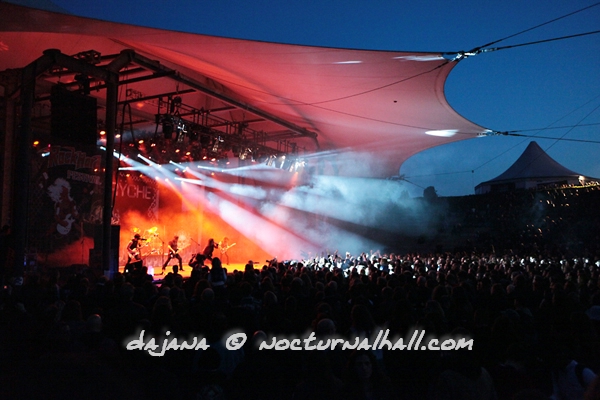 [Dajana] What attracted my attention was the fact that the stage was significantly bigger (at the photographers expense, but only for Friday), after I have seen the KING DIAMOND show on Sunday I know why ;)
And once again I would like to send out my special thanks and gratitude to • CCS • our security company at ROCK HARD FESTIVAL (and many other concert events I attend) for their service and assistance for us photographers :)