:: Day One :: We arrived around 6:30ish to a much larger venue, filled with the most extreme underground metal fans. GRAVE UPHEAVAL was already in full force. As they played, their Satanic droning style of metal had a hypnotic effect on all those up front. So much fog filled the room that the band appeared nearly ghost like. We stepped outside and got caught up in conversations with metal heads from near and far and missed all but one or two songs from DISPIRIT. Next up was England's ADORIOR. Before this point I had not been familiar with ADORIOR. The band contained the only female vocalist of the fest and she was just as brutal as any male vocalist. With a wildly intense stage presence and a voice from hell, she instantly earned the respect of every metal fan in attendance. ADORIOR was crushing with their two guitar assault, and fast drums. This thrash/death metal band won many fans over this night. Was it possible to top this performance? Canada's WEAPON followed up quite nicely. This Satanic death/black metal band had intricate guitar leads, and totally shredded. Violent head banging ensued and hair was flying everywhere. Just when I thought it couldn't get any better Finland's DEMIGOD took the stage. With Archgoat's drummer joining them onstage, DEMIGOD blasted everyone with the truest old school death metal. Surprised the fuck out of me and probably everyone else in the room. They have that unmistakable groove to their death metal, made me think of Immolation. Not realizing they had been in existence since 1990, and hadn't released anything in a long time, I set out after their set to find their cd with no luck. Closing the first night was the mighty INQUISITION. This two man Satanic black metal band sounds as powerful as 4 men. They know exactly how to whip the crowd into the legions of hell.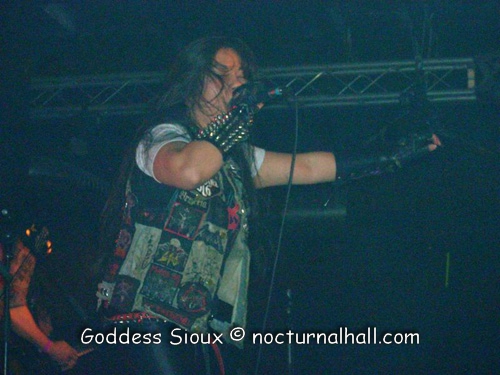 :: Day Two :: We arrived at 5pm to catch my friend's band BLASPHERIAN. Fortunately, things were running late and we had to sit through P.L.F. first. They were ok. I was happy as I didn't miss my friend's band and this gave me time to pick up lots of metal swag while waiting for BLASPHERIAN to play. Houston Texas' BLASPHERIAN are total old school Satanic death metal. They did a great job preparing the crowd for the night that was about to unfold. Next up was GRAVE RITUAL, another band that I missed due to socializing. Then MIDNIGHT was upon us, the punk metal band took the stage in black hoods and threw everyone into moshpit insanity. Violent stage diving took place and things got crazy. Then came ADVERSARIAL, another Canadian black/death metal band, tearing up the stage. Nothing could prepare me for BLACK WITCHERY's performance though. Another stand out at the fest. Cloaked in black robes, they unleashed violent satanic black metal. The vocalist is downright scary, ranting between songs about someone talking shit about them. A bible appeared mid set and got torn to shreds by the audience. Their performance and the atmosphere they created was extraordinary. Chicago's CIANIDE followed this performance. Not as intense and a little more low key and slow, they still killed it. Then it was Greek metal gods ZEMIAL's turn to take the stage. Their first time in the US, and it almost didn't happen. Thanks to fans of the fest, they helped to get ZEMIAL over here. All that aside, they had the longest set of the whole fest. A whole 90s minutes. Thought it was quite awesome with their more melodic metal, it got a bit too long and drawn out in the end. To close out the night was ANTAEUS, the band everyone was anticipating. All the way from France, it was ANTAEUS' first and only US show ever. ANTAUES slaughtered everyone in their wake. Mkm Spk's stage presence is too intense for words. I didn't know what he was going do next. The crowd was immersed in the onslaught of black fucking metal to the fullest extent. Though I wished they could have played a bit longer, it was the climax of the festival, and an awesome way to end the day.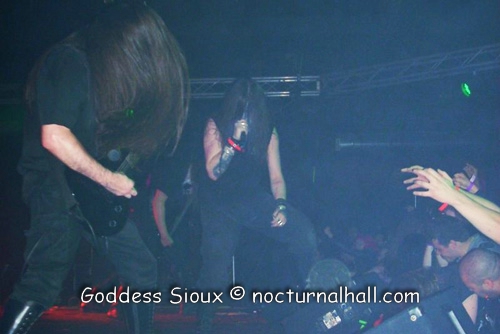 :: Day Three :: Plagued by exhaustion, we missed the first couple bands and came in while VASAELETH was playing. This time I got a much better view and grip of the band. Totally dig their old school style, and again they tore it up onstage. CRUCIAMENTUM was up next and I can't remember all that much about their music, except that it was metal to the heaviest extent and that they were enveloped by fog the whole time they were onstage. Onto MITOCHONDRION, another Canadian band. Their dark presence and slower death metal style had everyone in a trance, that is until the blast beats kicked in. More socializing ensued and then it was time to see Kansas City Missouri's own ARES KINGDOM. Featuring former members of Order of Chaos. They brought old school thrash to the fest and had everyone head banging like mad. Unfortunately, it was after their performance that exhaustion defeated me. After four days of standing for long extended hours, head banging and lack of sleep my body gave in and it was time to call it a day. Despite the online drama leading up to RITES OF DARKNESS III fest, I would say this fest was a success. There is no other fest like this in the US that focuses on this particular underground genre alone. It was beyond awesome. The bands and the fans united in metal as the universe intended. I just hope there is another RITES OF DARKNESS fest in the coming years.