ROCK MEETS CLASSIC will once again hit the road. And once again this show will be one hell of a spectacular concert event, on a highest level. For the fifth time this unique crossover project will combine world-famous Rock hits with classic music. A two and a half hours show featuring famous Rock and Metal singers. On April 2 ROCK MEETS CLASSIC made its stop at • Grugahalle • Essen, Germany and for the first time the NOCTURNAL HALL will take part too :) This 5th anniversary tour will even top the previous ones! Not only that legendary ALICE COOPER will headline this tour, he - for the first time in his over 40 years spanning career - will perform with a full orchestra. Not to forget the other stars on the billing, truly an all-star meeting: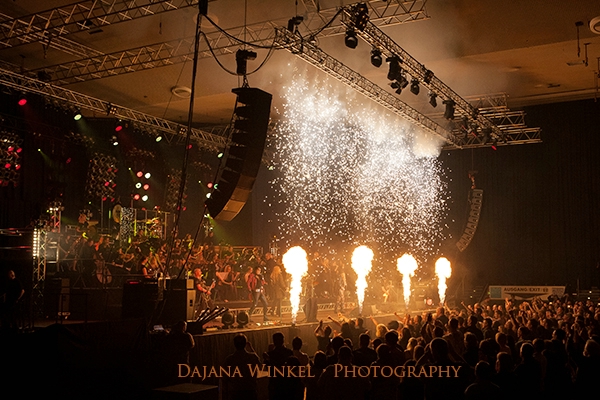 Alice Cooper - Mick Box & Bernie Shaw (Uriah Heep) - Joe Lynn Turner - Kim Wilde - Midge Ure - Mat Sinner Band & Bohemian Symphony Orchestra Prague - Amanda Sommerville (Trillium) - Ralf Scheepers (Primal Fear) - Tiffany Kirkland - Kolinda Brozovic - Sascha Krebs
:: pics ::
The curtain falls on time with Queen cover The Show Must Go On before :: MATT SINNER :: introduces the first special guest :: MIDGE URE :: And this Scottish man is just stunning! He is in high spirits and very talkative, presenting four of his biggest hits with Ultravox. Man, I feel like 16 and get gooseflesh all over when the epic Vienna thunders through the hall. Says MIDGE URE: "…the next song is a really, really, REALLY old. I had hair when I wrote this song" ;) With the final Dancing With Tears In My Eyes I cannot stay seated anymore. What a great show! Damn, way too short of course (but there is already a tour in fall confirmed ;)) I'm stoked!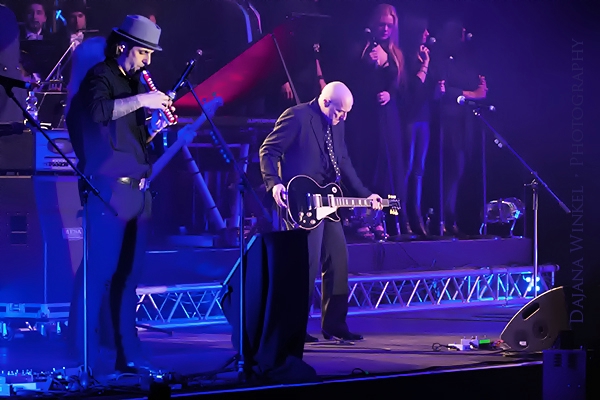 Next up is famous singer :: JOE LYNN TURNER :: best known for his voice in Rainbow and Deep Purple. And that is exactly what he presents: three classics from Rainbow and one song from his Deep Purple era. He appears a bit reserved, cannot raise the enthusiasm Midge Ure did, but also left his mark on the audience. Right after the :: BOHEMIAN SYMPHONY ORCHESTRA :: under the direction of Bernhard Wünsch plays a stunning version of the first movement of Beethoven's 5th symphony, which gets honored with frenetic applause. Well, there is hardly any other classic theme better suiting here ;)
Time has come for the next very special guest :: KIM WILDE :: And again I got blown away. She is such sunshine, so utmost chirpy, bouncing over the stage and rocking the hell out. I'm just wondering who feels younger right now ;) Oh, let me explain, I'm a child of the 80s and KIM WILDE as well as Ultravox back then, one of my heroes. However, one of the biggest hits and my favorite track from KIM WILDE is Cambodia, which of course got played and once again gooseflesh and shivers run up and down my spine. Amazing! I want more. Instead we get released into a 20 minutes break.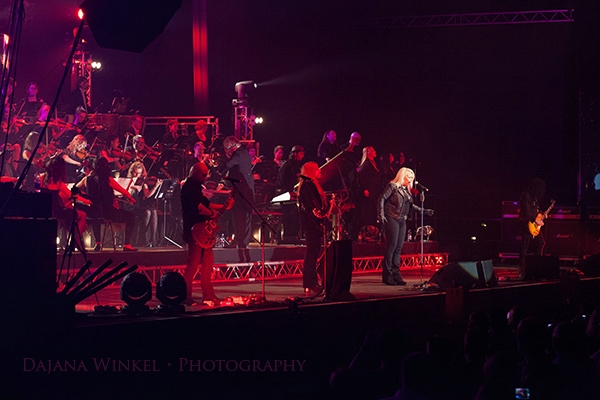 The size of the venue was cut in half with curtains all around to make the hall looking smaller. That does not speak for massive tickets sale. I actually do not wonder, this is a four weeks lasting tour through Germany with 20 dates and ticket prizes are anything than low. Though, far more than 1000 fans made it to the show and created a frolic mood. The venue was completely seated - to underline the classic character - but killed a lot of atmosphere as most of the fans were standing all the time though. Also the BOHEMIAN SYMPHONY ORCHESTRA acted quite frolic. There were blinking violin bows swung, the orchestra drummer was headbanging, and a violin player had glowing devil's horns up. Every musician had visibly fun but played with a certain elegance, not thwarting the overall picture or reducing the show at absurdum.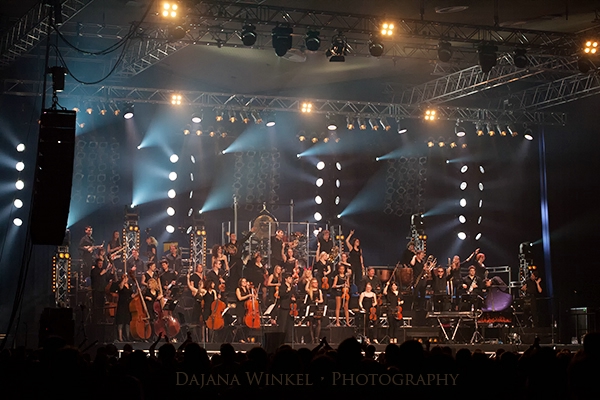 The second part of the show gets kicked in by Pink Floyd's Another Brick In The Wall sung by Oliver Hartmann. Then :: MICK BOX & BERNIE SHAW :: of Uriah Heep enter the stage and likewise play their biggest hits, finishing with their most famous one Lady In Black. Once again I take my hat off for such delight in play and agility at this age.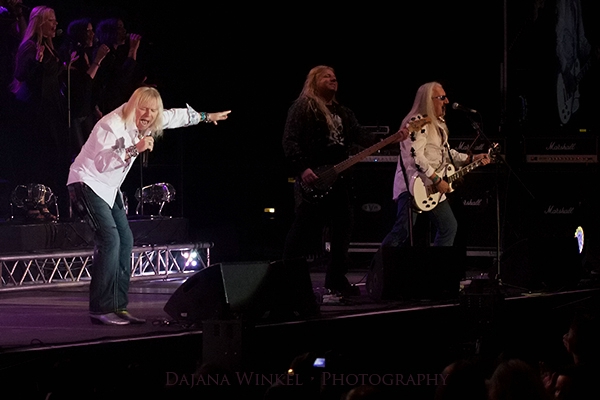 Another orchestral interlude - this time a theme of Hans Zimmer's Pirates Of The The Caribbean featuring Randy Black on drums - leads over to the show's grand finale with :: ALICE COOPER ::. Headlining the ROCK MEETS CLASSIC tour he of course got some more time and thus presents a handful of songs of his long, long career. Mr Furnier is meanwhile 66 years old and it is breathtakingly amazing to see him rocking the stage and the show. It is a huge spectacle with lots of fires and the crowd freaks out. His legendary classic Poison marks the end of the show, of course not meant to be the ultimate finale. One encore is granted: School's Out sees everybody participating in this tour joining in on stage, rocking one more time, all together, with fires, co3 jets, huge black balls and a closing shower of sparks. What a show! What a nice evening :)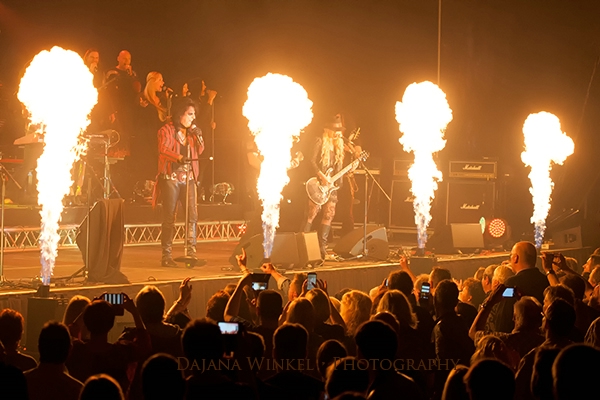 Setlist Part 1: • MATT SINNER BAND • The Show Must Go On (Queen) • MIDGE URE (Ultravox • Hymn, Breathe, Vienna, Dancing With Tears In My Eyes • JOE LYNN TURNER (Rainbow) • I Surrender, Stone Cold, Love Conquers All (Deep Purple), Since You Been Gone (Rainbow) • Beethoven, Sinfonie Nr. 5, 1. Satz (Orchestra) • KIM WILDE • You Came, Cambodia, You Keep Me Hangin' On, Kids In America
Setlist Part 2: • MATT SINNER BAND • Another Brick In The Wall (Pink Floyd) • MICK BOX & BERNIE SHAW (Uriah Heep) • Easy Livin', Free Me, July Morning, Lady In Black • He's A Pirate (Hans Zimmer - Theme Of Pirates Of The The Caribbean; Orchestra and drums by Randy Black) • Hello Hooray • ALICE COOPER • House Of Fire, No More Mr Nice Guy, Only Women Bleed, Welcome To My Nightmare, Poison // School's Out