[Dajana] Also QUEENSRŸCHE are right now well to spot on their current European festival hopping, playing a handful of club shows in between. One of those club shows brought the guys to our lovely • Turock •.
Against first announcements and rumors QUEENSRŸCHE played all alone, without any support band. Too bad, they had Armored Saint sharing the stage at other clubs… As for that ticket prizes (32 Euro pre-sale, 37 Euro at doors) were extraordinary high, as well as prizes for merchandise (30/35 Euro for tees).
It got even worse as photographers were not allowed to take photos and the equipment had to be left outside (or the photographer had to leave the show at all). That's why you can't find photos here (just 3 from the archives). That's pricing and behavior that definitely doesn't match the status of the band, and doesn't suit them either.
Though, the Turock club is surprisingly packed and crowded. Wow, that I did not expect. Okay, nothing to nag about. I guess the club owner was in high spirits ;) I was just wondering for whom the photo pit was made for…
However, as a single band :: QUEENSRŸCHE :: took it easy and started quite late with Anarchy-X from 1988 breakthrough album Operation: Mindcrime (its title now gets used by former QUEENSRŸCHE singer Geoff Tate for his new band). In fact, the whole set consisted of classics only, except for one track, Arrow Of Time, which comes from the band's new album Condition Hüman, set to be released in October and one track from their self-titled comeback album. Honi soit qui mal y pense… La Torre himself has continued work on his vocals and minimized the differences to Tate at the classics. He became thinner, and vain, but is still that friendly guy from the next door.
To sum it up: QUEENSRŸCHE were quite lame and visibly tired tonight. But that didn't narrow the mood in the club any bit. The audience took over and was singing along full-throated. Unfortunately, to be the only band playing didn't mean to play an extra-long set. No way! After a standard playing time of 90 minutes incl. one encore the band left the stage. Value for money? Definitely not! What's left is a nice evening with great classics and a stale aftertaste.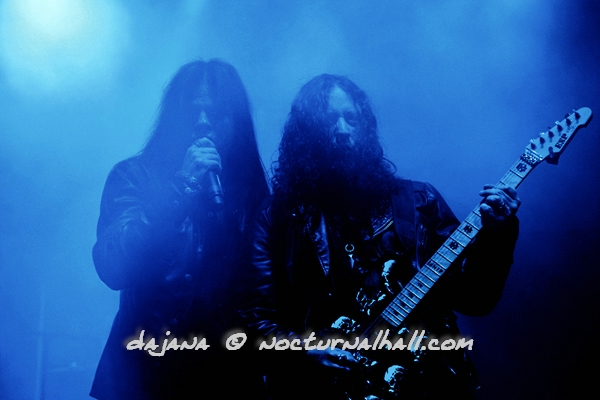 [BRT] QUEENSRŸCHE without support for 37 Euro at doors… That's a bit much! Plus a set of hardly 90 minutes... Phew! Quite many negative points to take here. Ok, the club is jam-packed but not sold out. They play one classic after another, nothing to nag about. Really. Surprisingly enough, it's the Empire songs that cause goose bumps, although I'm more the Operation: Mindcrime fan. Just great! The band acted quite unbalanced. The new ones, singer Todd and guitarist Lundgren, were rather agile and in touch with the crowd, the rest seemed to have taken plane-downer and remained unremarkable. That creates an image of a band that doesn't know right now where they stand. Ambivalent evening. Music was great, basic conditions rather bad. Friends were less diplomatic describing this evening. Sorry, but one can expect much more from a band like QUEENSRŸCHE! They have so many great songs to play for hours…
Setlist: Anarchy-X, Nightrider, Speak, The Whisper, En Force, Warning, Silent Lucidity, The Needle Lies, NM 156, Arrow Of Time, Eyes Of A Stranger, Empire, Queen Of The Reich, Jet City Woman // Take Hold Of The Flame