8/9 • Emperor - Masters Hammer - Revenge - Toxic Holocaust - Anaal Nathrakh - Dead Congregation - Unanimated - Gruesome - Our Survival Depends On Us
8/9 • Tent • Endseeker - Crescent - Evil Warriors - Gutrectomy - Grim Van Doom
8/10 • Venom - Dying Fetus - Unleashed - Exhorder - Deserted Fear - The Black Dahlia Murder - RAM - Coffins - Pillorian - Benighted - The Committee - Guineapig
8/10 • Tent • Blood Incantation - The Spirit - Skelethal - Ultra Silvam - Goath
8/11 • Watain - Tankard - Brujeria - Tribulation - Pestilence - Sadistic Intent - Exciter - Carpathian Forest - Harakiri For The Sky - Wolfheart - Graveyard - RazorRape
8/11 • Tent • Gorilla Monsoon - Possession - Essenz - Obscenity - Engulfed - Hierophant
THIS WAS A NICE RIDE… PUTA MADRE!
[Dajana] PARTY SAN OPEN AIR the 2658863th… Felt. Somehow. Loved ritual, held dear. As every year ;) Ok, 2018 sees the 24th edition of PARTY SAN OPEN AIR and for me it is my 8th one. Though, I feel home as if I would attend the 20th or 30th one. Speaks volumes, doesn't it? About me and about the festival ;)
[Dajana] Of course, the NH crew was most looking forward to the mighty EMPEROR show. Actually, the one and only true highlight onthis year's billing but raising the expectations high as fuck. There were other gems such as OUR SURVIVAL DEPENDS ON US and GORILLA MONSOON, I was especially looking forward to, but the majority of bands have already played the PSOA for several times (WATAIN play for the 5th time here?). So, this year's line-up was in fact of a high level of quality but free of surprises and did not cause any enthusiastic outbursts. Additionally, the number of bands has grown. More bands playing in the tent, more bands on Thursday, already starting at 2.30pm. That sucks! Less bands, more quality and in between time to take a breath, to drink a beer and to socialize (if needed ;)).
And yes, I would say, there have been clearly less visitors at this year's edition.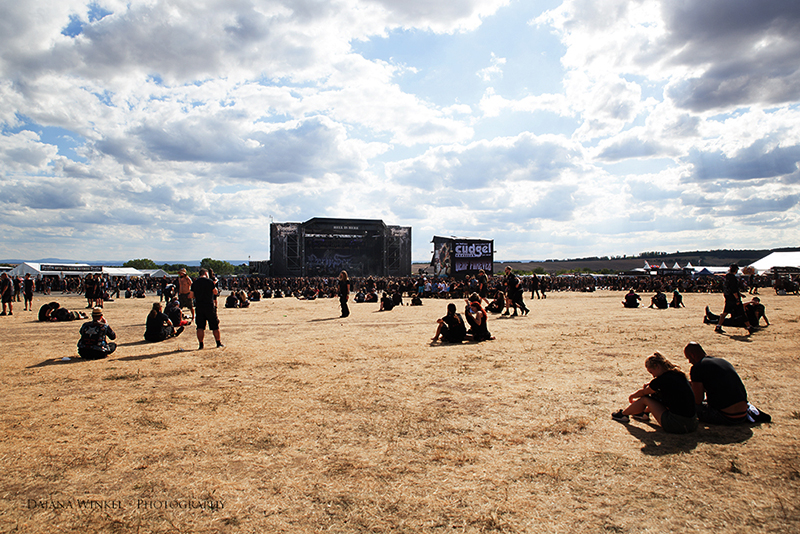 [Dajana] What is also kind of a ritual is to nag about the weather. The rainy cold one like we had during the last two years for example. Anno 2018 the summer is hot, hotter, the hottest, bone-dry for weeks and with temperatures beyond 30°C/86°F. Fears, that men, women and mice would be grilled and roasted this weekend luckily evaporated in favor of an almost perfect festival weather. It just became a bit windy…
Quote: "We are riding towards the desert". Yes, the PSOA looked like every other bigger area in Germany these days: yellow, burnt, dry and dusty. An announced thunderstorm brought us no rain but a huge sandstorm competing successfully with the ones on Dune. The organizers reacted prompt, fast and effective, interrupted the festival and evacuated the area. Announcements were made in multi-languages.
Thankfully, the fans reacted likewise fast, left the area and went to their cars to find shelter and/or to safe the tents. Many of them were blown away, pavilions too and all the other stuff standing lose around like dustbins, dixies and hoardings. Luckily, no one got seriously injured. Thank Buddha. One hour later the festival went on again. My kudos to the organizers for their fast and consequent action! Well done!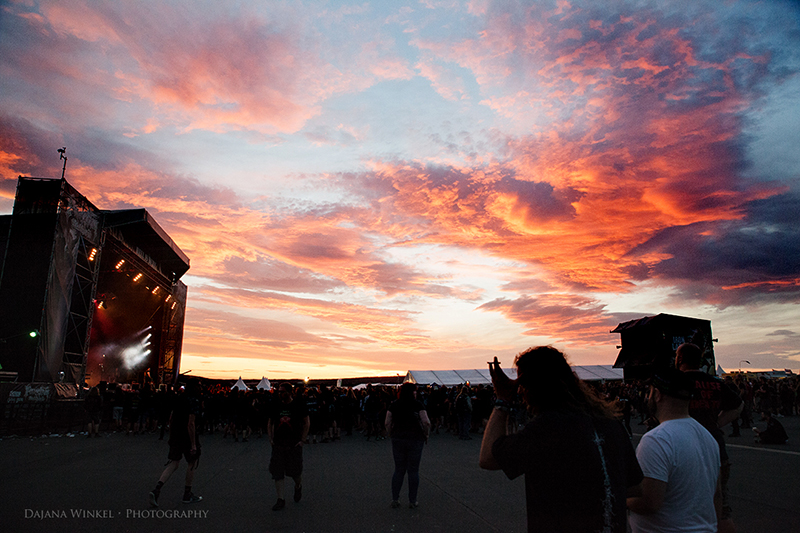 [Dajana] From an organizational view, not that much has changed. The PSOA crew has found its way of high standards to rule the festival ;) Ticket prices have increased a bit again. Also prices for beer and food. Our delicious Köstritzer increased from 2.50 to 3 Euro (for 0.4). The organizers also deleted the one-way cups in favor of printed returnable ones with 2 Euro deposit. And it paid off. The area was WAY cleaner! Now they just need to put up more dustbins at the stall for example or behind the FOH for leftovers, papers and stuff and it will be perfect :)
[Öko] PARTY SAN OPEN AIR – the second! While my PSOA premiere last year could have been themed: "Do not be angry with the rain; it simply does not know how to fall upwards.", this year's edition went under the banner: "Gone with the wind". But hey, some weather turbulences can't stop us at all, right? Right! As for the rest, I agree with Dajana.