Asphyx - Aura Noir - Cannibal Corpse - Demonical - Desaster - Devourment - Dying Fetus - Ghost Brigade - Ketzer - Lividity - Lock Up - Manegarm - Merrimack - Milking The Goatmachine - Monstrosity - Napalm Death - Necrophagist - Ofermod - Onheil - Origin - Sarke - Suffocation - Suicidal Angels - The Crown - The Devil's Blood - Tribulation - Under That Spell - Watain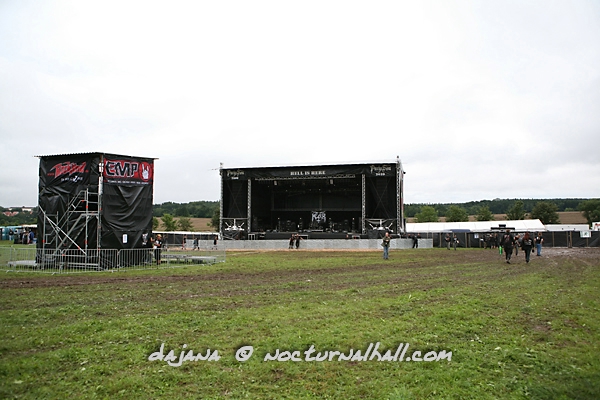 :: live reports :: Thursday :: Friday :: Saturday ::
:: photos :: Thursday :: Friday :: Saturday ::
[Dajana] Compared to the last year the things around turned out to be a little more chaotic. First, lovely Seda, one of our new journalists, was forced to cancel her appearance shortly before the festival. But luckily Sui joined in, also Sebastian and his girl attended PARY.SAN 2010, all of them for the very first time, so that we could comfortablyshare work ;)
[Dajana] Only the weather god wasn't kindly to us. Kinda suboptimal so to say *laughs* PARY.SAN OPEN AIR was actually a mud-throwing contest. All of the three days. BUT… as I learnt… this year's mud could NOT top 2007 and - as for me - I already experienced mud in a worse way at (so I think) 2002's Wacken Open Air ;) So, who cares, we ain't sugar dools and we had a lot of fun though. And since the P:S:O:A seems to swing into a 3-years-rhythm, expect a sunny PARY.SAN in 2011 and 2012 :)
A HUGE special thank you goes to the organizers of PARTY.SAN who did really everything to make this festival happen and ongoing despite of the bad weather and who brought really every band onto stage although the backstage/stage ground was not drivable anymore and shuttle got stuck in the mud. You've been really great! Thank you guys *hugs*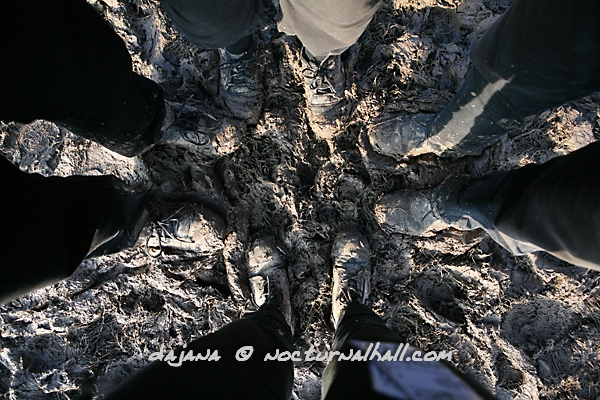 [Dajana] But there is one thing I really would like to bawl the organizers out: Dear organizers… Knowing that you are strictly against all right-wing orientated shit, giving clear statements in this matter… how can it be that retailers can unabashedly sell different kind of Nazi CDs, merch and hang up posters directly on the festival ground? Selecting the retailers is a matter of the organizers, right? Additionally "fishy" bands like WATAIN and VARG get invited, sharing stage with NAPALM DEATH? Have a look on your filmed material and watch the first rows during the WATAIN show, there is not only one lost hand raised to the Hitler salute! So, dear organizers… what's about your mind? Just a lip service? Money's hypocrisy? No? If you are serious about your attitude: prove it!
To quote Barney Greenway (as he said during the show in German): "Nazis, nein Danke!"