Henric de la Cour - Pouppée Fabrikk - Cosmic Overdose - Mr Jones Machine - Hearts Of Black Science - Johan Baeckström - Nattskiftet - Wulfband - Titans - Haul
After having experienced such memorable shows with HENRIC DE LA COUR and KITE earlier this year, and still having with the stunning HEARTS OF BLACK SCIENCE debut album, Signal, in mind, I just couldn't help myself making an effort to get on this year's PROGRESS PRODUCTIONS 12. Because, those mentioned bands have one thing in common: they all are on the roster of this excellent Swedish label. Of course, there are many more bands, some widely known in the Swedish EBM/Electro scene, some even beyond, but from most of them I personally have never heard of before. Another reason to do this trip, there's a lot to discover ;)
Founded in 2004, Torny Gottberg (and Krister Hessling) established this label festival right from the beginning to introduce and present their bands and just having a great night out. 12 years PROGRESS PRODUCTIONS sees the 12th edition of the festival, once again sold out as many editions before this one. As dedicated as Torny and Krister are to their label, bands and music this festival is no super big thing but an intimate gathering of fans and friends around the label and the bands involved. So it didn't wonder that everyone knew everyone else as countless hellos and hugs proved.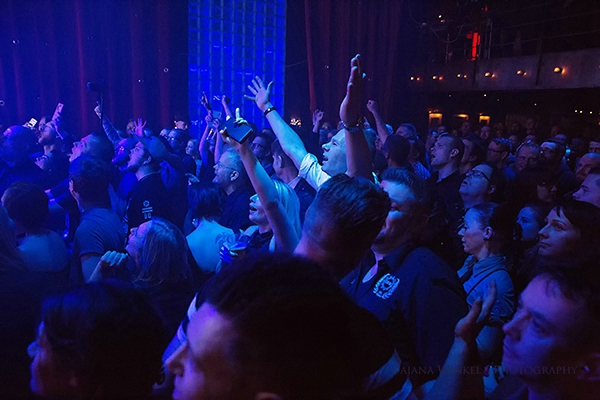 Well then… I have fond memories of Sweden but never was in Gothenburg before. And its finest club, the :: Sticky Fingers :: is legendary. So, how could I not make this trip? ;)
This journey was in many ways something special to me, kind of a new beginning. And I truly enjoyed every minute of it. Weather was stormy, flights delayed and then pretty… harsh ;) But I had a good laugh when the flight crew barred owners of the Samsung Galaxy S7 from using it during the flight due to fire safety. Hahahahaha… this was a good one. A bit sightseeing in Gothenburg the next day and then time had come to experience what Sticky Fingers are made of - a live club with a character, two stages, several levels, bars and intimate corners.
:: pics ::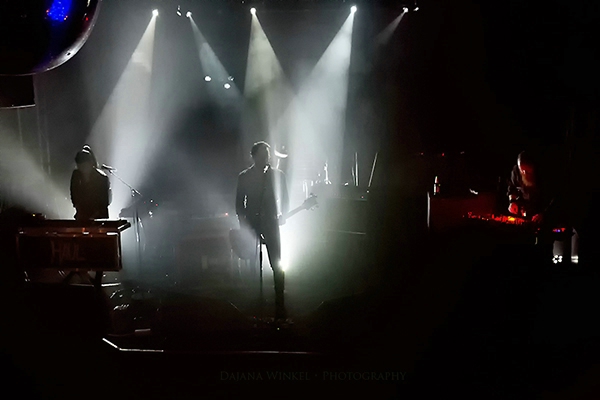 For German festival conditions the PROGRESS PRODUCTIONS 12 was kicked off quite late. Doors opened at 6pm and the first band started at 7pm. Fans poured in quickly and were in great mood, so that :: HAUL :: already faced a well-filled main hall with an expectant festival atmosphere.
The band was founded in 2009 by by Pehr Herb, meanwhile grew to a four-piece and has released its debut, Separation, in April. That's all information I could found about them. Musically, HAUL range between Post Punk and Wave, garnished with a little splash of Industrial. Their expression onstage is as dark and bleak as your mental apocalypse can be. The bass sound was much overdriven. Singing sometimes reminded me of Fields of The Nephilim. References to Joy Division go of course without saying. Woah, this was an intensive and captivating performance. I closed my eyes and let engulf me in the abyss. First band, first new discovery, first highlight. I want more. What a start!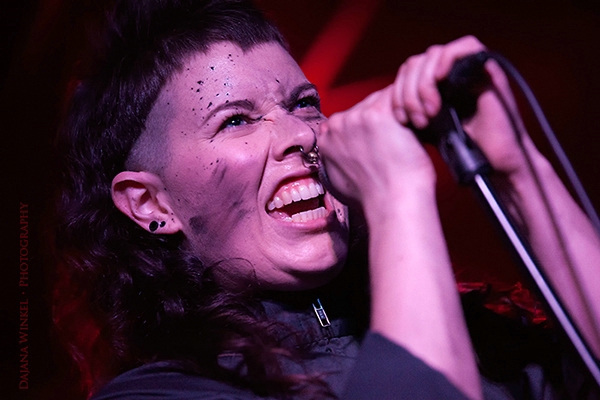 Right after I for the first time stepped down into the cosy den called Down Floor, where :: NATTSKIFTET :: heated up the packed and crowded spot. NATTSKIFTET is an old school EBM band from Gothenburg fans of Nitzer Ebb would pretty much like. Another young band with only one EP released so far. But they have already gained ground. Fans danced wildly and the atmosphere was gruff. EBM souls unleashed, so to say. Dance baby, dance!
Upstairs the one and only :: HEARTS OF BLACK SCIENCE :: got ready. This band on the billing was the main reason to attend this festival. HOBS don't play live that often, so every opportunity needs to be seized. Daniel Änghede is a busy man and right after on tour with one of his other bands: Crippled Black Phoenix – another one of my favorite bands. And Tomas Almgren, the highly creative other half of HOBS isn't any bit less busy ;) For the mesmerizing show at PROGRESS PRODUCTIONS 12, HOBS got accompanied by the ever wonderful Heike Langhans (Draconian, Ison), who spent her voice on Wolves At The Border and Faces. Goose bumps. A show that truly captured my heart *sighs*. For this show alone I would have travelled to Gothenburg (and will probably do to anywhere else if I can see them playing live again).
Setlist: Faces, Icon, Wolves At The Border, Protector, We Saw The Moon
I stayed upstairs till the last tone was gone and thus failed to find a proper place downstairs as the room was so overly packed and crowded. :: JOHAN BAECKSTRÖM :: must be a much popular band. Synth Pop as its best and quite a contrast to the harsh EBM bands. I felt like in the 80s, you know, Erasure and sort of bands.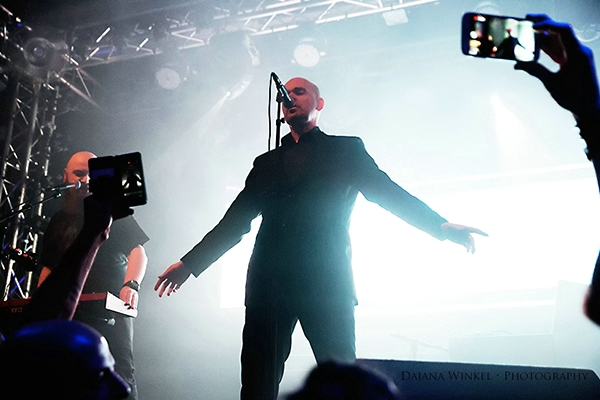 More 80s tinged Synth Pop we then got on the main stage. :: MR JONES MACHINE :: seems to be even more popular as the crowd completely freaked out, cheered and adored the band and sang along every song full-throated. MR JONES MACHINE sing in their mother tongue, which sounded rather unfamiliar to me. But interesting. After two, three songs I couldn't stand still either (although I'm not really into Synth Pop fan) and started dancing, or swinging heaps, or fidgeting, or whatever ;)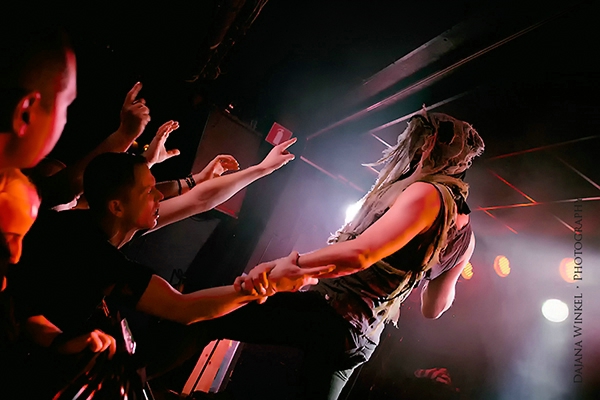 I had learnt my lesson and went down way earlier. Thank Buddha. The packing density got even increased. Dramatically. If you once found your place you hadn't any chance to leave it again ;) I didn't want to either. When :: WULFBAND :: got on stage and kicked off their show my jaws dropped *laughs*. This show was kind of a revelation. A violence-dance and attacks against everything. This is the slogan of the band, in German language (Gewalt-Tanz und Angriffe gegen Alles).
Imagine being so downright angry and pissed off that you would like to thrash and burn everything… then you have reached the level of the Muttificker WULFBAND. Again old school EBM, extremely heavy, extremely aggressive. The duo consists of two hooded anonymous members, called 7 and 9, who try to emerge as Germans, have German songs, titles and lyrics, which was so utterly cute. I'm soooo sorry, but every now and then I couldn't refrain from laughing. Music was rad, the show too. WULFBAND crushed it. Wild and rad, bizarre at times, and probably under influence ;) No need to mention that the crowd freaked out likewise extreme. I'm sure many people got bruised during this performance ;) Wow! Definitely a band to deal with! Another new discovery, another highlight!
Time flew by quickly. With :: HENRIC DE LA COUR :: on the main stage the headliner showed up already but that did not mark the end of the festival. Now the main hall was so packed and crowded too that even a mouse hardly could pass. And the fans were really passionate. Here I gave up and thankfully accepted the offer to take some photos from the gallery. HENRIC DE LA COUR on tour always features the PROGRESS PRODUCTIONS boss Torny on keys (and on merch, and other spots). Tonight, he had a bigger job to do and handed his sound part over to not one but two guys. Again a wonderfully emotional show, just way too short. It seems to be a Swedish habit that bands play for 30 or 45 minutes only.
From now on all left bands played only downstairs, while upstairs the aftershow party (or Saturday disco respectively) came in full swing. And now the festival served us a premiere. Fredrik Mattsson and Jimmy Svensson have founded :: TITANS :: in 2009 and recruited Dan Von Hoyel (seen live on stage with his band Harmjoy at E-Tropolis festival) as the band's singer. The Swedes and the Californian gentleman have met for the first time 2 hours prior their show at PROGRESS PRODUCTIONS 12. And this was their very first live appearance. So, when Dan said: "welcome to our very first rehearsal", he scored. I could see many fans and friends of the band around. One told me how special that show is for him and his friends and that he came quite a long way down to Gothenburg to seem playing live for the first time. It was a smooth show. Dan did a great job as frontman, while the Swedes remained masked behind the synths.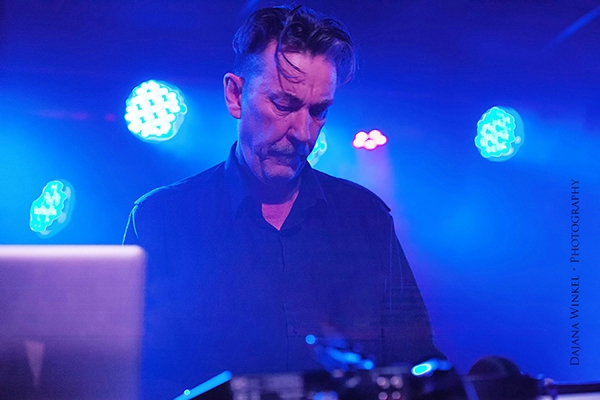 Another premiere followed. Announced as a "secret act". label boss Torny took over the chance to introduce the band itself. After 35 years, :: COSMIC OVERDOSE :: will perform live again. The duo Dan Söderqvist and Karl Gasleben have strongly influenced the Swedish Electro scene and left a clear mark, as much as DAF did over here in Germany. There is much similarity between those bands. Also musically. Founded back in 1978, COSMIC OVERDOSE have released two full-length and various singles, which now, complete and with many extras, get re-released as a box, Koko Total, via - of course - PROGRESS PRODUCTIONS. Two days after the festival. After all those years, COSMIC OVERDOSE haven't forgotten anything. But, they only played 3 songs, a short and snappy 15 minutes performance that - as I already could hear around - made history.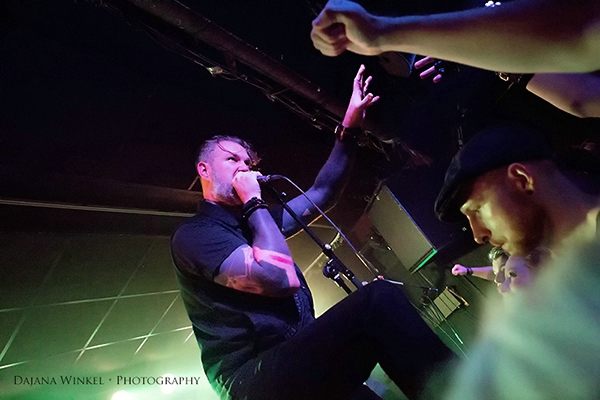 And here we are at the grand finale of PROGRESS PRODUCTIONS 12. And finally I was in a situation where I knew the ropes. :: POUPÉE FABRIKK :: I know. I like their music and have seen them playing live several times. And I know their frontman Henrik Björkk (Nordvargr) from various Metal bands and projects. He is a giant and the ceiling was low. I saw potential for conflicts ;) By the way, POUPÉE FABRIKK was the only band that night that is not on the PP roster. Or just for a quarter, as POUPÉE FABRIKK performed in its original line-up, including Jouni Ollila (Mr Jones Machine) on bass and synths. For a last time that night the Swedish crowd was freaking out, danced wild and unleashed. What a show!
That's that! The PROGRESS PRODUCTIONS 12 is done and I felt sad just to leave. It is such a well-organized festival fir electronic body music. No breakdowns, no cancellation, no delays. The basses were much overdriven through the entire festival. But I guess that also depended where one stood. The audience was well-mixed and rather of a higher average age. Where are the new EBM generations? I felt really well and much welcome at Sticky Fingers. And I discovered awesome bands, most of all HAUL, WULFBAND and also COSMIC OVERDOSE. My fave bands HEARTS OF BLACK SCIENCE made my heart melt and HENRIC DE LA COUR amazed me once again.
This was a memorable evening! Thank you Torny & thank you PROGRESS PRODUCTIONS for a great festival and great bands. I going to close with the words from Heike Langhans: "I'll definitely be going to every Progress Productions event from now on". Yep, sounds like a plan ;)