The Theaterfabrik, based in Munich's Optimolwerke (not far from the Kultfabrik), has been a dark horse for me yet. The more interesting it is to see what the visitor can expect in the matter of the venue itself, room acoustics and, of course, alcoholic tasting.
:: pics ::
The entrance passes off pretty speedy and without any problems which is kind of astonishing since the entry gate is quite narrow – but metallers like us are… err… disciplined… ;) Merely ten minutes after the official kick-off the Swedes of :: PAIN OF SALVATION :: enter the stage.
The charismatic front man Daniel Gildenlöw has a lock on the crowd in the already well-stocked Theaterfabrik from the first minute on. He slightly reminds me of Dave Grohl from afar – the chin-long hair, the beard and his vigorous performance make me see the Foo Fighters frontman more than once appear in front of my mind's eye.
The Swedes restrict with few exceptions to the recent past, that is the Road Salt series – in other words: bluesy, groovy Rock instead of top-heavy Prog. It all works great! And I am by far not the only one with this my enthusiasm, no -the crowd geeks out and PAIN OF SALVATION are celebrated with thunderous applause.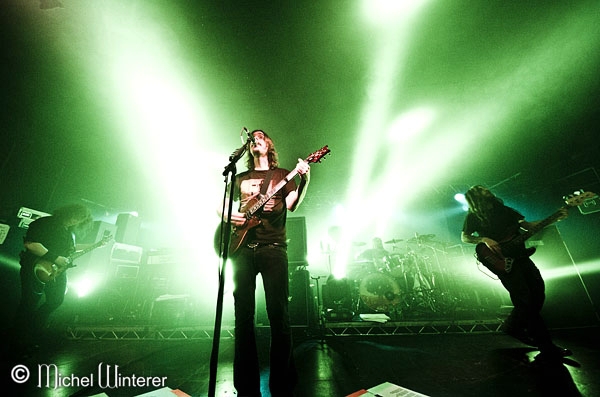 When the headliner finally enters the stage after the Popol Vuh intro, I feel being back in November 2008 when :: OPETH :: were guest in Munich the last time; at that time in the Backstage Werk – which is actually a big enough venue for such a band. But I have to fight through the crowd during the first two or three songs to find a strategically good position in the venue, just like in 2008. After all, I want to see the band and not just hear them – which prove being not such a simply solvable problem since the Theaterfabrik is a bit fuller than during the support act.
As expected, OPETH start with the bang The Devil's Orchard, the opener of the superb new album Heritage. The direction which Åkerfeldt chose during the preparations of the new album, that is to say to create an earthy atmosphere due to a production which is geared to the sound specifications of 70ies records and to rediscover jamming, left a mark in OPETH. I have never seen the Swedes that tight and perfectly well-rehearsed before in spite of the doubtless live qualities. First of all, the guitar player Fredrik Åkesson and the incredible drummer of these days, Martin Axenrot, enjoy this new direction obviously. The new member on the keyboard Joakim Svalberg also does very well and I don't miss Wiberg a second.
The speculations prior to the gig were all confirmed this evening: the front sunny boy Åkerfeldt completely passes on growls. Of course, there are older songs in the set, just none with aggressive vocals. In doing so, the one or another surprise can be found in the play list. Thus, the crowd may enjoy songs like Face Of Melinda or Credence.
OPETH are at their best, which they proved once again in a impressive way this evening.
Setlist: Devil's Orchard, Feel The Dark, Face Of Melinda, Porcelain Heart, Nepenthe, Throat Of Winter, Credence, Closure, Slither, A Fair Judgement, Hex Omega // Folklore