German band OOMPH! used to be somewhat like our editorial staff's faves. But for some reason we lost sight them for ages, although the band neither disbanded nor was put on hiatus. Much the opposite. For three decades now, the pioneers of Neue Deutsche Härte (NDH) release their records on a regular basis, all of them highly acclaimed by both press and fans, and dominating higher positions of the album charts. Also live, OOMPH! were always present, and though… Well. However. It seems it is about time to refresh this old flirtatiousness ;)
On January 18, OOMPH! unleashed their 13th effort, entitled Ritual. Once again a huge success for the band, making it up to #1 in the German album charts. With this new album in the basket, OOMPH! embarked on a European-wide tour to present Ritual live and brought their show to the completely sold out :: Zeche Bochum ::. Huh, yeah, this will turn out to be a hot and cuddly evening.
:: pics :: NERVENBEISSER ::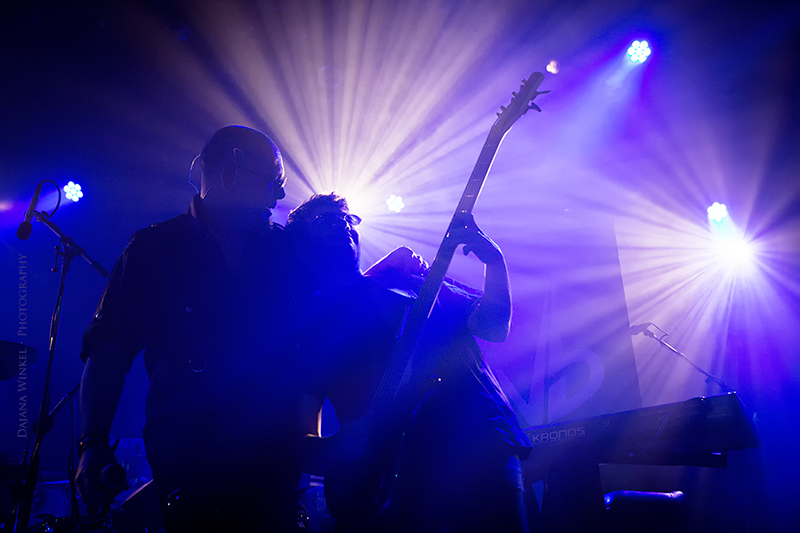 Ok, here we go. I arrived shortly after the doors were opened but the venue was already packed. Everybody was looking for the best place to be and did not moves any millimeter from there. The concert evening got started with German NDH rockers :: NERVENBEISSER ::. I have never heard of this band before and - to be honest - I already forgot about them.
NERVENBEISSER did not play a bad show per se but was suffering from a bad sound. Especially the singing was hardly to hear and if so, the voice of Olaf Seider was thin and powerless. Not so long ago the band had announced a professional and talented sound engineer for the tour. Dunno where he was that night. Overall, the show was pretty lame and boring. Ok, the band did not have much space to rock out, but the guitarist stood like nailed behind his micro. He only moved once, at the end of the set, to play a solo. Singer Olaf Seider acted much livelier but his movements were like a single pattern umpteen times repeated. As lame as the performance was as lame the response was by the audience. Polite clapping, countable hands in the air, but all in all the feedback was rather reserved. The last song on the setlist was not played. I guess, it one was meant to be an encore the crowd did not achieve.
From what I could read I understood the band as a duo, consisting of Walter S. Riffschmied and Olaf Seider. If the drummer and the bass player are now permanent members or just live musicians, I do not know.
NERVENBEISSER have released an EP right on time this tour was kicked off. Alles Gut offers four brand new tracks that all were played during the set, added by tracks from the latest full-length, Zeitenwandel. From what I could read, I understood the band as a duo, consisting of Walter S. Riffschmied and Olaf Seider. If the drummer and the bass player are now permanent members or just live musicians, I do not know. To me, a performance totally expendable.
Band: Walter S. Riffschmied (git), Olaf Seider (vox), Christoph Czech (drums), Patrik Bishay (bass)
Setlist: Liebesschmerz, Alles gut, Märchenland, Zeitwandel, Ein letztes Mal, Probleme, Du gehst, (Todesengel)
:: pics :: OOMPH! ::
How to do it masterly, :: OOMPH! :: demonstrated straight afterwards. Powerful sound, brutal rhythms, cool stage deco, a great light show and a band full of beans. THAT WAY you get your crowd bouncing through the whole show!
When the intro set in, I was a bit confused. It was Vampire Hunters from the Bram Stoker's Dracula soundtrack. This is per se an excellent kick-off, and surely a gross contrast to the band's music, but to me it did not really fit the band's show.
However, as already mentioned, OOMPH! have a released a new album but only played the four to date released singles from Ritual. The rest of the large set consisted of very old material, and tracks from the last records. There have been quite a few classics long time not heard – no wonder that the fans were freaking out. The venue was, almost literally, brought to the boil. Phenomenal atmosphere there. It was easy for frontman Dero to master his audience, even easier to crowd surf them during Niemand and to make fans enlighten their mobiles during Der Kurs. This looked awesome.
OOMPH! are known to deliver highly energetic shows. They do so for 30 years and, no wonder, they did it again tonight. I missed it. It was a real pleasure to see the guys live again. And, if you ask me, they could have played without any support. Fabulous show!
If you like it heavier musically but still like to dance, to sweat and to party too, OOMPH! will make you happy. Just go and attend their shows! Enough said!
Band: Crap - (git, keys), Dero - (vox, drums), Flux - (git, sampling), Silvestri - (live-drums), Hagen - (live-bass), Felix - (live-keys)
Setlist: Vampire Hunters (Intro), TRRR - FCKN – HTLR, Labyrinth, Träumst Du?, Jetzt oder nie, Der neue Gott, Mein Herz, Das weisse Licht, Tausend Mann und ein Befehl, Niemand, Kein Liebeslied, Auf Kurs, Fieber - Das letzte Streichholz (Medley), Gott ist ein Popstar, Gekreuzigt, Alles aus Liebe, Im Namen des Vaters, Jede Reise hat ein Ende, Kleinstadtboy, Sandmann, Augen auf! // Mein Schatz, Als wärs das letzte Mal