Steven Wilson - Magma - Crippled Black Phoenix - The Pineapple Thief - Sound Of Contact - Sanguine Hum
Opeth - Devin Townsend Project - Caravan - Amplifier - Anglagard - Maybeshewill - Anima Mundi
Back from a fantastic festival! The NIGHT OF THE PROG FESTIVAL is surely unique in Europe. At least I don't know any other festival like this. Year in and year out the • Wiventertainment • offers us an exceptional line-up with all kinds of progressive bands. Furthermore there is the breathtaking location, the • Amphitheater • of St. Goarshausen, high above the river Rhine and the legendary rock Lorelei.
:: Stories :: Saturday :: Sunday :: Pics :: Saturday :: Sunday ::
I made many attempts as private person also as press media to attend this festival, viola, 2013 is the year, where dreams come true (and works makes it possible). For the first time I visit the Lorelei and the NIGHT OF THE PROG :)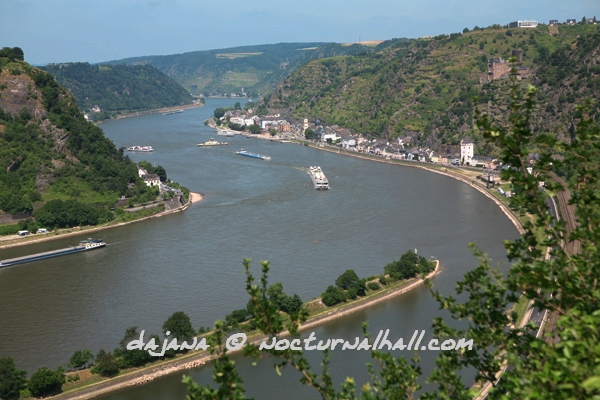 And of course, this eighth edition again offers as a marvelous billing. I'd even go that far to say it is the best line-up the NIGHT OF THE PROG FESTIVAL ever had. Especially as a musically open minded metal head I felt so home here this year. But I was generally keen to see all bands on the billing playing live. There have been some unknown bands to me and some of my all-time faves. I was really, really excited about this all.
From an organizational point of view there is not much to nag about. Festival tickets were out for 99 Euro and 129 Euro incl. camping. It is for sure not the cheapest festival but it's absolutely befitting bands and location. You only have 6 or 7 bands a day and everyone is playing one hour at least, the last three of them 2 hrs and even longer. Everything was really relaxed, camping, parking, security. One little downer: the festival tees were priced with 25 Euro and I think that is too expensive. On the other hand: the common Prog fan is around 40 and not a poor metal head ;)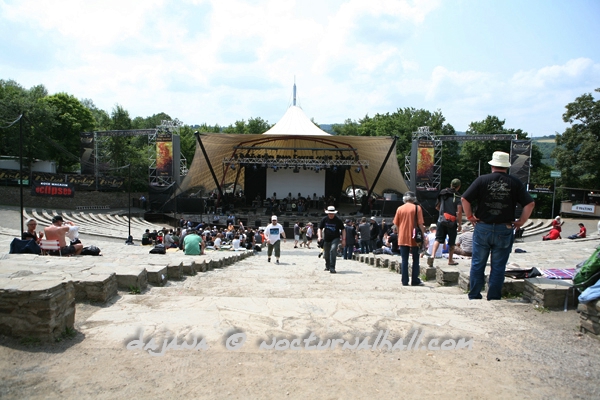 Exceptionally great and worth mentioning was the sound during the entire festival! Clear, clean, differentiated, exactly what you want to get when listening to Prog Rock bands. MAGMA and STEVEN WILSON even had some sort of surrounding sound – amazing!
Besides, the weather promised to be just awesome too. Pure sunshine everywhere and summerlike temperatures. The journey was easygoing and relaxed and from Koblenz on I had a breathtaking view around while riding the Rhine-road leisurely.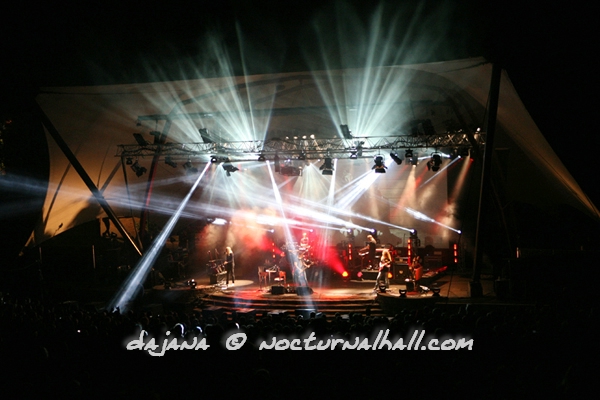 Unfortunately there was one big thing absolutely disappointing: the operator of this venue and area. The day before The Muse played a sold out show (14.000+) at this location, which caused a lot of trouble on Friday regarding camping and parking and technical problems during the entire festival. The associated visitor center (next to the gates to the Amphitheater) with a bistro part was totally overstrained catering for the festival guests (and there are very often major events at this place). Also food on the festival area itself was really, really horrible. There have been only 3 "snack" boxes, one closed, offering chips and sausages (curry), sausages and sausages. The curry sausage for exaggerated 4 Euro. After many complaints the operator also offered rice food the next day, with rice hard and dry (never touched boiled water I guess). Beer was 3.50 Euro (0.4) plus 1 Euro deposit (plus token). It was allowed to bring a 0.5l original and non-alcoholic tetrapak in. I know it is a swim or sink situation when you want to organize an event at this location by all means and the operator offers just this and I'm not sure how much pressure the organizers can create to make a change in the situation, but there definitely needs something to be changed for the better!
Ok, but now let's talk about the real thing… ;)