When it was announced that TAAKE and SARKE were playing 2014's MARYLAND DEATH FEST I knew I couldn't miss it. TAAKE had long been on my list of must see bands for over ten years. Plus just the fact that Nocturno Culto, one half of Darkthrone was making his first US appearance ever with SARKE was even more reason to go. Aside from those bands the rest of the line-up sounded incredible. MGLA, AETURNUS, ENTHRONED, HOODED MENACE, MY DYING BRIDE. Wow! So I packed my bags and headed out for a 13 hour drive across the mountains to Maryland.
5/22 • Crowbar - Coffins - Torche - Sourvein - Whitehorse - Seven Sisters Of Sleep
5/23 • At The Gates - Cancer - Solstafir - The Ruins Of Beverast - Castevet • Agalloch - Taake - Necros Christos - Mgla • Incantation - Aeternus - Enthroned - Putrisect • Impaled - Final Conflict - Cripple Bastards - Capitalist Casualties - Mesrine - Coffins - ACxDC - Kill The Client - Creative Waste - Pneumatic Slaughter
5/24 • Dark Angel - Sarke - Tankard - God Macabre - Entrails • Unleashed - Sacrifice - Nocturnus AD - Machetazo - Diocletian - Goat Torment • Asphyx - Schirenc - Hooded Menace - Bolzer - War Master • Excruciating Terror - Extinction Of Mankind - Noothgrush - Birdflesh - Dropdead - Victims - Black Breath - Stapled Shut - Archagathus - Sick/Tired - ??T - Theories
5/25 • My Dying Bride - Uncle Acid And The Deadbeats - Soilent Green - Wrathprayer - Misery Index - Bongripper • Candlemass - Gorguts - Inquisition - Pseudogod - Graves At Sea - Windhand • Immolation - Ulcerate - Mitochondrion - Mutilation Rites • Ratos De Porao - Unholy Grave - Left For Dead - Death Toll 80k - Shitstorm - Internal Rot - Maruta - Enabler
I missed getting a four day pass, so things began on Friday for me with Poland's mysterious black metal band :: MGLA ::. They appeared onstage within a fog, covered from head to toe in black, complete with leather and hoodies, also hiding their faces. It was incredibly hot outside and I cannot imagine what they were feeling, but they put on an incredible performance and it was a great way to kick off the day. There were two stages set up and as soon as one band ended all the metal fans flooded over to the other stage.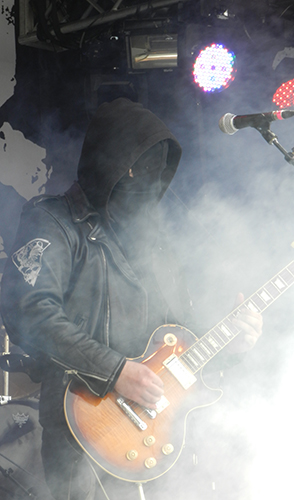 Next up for me was :: NECROS CHRISTOS :: and they gave a smashing performance. None of this mattered to me because I was so stoked awaiting :: TAAKE'S :: first ever US appearance. As Hoest stormed the stage cloaked in black I had to remind myself this was not a dream. The whole band was so animated and gave one of the most energetic and magical performance s I have ever seen. It was awesome and amazing in every aspect. The crowd went absolutely insane. They played a good 50 minutes and when it was over the crowd chanted their name and demanded more.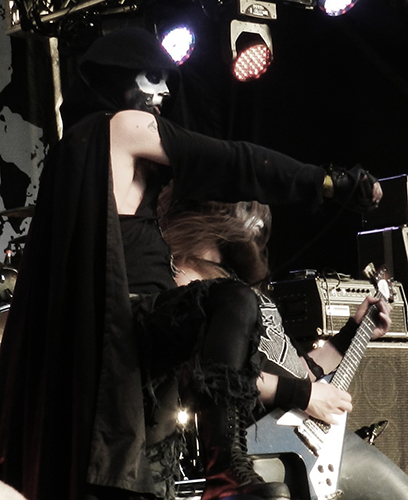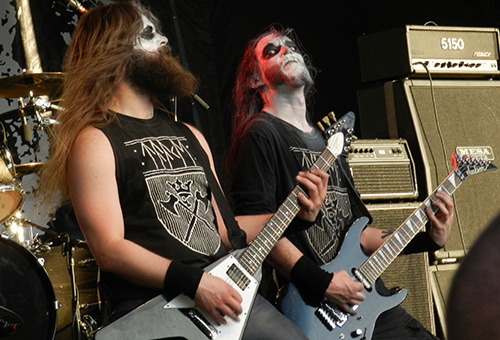 Unfortunately the metal fest had to go on to the next band, it was gonna be hard to follow that, but :: CANCER :: did it. Since the metal fest had two venues, we decided to head over to the other place to prepare for Enthroned. To my dismay Aeternus had to cancel their appearance due to visa issues. On the way to the venue we took a wrong turn and ended up lost, it was funny though, to see other metal heads on the streets of downtown Baltimore as lost as we were. We ended up at the Rams Head just in time for :: BÖLZER :: , who I had never heard of before. A two piece power house of drums and guitar from Switzerland. They really surprised me with their strange fierceness and certainly made a fan out of me.
Now it was time for some Satanic black metal in the form of :: ENTHRONED ::. Despite having a new line up they really had their shit together and dark energy poured from their music, certainly another highlight of the fest for me. This was the last band for me on Friday, standing in boots and the heat all day can certainly take a toll on you. Saturday kicked off quite early with a performance in the blazing sunlight from :: DIOCLETIAN ::. Sometimes I really hate when they put good bands on too early. Due to this I missed out on :: GOAT TORMENT ::. DIOCLETIAN was heavy as fuck and little did I know they'd be playing the fest twice.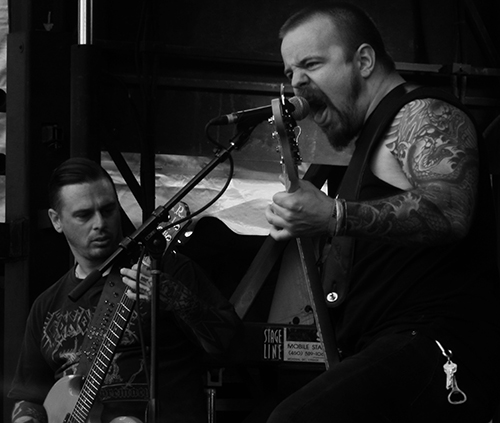 Next up was :: ENTRAILS ::, :: GOD MACABRE ::, :: NOCTURNUS AD :: and :: SACRIFICE ::. These bands all kind of ran together for me. Great death metal, but I only had one thing on my mind, and that was seeing Nocturno Culto and :: SARKE ::. The only band to have an introduction. No one could believe it as SARKE began to play and then Nocturno Culto walked out onstage. Awkward and nervous, he grabbed the mic and just began singing. Everyone was in awe. He reached in his pocket and pulled out his cell phone and began taking pictures of the crowd and then himself. He then reached in his pocket again and pulled out some candy. Between songs he would talk to the crowd. Saying things like "I'm not much of an entertainer, but here's a new song..." and "I don't know why I wore this leather jacket...." It was amusing. At one point it looked like he was having an anxiety attack as he desperately kept checking his pockets, I don't know what he was doing, but it was hilarious and probably not what he intended. I didn't care; I was getting to see a legend perform right in front of me. To everyone's surprise SARKE ended with two cover songs. One being a Celtic Frost song and the other being Darkthrone's Too Old Too Cold, which the crowd went nuts over. He grabbed a guitar for this and seemed much more comfortable then. The crowd chanted his name. It was quite clear who they were really there to see, and sadly it didn't really matter that it was SARKE, because in the end it was Nocturno Culto's show. It was now time to head over to Rams Head for a few performances.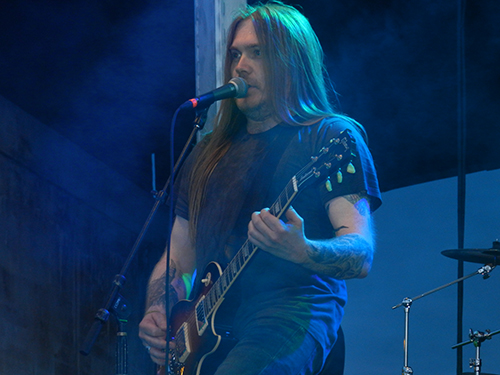 One that I was looking forward to most was :: HOODED MENACE ::. First another performance from Bolzer, which was nothing short of amazing again. I made sure to get up front for Finland's band of doom HOODED MENACE. Dark and dreary and sounding exactly like they do on recordings, although the intro between the songs would go on to long and the band would start playing a song as the intro was still going on, making for a very strange mix. You would think that the slow groove would put everyone in a mellowed out state, but it didn't, people were moving and slowly head banging along. It was cool to see. With that, I called it a night.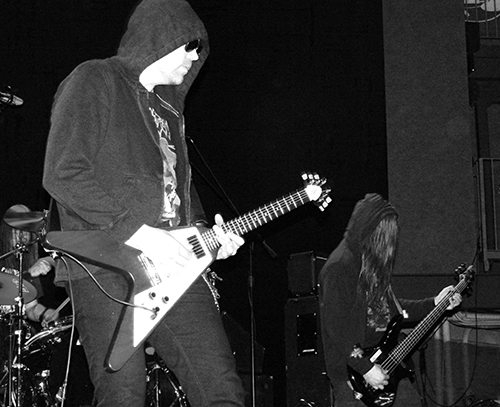 Sunday, the final day of the fest. Exhaustion has set in and this is when I began to people watch and notice that this metal fest had become a circus of crusty girls trying to vie for the title of crustiest slut and clueless kids just coming to be seen. It became overwhelmingly annoying and Sunday I just got sick of it. I tried to ignore it and focus on the bands, which I was there to see. :: PSEUDOGOD ::, a Satanic goat metal band from Russia started Sunday off covered in blood. With a little help from Impurath of Black Witchery. They gave an intense performance. Unfortunately it was extremely hot and sunny and I missed out on :: WRATHPRAYER :: trying to cool down. Next up was the mighty :: INQUISITION ::, the two man black metal band. Not so much a secret anymore, I couldn't believe the amount of people watching them, it was unbelievable. I stayed up front as long as I could before retreating from heat exhaustion. INQUISITION was exceptionally amazing as always. I caught a bit of :: GORGUTS :: performance after cooling down, but didn't get close enough for pictures.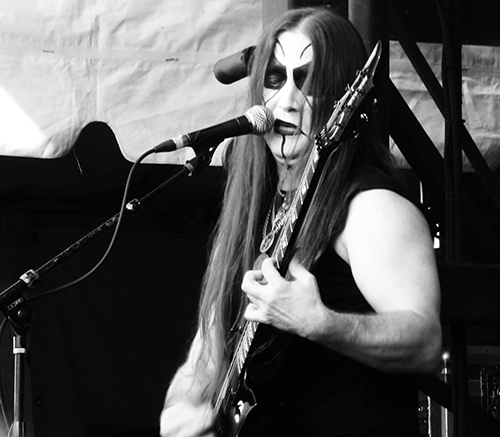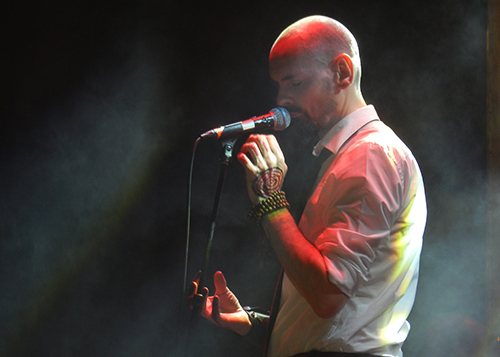 :: UNCLE ACID AND THE DEADBEATS :: were up next and they were really the only band on this years death fest that wasn't metal. Their strange hippie stoner rock attracted some of the weirdest characters, they were certainly fun to watch. Next up were the masters of doom :: CANDLEMASS ::. Nothing short of incredible even though Messiah isn't on vocals anymore. Still a pleasure to watch live! Finally to end MARYLAND DEATH FEST was :: MY DYING BRIDE ::, a band I've wanted to see since the 1990s. Very classy! Aaron Stainthorpe is one of the most passionate vocalists I have ever seen. Looking to be in psychological pain at times, he really seems to wring the emotion out of his soul in every word he sings. Everything sounded perfect from the violins to the guitar. The crowd went crazy as they dove into classics like The Crown Of Sympathy and She Is The Dark. It was amazing to finally witness this band in all their phenomenal glory. On that note it was time for MDF 2014 to come to a close for me. Until next year!