I've heard the infamous metal head stories about MARYLAND DEATH FEST, but I never had the chance to experience it first hand until this year. Posers could never survive these three days of ultimate metal decadence. Only die hards were the last ones standing come Sunday night. The festival looked like a sea of long hair, band t-shirts and denim patch vests, one more extreme than the other. Every metal item you could think of was being sold from vinyl, to leather gauntlets. The line-up this year promised the notorious black metal band CARPATHIAN FOREST to headline, however 1 day before the fest word got out that visas were a problem for vocalist Nattefrost and drummer Kobro and denial to the US was enforced. Although they didn't perform, that didn't stop the other three members of CARPATHIAN FOREST from embarking on a trip to the US and frolicking about at MDF amongst festival goers.
:: Saturday :: Sunday :: pics ::
FRIDAY, May 24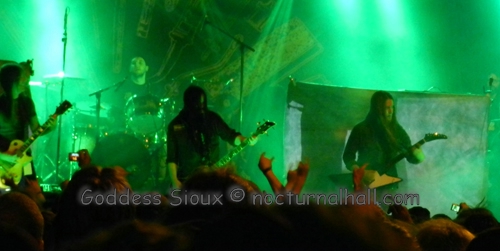 If you were lucky enough to have a ticket for Thursday you would have gotten the chance to see BOLT THROWER, COBALT, and ABIGAIL. Unfortunately, I was not that lucky and only got a pass for Friday, Saturday, and Sunday. Things got off to a crazy start on Friday, greeted by the most metal of friends and meeting new ones I decided it would be a good idea to consume quite a few Yuengling Lagers. This however resulted in me not caring to fight the crowd to get to the front for BENEDICTION. I took my place in the middle surrounded by long hairs and rocked out to their vile live performance. Since Friday's line up wasn't all that impressive and it was unseasonably cold, I decided to warm up inside the • Sonar • building for awhile until it was time for CARCASS. I must say that CARCASS delivered a pulverizing set, pulling out all the old favorites like No Love Lost, Buried Dreams and Carnal Forge amongst others. After their set it got unbearably cold and decided it was a good time to call it a night, knowing that the next two days were going to be nothing short of a marathon.