LONDON GRAMMAR are pretty much a phenomenon. Once founded as a cover band at the university they had a rapid breakthrough with their first own single, Hey Now. The following debut, If You Wait, made it to #2 in the UK charts and received double platinum, and gold in Germany.
Now, the Brits have released their sophomore entitled Truth Is A Beautiful Thing, topped the charts once again around the globe and embarked on a European tour with almost every show sold out long before its kick-off. The song Hey Now was the one that recently caught me too. Late, I know, but Indie Pop isn't the musical field I'm naturally hunting good tunes out ;)
However, now I got the chance to experience them live and the luck was on my side: I had the pleasure and honor to see and photograph LONDON GRAMMAR live in Cologne at the :: Palladium ::.
:: pics :: LO MOON ::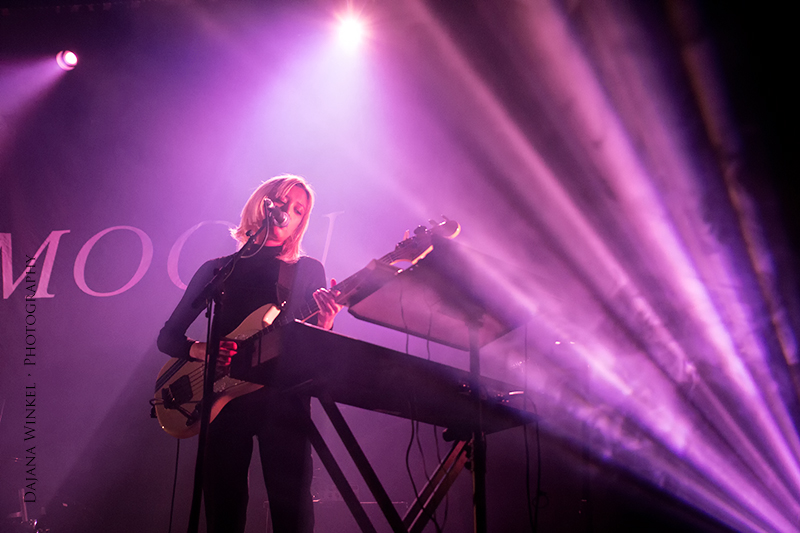 That there would be a support act I first realized when I arrived at the Palladium. I haven't seen any announcement before. Suits the ambitions of the band to be a mysterious one ;) 15 minutes prior announced show time, Los Angeles based :: LO MOON :: entered the stage and played a surprisingly stunning 30 minutes set.
It wasn't that easy to gather some relevant information about the band afterwards. That's what I found: LO MOON consists of Crisanta Baker, Matt Lowell und Sam Stewart, latter one is the son of Eurythmics' David A. Stewart (and Bananarama/Shakespears Sister singer Siobhán Fahey). Pretty much a chip off the old block ;) Live on stage you have Sterling Laws on drums.
So far, the Californians took heaps of time, very deliberately, and just released three tracks so far. But those caused quite a stir in the underground scene. Big names gave kudos and praise to them and referred to big names again, such as Massive Attack, Cocteau Twins and Fleetwood Mac. Also Talk Talk was dropped every now and then. Meanwhile the trio has signed a major deal with Columbia Records (where London Grammar is signed too) and has the debut ready for an early 2018 release. Regarding what I experienced here tonight - I'm much looking forward to it.
Musically, LO MOON are quite close to referred bands above. Indie Pop blended with TripHop and Shoegaze, multilayered, complex, profound, and with a lot of atmosphere. And yes, voice and singing of Matt Lowell indeed reminds of Mark Hollis.
Yep, this was truly an awesome show of an unknown band and fans and friends of this kind of music should definitely keep an eye on them from now on! Remember the name: LO MOON!
:: pics :: LONDON GRAMMAR ::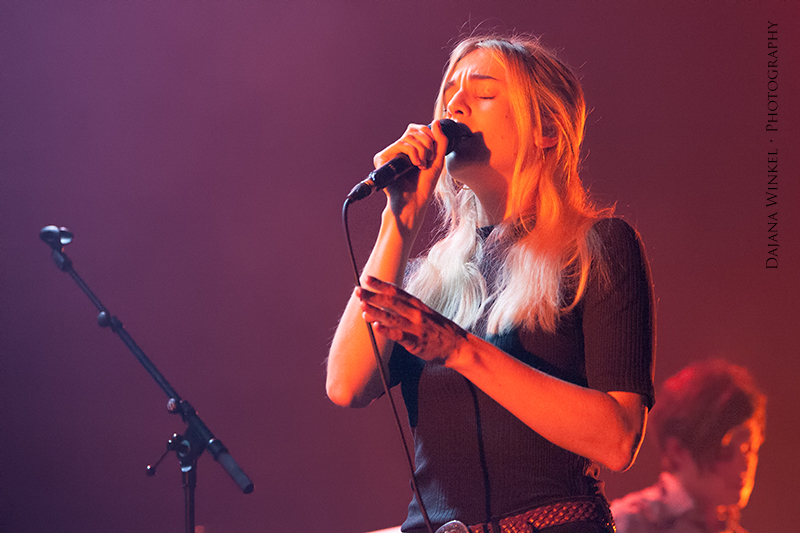 Despite the 15 minutes plus :: LONDON GRAMMAR :: didn't start earlier. In between there occurred some trouble in the photo pit with green lines hastily pasted and the ban of switching sides of the stage. That should have been ruled before the show.
Anyway, one hour later lights went out again and the crystal clear voice of Hannah Reid poured forth the dark, intonating Who Am I and left the crowd in awe-stricken silence. I was immediately captivated too, had goose bumps all over. What a voice! The sound was crystal clear too, much differentiated yet highly powerful. My deepest respect to the sound engineer for this awesome effort!
Though, I wouldn't like to leave unmentioned that the whole show was solely focused on Hannah Reid's voice. The light show was excellent as long as you stood in the first quarter of the hall. In the back there wasn't that much to see anymore. On stage absolutely nothing happened. Hannah Reid most time clutched at her mic like a drowning man at a straw and hardly ever moved. The two guys, Dan Rothman and Dominic Major, had multitasking jobs playing all their instruments from guitars, keys, drums and other ones and hadn't time to rock out either. Even the music has just a subordinate role. That makes Hannah Reid almost overpowering.
There's hardly any announcements, and no communication with the crowd. That makes the band looking cool and reserved. Ok, Hannah's stage fright was addressed several times and I guess it will still take a lot of time till she will feel comfortable enough to rock out a little bit more on stage. Besides, that is of course nagging on a very high level and didn't do any harm to the show ;)
The audience, however, was highly thrilled, responded frenetic after every song and immediately fell as quiet as a mouse right after to listen again.
LONDON GRAMMAR finished the show after around 70 minutes, already including three encore songs. That's quite short if you ask me. I'm sure, fans would have loved to hear more.
What more to say? I guess LONDON GRAMMAR will be the next big thing. The trio is highly talented and Hannah Reid gets already put on the same level as Kate Bush or Tori Amos. And she proved them right. There is surely much more to come. This was a breathtaking show and magic evening.
Setlist: Who Am I, Flickers/Help Me Lose My Mind, Stay Awake, Hell To The Liars, Truth Is A Beautiful Thing, Sights, Wasting My Young Years, Hey Now, Strong, Nightcall, Big Picture // Bones Of Ribbon, Oh Woman Oh Man, Metal & Dust