Vengeance struck again at Fresno's Rainbow Ballroom with featured artist :: LAMB OF GOD ::, :: TRIVIUM ::, :: MACHINE HEAD :: and France's own death metal gents :: GOJIRA :: on the Sacrament Tour 2007. Fresno was caught unguarded for the energy of this magnitude of artists that graced the stage blasted away most who attended when GOJIRA opened the set.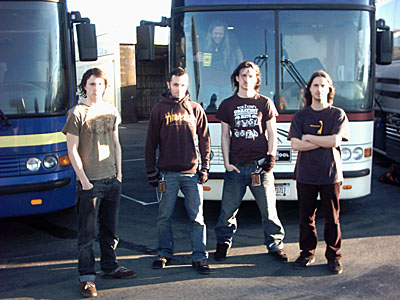 Raging into a blunt face listening trauma the Frenchmen geared into performance giving the crowd something well worth remembering. Vocalist Joseph Duplantier balanced the right amount of aggressive guitar rhythms blending along his death growls the memorized faces of the ongoers brought to light what France's latest export of highly exotic brutal metal GOJIRA has to offer. Blast beat drumming, acute guitar chops echoing a thunderous volt of ear shattering proportions with Flying Whales each member gave an outstanding performance ultimately leaving their mark upon Fresno's landscape. Set list consisted of Ocean Planet, Backbone, Remembrance and Flying Whales.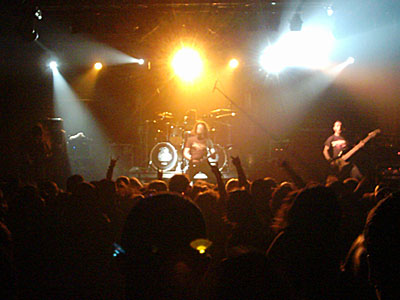 Second runners up MACHINE HEAD gave an intense greeting blasting the listen decibels with their music off of their latest release of The Blackening. Feeling physically ill due to a stomach flu that made me sick beyond belief I could not take the show review seriously but yet again pushing myself here made things only worse. Lost my notes for MACHINE HEAD's playlist, having to deal with TRIVIUM's I'm better than anyone attitude I could not deal with this so making my grand escape outside for air only to run into LAMB OF GOD's frontcat Randy Blythe who made me laugh with his side show antics. What an amazing person and he livened up my evening a tad bit then another escape into the unknown was spending time with MACHINE HEAD and getting some news on their release and small talk of how the tour was going. Minutes seemed like days which are true about the time when I headed off the bus and into the venue LAMB OF GOD was already finished, really setting a bummer to an interesting evening. Nevertheless the night was filled with exciting atmosphere charging everyone as well as myself for this years upcoming show events I can hardly wait. To boldly go where no metal woman has gone before!