DIE KRUPPS sharing the stage with FRONT LINE ASSEMBLY… that happened only once, back in 1996 on their US tour in support of their split release Remix Wars Strike 2 - Die Krupps vs. Front Line Assembly. When two genre-defining EBM/Industrial legends line up to rock the nation you can't do anything but join the party. Even if there was some confusion… First, it was said to be rescheduled shows DIE KRUPPS had cancelled in spring. Then, we got this special package but with only one exclusive show announced for Germany, the one in Krefeld. And now we have a full tour with additional dates in Germany ;) Nothing to complain about, right? If you still have the chance, I highly recommend: Go and catch both bands on their Machinists United Tour.
:: pics :: TENSION CONTROL ::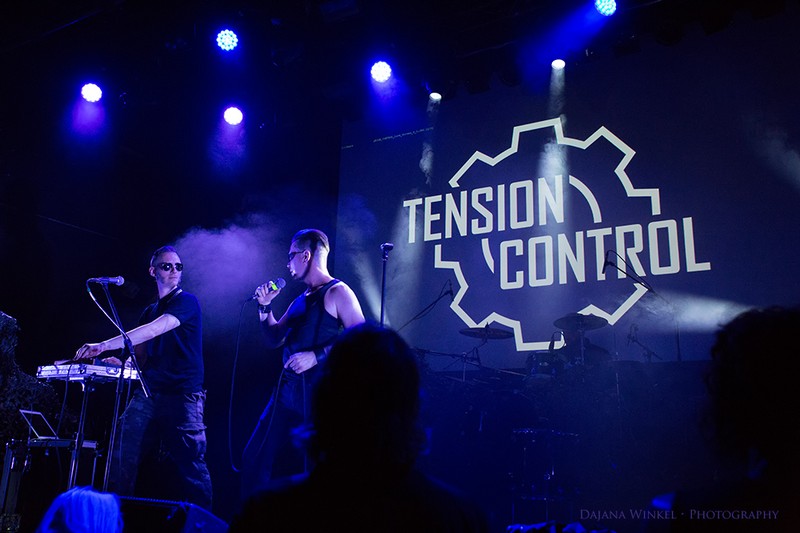 Knowing that the :: KuFa :: Krefeld hardly ever has a photo pit, I hit the road early to save me a proper place. Sooner said than done BUT… When I arrived (7.30pm), :: TENSION CONTROL :: had already long started playing. It was announced that doors would be open at 7pm and the show kicks off at 8pm. Fuck! I so hate that! Never mind. I briskly got my cam and started too.
Hailing from Osnabrueck, TENSION CONTROL play pure EBM, much in the veins of Nitzer Ebb and DAF. Not of an award-winning originality but effective to get the crowd fired up and dancing. Yes, it worked. The KuFa was already well-filled with enthusiastic fans in the first rows.
Last November TENSION CONTROL released their debut album, Im Rhythmus der Maschinen, they now presented live. Passion For Aggression made me dance too. Short and crisp. Good show!
Setlist: Go For Gold, The World Is Going Down, Fortschritt durch Technik, Big Black Boots, Das ist Sex, European Body Music, Euroträume Remix (ZJ), Passion For Aggression, Im Rhythmus der Machinen
:: pics :: FRONT LINE ASSEMBLY ::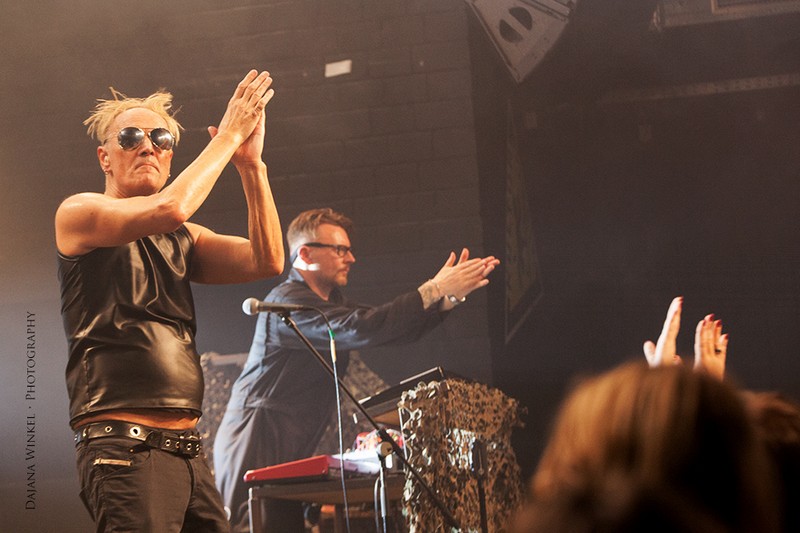 Puh. Ok. Time to grab some air and to collect my thoughts. I first had to check out who the headliner is tonight. Easy task. Camouflage nets on the keys made it clear. :: FRONT LINE ASSEMBLY :: have just released a new effort, an album called Warmech, which is rather a game soundtrack than a regular record.
Under the excessive use of smoke, stroboscope lights and a hellish loudness, FLA kicked off their set with the new songs Anthropod and Eye On You. The venue got packed and the fans started dancing, even created an aggressive mosh pit. Compared to this, Bill Leeb was performing rather… um… relaxed. But the released energy was on a high level.
I am sure, Jeremy Inkel, longtime collaborator and sound magician of FRONT LINE ASSEMBLY, who passed away so young and so suddenly in January, was sorely missed by many of the fans. FLA dedicated the song Vanished to him, with Jeremy's image on the big screen behind. That was touching.
The sound was quite unbalanced yet got a bit better in the end. Hardly 60 minutes later, FRONT LINE ASSEMBLY already disappeared again. Way too short, mind you.
Setlist: Anthropod, Eye On You, Neologic Spasm, Killing Grounds, Vanished, Shifting Through The Lens, Gun, Plasticicity, Deadend, Millenium // Mindphaser
:: pics :: DIE KRUPPS ::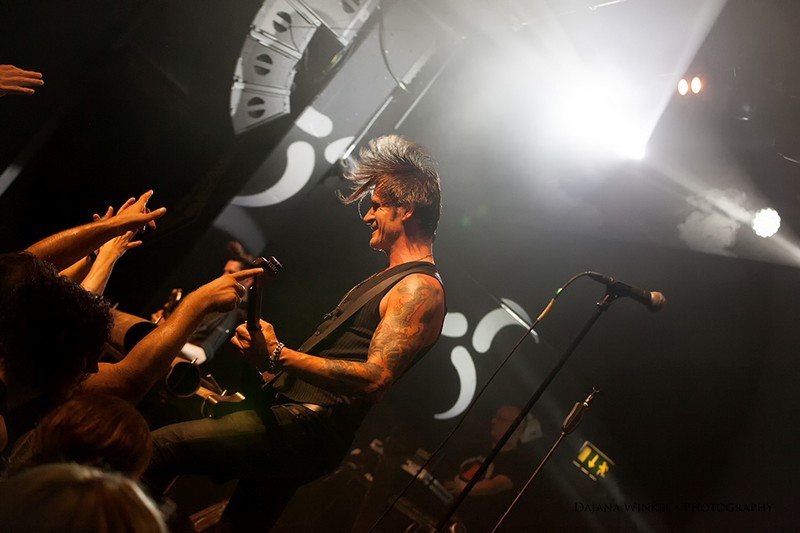 Now the stage-hands had to do some heavy work. The FLA keyboard racks had to be handed down and the so-called "Stahlofon" had to be set up. Done. Lights out, spot on. :: DIE KRUPPS :: so fittingly started with Dawning Of Doom in a most brutal way and did not stop doing so till the last tune was gone. No prisoners were made. Holy fuck, those guys still burn. They nailed it. Totally. And had a lot of fun doing so. It was downright infecting. The crowd did not think twice and went wild too. It was still hellish loud but the sound was much better.
DIE KRUPPS went across their almost 40 years spanning history. Many classis, some rare material and one new song was played, the Trump bashing single Fuck You. This one was extremely well received. Well, I did not wonder ;)
As there was to hear and read, there is something new in the making. No additional info as of yet, they keep it thrilling. So let's see what and when it happens ;)
Tonight's show was indeed asskicking. I have not seen DIE KRUPPS for a while; neither have I FRONT LINE ASSEMBLY. It was a real pleasure. Especially the combination of both was killing. I would not mind to see them touring together again ;) This was a great evening of EBM awesomeness!
Setlist: Intro, Dawning Of Doom, Der Amboss, Schmutzfabrik, Germaniac, Fly Martyrs Fly, Black Beauty White Heat, Fuck You, To The Hilt, MMM, Robo Sapien, Nazis Auf Speed, Fatherland // Machineries Of Joy, Bloodsuckers