Heavy Metal isn't a fad. It's a lifestyle. It's a commitment
Yes, indeed, my last ICED EARTH show dates back to 2011. It was the legendary Matt Barlow farewell show at Rock Hard Festival. A show that caused tears and goosebumps under pouring rain. Since then I fairly lost sight of the band. Following records with new frontman Stu Block didn't really convince me and to see them live didn't work out either.
Well then, ICED EARTH have released a new album, Incorruptible, a challenging title that perfectly reflects the current state of the band after all those up and downs in business. And a new album demands a tour! So, there it is the chance to see ICED EARTH live again and to satisfy myself of the great voice of Stu Block. Maybe, the show brings them back into my inner circle of fave bands.
For more than one year the :: Hyde Park :: didn't appear on my concert map. Too bad, coz I like this venue. I have experienced the or the other memorable show there. However, the ride towards Osnabrueck was probably an adventure for many. Highways and junctions were closed for road works, meant, one had to find a way across country, for sure crosstown, together with many, many others. Twist of fate: doors opened a half hour later than announced.
:: pics :: METAPRISM ::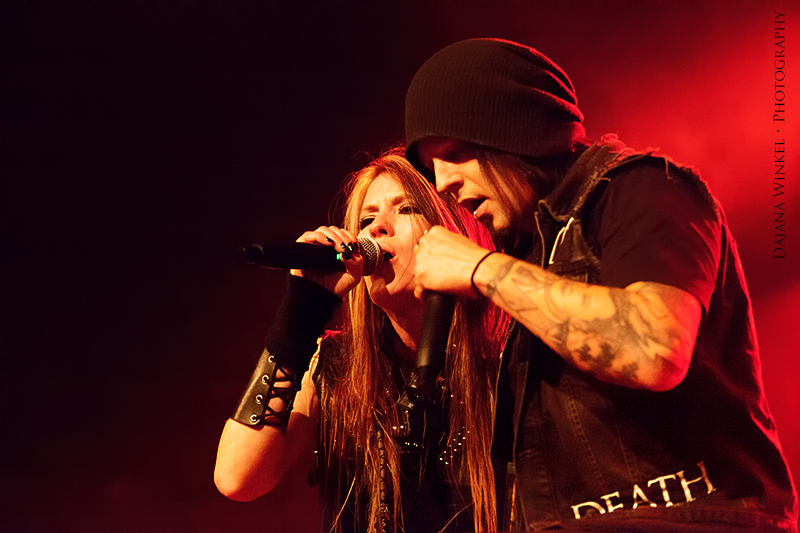 Stage crew and roadies seemed to be highly stressed and remained in this condition for the whole evening. I don't know why, the show started exactly on time, sound and lights were ok, no technical issues… The evening was kicked off by British hopefuls :: METAPRISM ::.
Founded back in 2012 they have released an EP and a debut so far and already played Wacken Open Air. Right after this tour, METAPRISM will release their sophomore, Catalyst To Awakening, they advertised with enthusiasm.
Unfortunately, the set was short, 30 minutes only. METAPRISM played two brand new songs and two from each previous release. Melodic Metal back and Modern Metal forth, (female fronted modern metal isn't really my cup of tea), METAPRISM really left a pleasant impression. The band was so brimming of energy and full of enthusiasm. And they managed to infect the audience. Especially singer Theresa Smith tried to connect to the crowd and the guys followed her willingly. Her counterpart, Joey Draper, acted rather as the cool and reserved guy. Also bassist Matt Hudson jumped and whirled over the stage like the devil himself.
The end of the show came pretty abrupt. Short but it was pure pleasure. I'm pretty sure, METAPRISM gained some new fans.
Setlist: Reload, Nebula, Lost In The Dark, Resistance, Unanimous, Unleash The Fire
:: pics :: FREEDOM CALL ::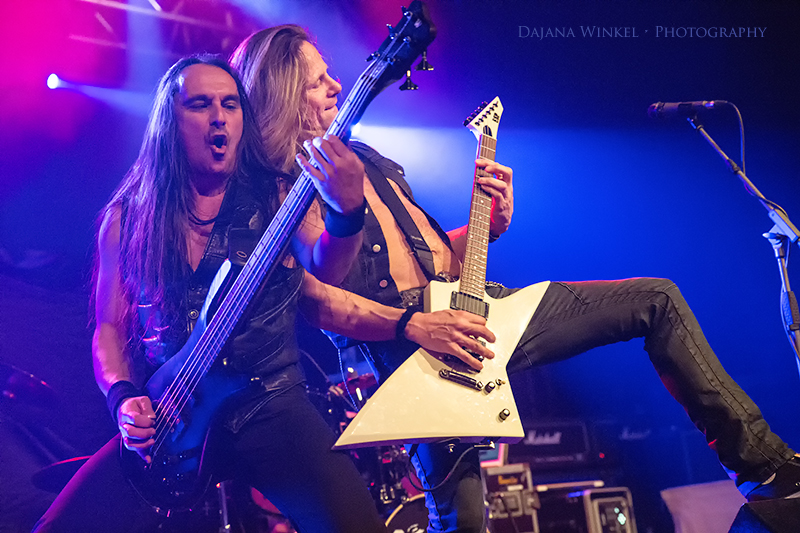 I have to admit, a term such as "Happy Metal" makes my toes curl. Well, although they can look back on an almost 20 years spanning band history, it is my very first time to see :: FREEDOM CALL :: playing live. Otherwise, I can't remember. Editorially anyway, this band is a virgin soil to us ;)
Again, my sentiments got blown away in a twinkling of an eye. FREEDOM CALL were in high spirits and even if you don't like that kind of Metal, you couldn't elude and were infected.
FREEDOM CALL currently tour without their original drummer Ramy Ali, but he got excellently replaced by Masterplan's Kevin Kott, who was not only heartily introduced by fronter Chris Bay but immediately offered to the ladies around ;) Generally, Chris Bay had a very charming way to schmooze and animate the crowd. And it worked ;)
Once you have seen FREEDOM CALL playing live, a description such as "Happy Metal" is the best choice. And I mean that in a downright positive way. That is what they play: Happy Metal. They don't take themselves too serious but convey serious topics and play technically on a high level.
Although FREEDOM CALL had their own fans making some noise, the audience responded rather lame. The band's latest effort, Master Of Light (2016), might already collect some dust but live, its tracks still smash. Older tracks too.
At the end of their 45 minutes set, FREEDOM CALL offered their freedom call, reaching out to everybody and meant deadly serious. It was clearly to see that the one or the other didn't know how to take it, but it made them think. Yes, FREEDOM CALL convinced. Their show, their concept and they are definitely a warrantor for a great evening.
Side note: Does bass player Ilker Ersin look a bit like Manowar's DeMaio (no offence)?
Setlist: Union Of The Strong, United Alliance, Heart Of A Warrior, Freedom Call, Hammer Of The Gods, Masters Of Light, Warriors, Metal Is For Everyone
:: pics :: ICED EARTH ::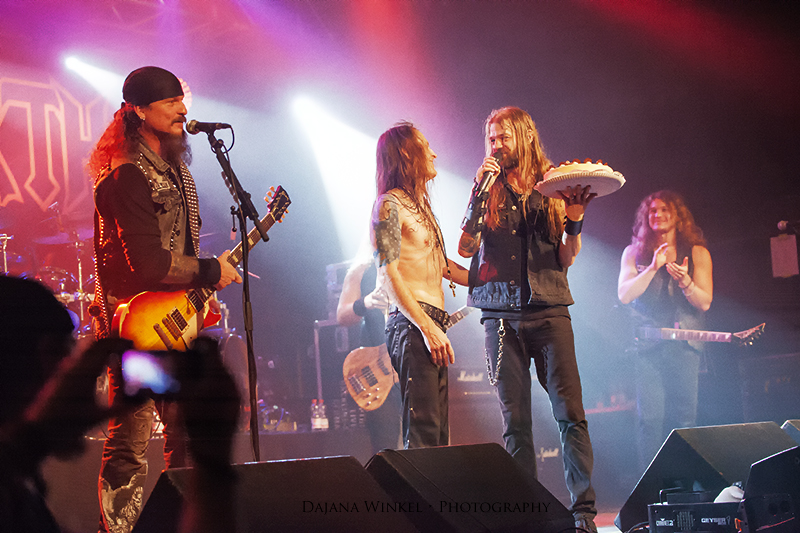 Another speedy changeover – the clock stroke nine and :: ICED EARTH :: got onto stage and started powerfully with Great Heathen Army, the opening track from the new album, Incorruptible. Right after, the Power Metal heroes went far back into the past to their heydays late 90s. ICED EARTH played many songs from Something Wicked This Way Comes, but also from The Dark Saga and the band's sophomore, Night Of The Stormrider. There were only two songs from the latter records (Dystopia and Cthulhu). Stu Block explained that they would like to bridge past and present to celebrate the band's 30 anniversary. I'd be the last one to complain about such a setlist ;)
Today was also the birthday of ICED EARTH's drummer Brent Smedley, who got a beautiful birthday cake with a candle on it, handed over by Stu. First the crowd sang a "Happy Birthday" in German and then everybody in English. It was such an emotional moment that Stu Block even lost his voice for a second. The heartfelt words to the song Brother just emphasized the familiar relationship between the band members and reflects the album title. That's real friendship, no fake, no false front.
To talk about the "new one": Yes, Stu Block is an awesome singer and seems to be the perfect frontman for ICED EARTH. But I became a fan during the Matt Barlow era and I like his voice a little bit more. Still. It's no criticism, Stu did a great job, it's just a personal sentiment.
I wish, more people would have found its way the Hyde Park. It's quite a big venue and there was still a lot of space between the fans. However, tonight's show was a good start into this new concert year. Let's go on from here ;)
Setlist: Great Heathen Army, Burning Times, Dystopia, Black Flag, Seven Headed Whore, I Died For You, Vengeance Is Mine, Cthulhu, Brothers, Last December, Raven Wing, Prophecy, Birth Of The Wicked, The Coming Curse, Stormrider, Angels Holocaust, Travel In Stygian // Clear The Way (December 13th, 1862), Watching Over Me, Ghost Dance (Awaken The Ancestors)