It all started… anytime last year. I cannot remember for what reason but since then I regularly got the dates of the GERÄUSCHWELTEN, taking place in my hometown Muenster (and sometimes Cologne too). This event gives stage for experimental sounds you soonest can put into a drawer for Industrial/Electro/Ambient. In a state of surreal perception (was a strange day) I finally made attending the last event before the summer recess. I had no idea what to expect. I have heard a lot of this event before and I have read the descriptions of the artists that took part in this. So I had something in mind while reading all that but I of course was miles away from the reality ;) I showed up on time (as I always do) just to notice that the announced time was not the beginning, just the door's time. But I luckily was not the only one out of it… This again gave possibility to deal with the drawings of Paula Müllers exhibition: C'est la dynamique! – that can be seen in the lounge of the multi-culture center Cuba. "With the courage to colors and forms, that – free of mental-logical structures – energetically meet in the space installation of Paula Mueller; her works break through the attempt bringing order in the play with dense, confused appearing mixing technology, using photo wallpaper and the Matterhorn. Disturbing and exciting the tendency appears – on the basis of words, clauses, worded thought pieces – giving also unselected brio room for artistic expression." There was a lot to discover, strange things and approaches, making me thinking (exhibition is taking place till end of June / open from 9 am – 9 pm). Looking at these images intensified my own perception, so that I even attached importance to the tentacle proof of paid mite which was banned on my skin. Around 9 pm and together with 24 people I was meeting my first "noise world"…
:: pics ::
.: DAS SYNTHETISCHE MISCHGEWEBE :.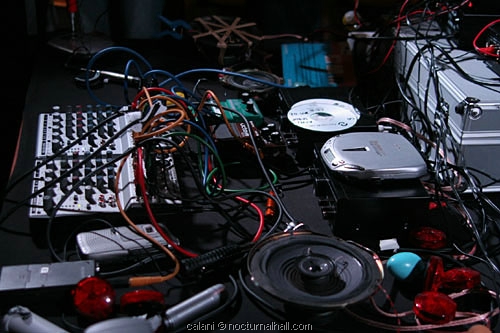 "Concrete Noises, Hypnagogia..." While "concrete noise" offers a clear statement I got completely calfused with the second term which describes sort of extended state of mind everybody is running thru while falling asleep. Not awake anymore but still not sleeping. A state that quite often gets named as source of creative thinking and imagination. But how to balance this state with "concrete noise"? One have to be in this state to realize the entire spectrum of created soundscapes? Or is it mastermind Guido Hübner (this time on the road with Richard Rupenus / New Blockaders) who needs this state to get the ideas for this project? However, one must have experienced DSM! How to interpret it afterwards?… That's left on yourself. I personally have to confess that I never have seen so many household appliances you can create such noise with. In the middle of the room a huge table was put up (people were sitting around) with tons of things on it and plastic flowerpots with incorporated speakers lying around in the room like "offshoots". Each and everything was wired and set under electricity in its electric fields utensils were dancing between the polarities creating unexpected noises. There were salad bowls, electric toothbrushes, old coffee mills, egg-timers, alarm bells, ratchets, jingling balls for cats, bike taillights, electric razors, wire brush, dictating machine, little toy cars, plastic pigs, empty mustard glasses, small glass balls, blown up one-way-gloves, a hand sewing-machine and biscuit boxes. In addition a mixer on every side for the players. The partly pre-produced compositions from an mpeg-player got combined with the created sounds, sometimes fragmented, sometimes as massive sound collages. Every of these show sis unique! You never can forecast how the sound experiments will turn out and if everything works the way it was meant. An audible pleasure to go astray…
.: LEGION :.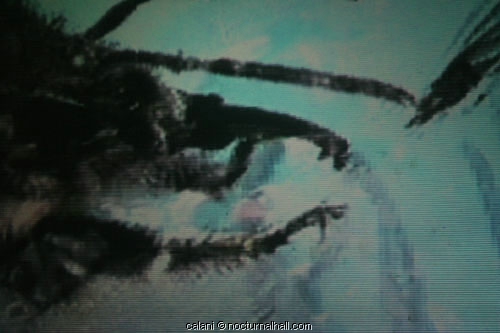 Behind this solo project one will find Andrew Lagowski (S.E.T.I., Terror Against Terror, Isolrubin B.K., Lustmord), for more than 20 years one of the most renowned and important artists of the electronic scene in UK. In LEGION he is addicting himself to a dark Ambience-cosmos, marked by obscure noises and misguided communication streams. Andrew's music is a holistic sound event with massive, dark and melancholic sound collages wavelike going up and down. While listening to this great and painful music the attention gets directed to the big screen, visualizing as symbiosis of likewise disturbing pictures and music, full of beauty, reluctance and horror. It all creates an atmosphere one can get lost into but never feels comfortable.
The only one thing I'd like to nag about was the volume. It was too loud, but that might have been a means to an end, not letting the listeners feeling too comfy. I watched many people edgy sliding on their chairs. And of course the shows were way too short. We got barley an hour of each artist. Especially to LEGION I could have listened to much longer.
Anyway, now the GERÄUSCHWELTEN have its summer break, coming back in October again. One thing is clear: the first one was definitely not the last one I want to dive into!