Admittedly, to put DIMMU BORGIR and AMORPHIS on the same bill is… bold ;) But, perhaps, it works just because of this. I like musical contrasts, especially at concerts and with WOLVES IN THE THRONE ROOM opening for them we have three excellent bands sharing the stage, each of them known for playing great shows. This is for sure a must-attend event!
So, again I set out for the :: Turbinenhalle :: Oberhausen. This city… it's Friday, weekend… But hey, I meanwhile master that game with bravery ;) I arrived on time and queued. Oh damn… wrong venue. And I was not the only one. It took some time till I realized that I'm in a line with Rap fans… hehehe. Walking around the building to the other entry and look! Rap fans in the line for the Metal show too ;) Some even got in (and probably were scared to death). The Rap concert at Turbinenhalle 2 was sold out, the main hall was not. Hmm. Not what I expected.
Merch prizing was okay: tees 25 or 30 Euros. Longsleeves and hoodies were not exorbitant expensive either. Here, I expected higher prizing. Well, let's get the show started.
There was something new compared to the (Dream Theater) show two weeks ago: They (finally) arranged a corner for the photographers, directly at one of the entries. That is pretty comfortable now and we don't need to push through the entire hall and crowd anymore, after our work and with all of our equipment. I say: Thanks a million! ♥ And fans will give you props too.
:: pics :: WOLVES IN THE THRONE ROOM ::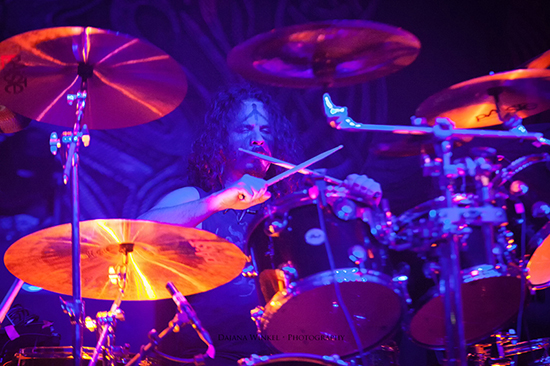 The show kicked of early and had to be done at 11 pm. Just about a year ago I have seen :: WOLVES IN THE THRONE ROOM :: playing live at the same place. In the smaller hall 2, supporting Behemoth. Aloof as always, no talking and a short thank you afterwards. As for that we got 40 minutes of highly intensive and atmospheric Black Metal. Sound was great and there was even light ;)
Though, as much as I like WITTR and as much as I love to see them play live, they are not made for such big stages. The atmosphere in the hall did not match the atmosphere of the music. WITTR had a huge backdrop and banners, probably created by the Weaver brothers, which looked great but it is no comparison to the paraphernalia they use on stage at intimidate shows. Not to mention the effect of their incense. I got the feeling, as bigger the stages become, as more they depart from what they want to convey with their music. I for sure don't want to spoil them their success, no way! It is well deserved. It is just a bit pity for the mood and feeling of their music.
WOLVES IN THE THRONE ROOM played two songs from their latest records Thrice Woven and the 18 minutes monolith I Will Lay Down My Bones Among The Rocks And Roots from the 2007 album Two Hunters. For more there is usually no time at a WITTR support show. The crowd responded reserved – I liked the show!
Band: Nathan Weaver (vox,git), Aaron Weaver (drums), Will Lindsay (git), Ross Sewage (bass)
Setlist: Born From The Serpent's Eye, Angrboda, I Will Lay Down My Bones Among The Rocks And Roots
:: pics :: AMORPHIS ::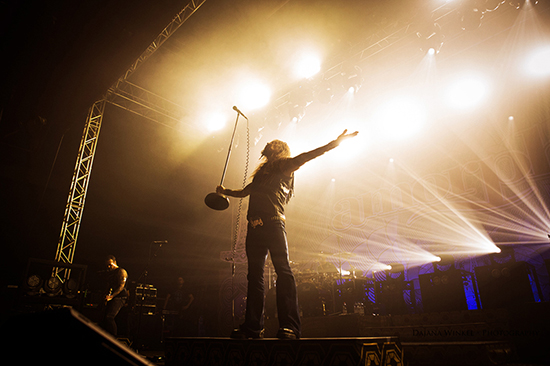 The change-over was long, more than a half hour, with idle time. Time I would have loved to see used for one more WITTR song.
Also :: AMORPHIS :: I have seen one year ago at this place. Okay then the big hall this time. It was filled just loosely so far but now, it got packed and crowded and the Finns were welcomed with frenetic applause and screams. Yes, it got clear for whom the fans came tonight. And the fans danced and freaked out from the first till the last minute, even 15 minutes longer than the main act. The venue boiled up immediately, energy conglomerated and was quickly transmitted to the band. AMORPHIS were in high spirits, not a little bit tired, although this was the second to last show of the tour. Always again I saw the musicians laugh or at least smile. And of course, every one of them gave their very best to perform. Singer Tomi Joutsen a bit more, the others a bit less.
AMORPHIS started with songs from their new album Queen Of Time and its predecessor and then went back to the good old times with the classics and some songs in between. The old stuff, of course, was responded with much more enthusiasm. Since the Finns are about to celebrate their 30th anniversary they could please their fans with a best-of tour, without the new stuff.
I know, AMORPHIS get often bashed as Abba Metal or Pop Metal, but they know how to play killer shows, how to raise the roof and to entertain the crowd to the max. I admit, I found myself swinging my hips and singing along to the splendid Black Winter Day and even to Silver Bride too. That indeed was fun!
Band: Tomi Joutsen (vox), Tomi Koivusaari (git), Esa Holopainen (git), Olli-Pekka "Oppu" Laine (bass), Santeri Kallio (keys), Jan "Snoopy" Rechberger (drums)
Setlist: The Bee, Heart Of The Giant, Bad Blood, Silver Bride, The Four Wise Ones, Thousand Lakes, Into Hiding, Against Widows, Sampo, Wrong Direction, The Golden Elk, Sign From The North Side, House Of Sleep, Black Winter Day
:: pics :: DIMMU BORGIR ::
Wow, I just realized that I have seen :: DIMMU BORGIR :: last time 10 years ago, headlining the Vainstream festival in my hometown. Well, they also disappeared from the scene for quite a while.
Anyway, change-over went faster. At 9.45 pm the headliner entered the stage for the grand finale. Dark intro and the mighty The Unveiling from the new Eonian record opened their set. Stage setting, posing and costumes were concerted, accompanied by a huge light show and choreographed movements. It was kitschy, dramatic and theatric and monumental at the same time.
Singer Shagrath gets often named as the warlock of DIMMU BORGIR. And yes, it does not fall out of the blue. A certain witcher came to mind, from the funny side of things. Luckily, the Norwegian do not take themselves too serious.
Of course, everything is staged. Orchestral parts and female vocals were played from tape and of course, all that still pisses fans of the band's old days off. Especially, as songs from those days were not played (don't ask me why they attended the show then).
DIMMU BORGIR only played one hour and closed their set with the worn out but still mighty and phenomenal Mourning Palace. Ah yes! It was indeed great to hear this song after such a long time played live again, especially by a band that was in best mood too, great lights and great sound.
This was really and awesome concert night! DIMMU BORGIR have been off for quite some time and their fan base might have shrunk, but they still cut it. Though, AMORPHIS were one step ahead, the secret headliner so to say, and played 15 minutes longer, well-deserved.
Band: Shagrath (vox), Silenoz (git), Galder (git), Victor Brandt (bass), Daray (drums), Gerlioz (keys)
Setlist: Intro, The Unveiling, Interdimensional Summit, The Chosen Legacy, The Serpentine Offering, Gateways, Dimmu Borgir, Puritania, Ætheric, Council Of Wolves And Snakes, Progenies Of The Great Apocalypse, Mourning Palace, outro