[Dajana] When DEVIN TOWNSEND announced the end of his 10 years spanning DEVIN TOWNSEND PROJECT era, many fans started to lament. But Devin would not be Devin if he had not already plans and new music up his sleeve. So, he was absent for around 3 (felt) seconds and then returned first with the vinyl compilation box Eras, and then with a brand new album. On March 29 his meanwhile 19th "solo" album, Empath, was released via Inside Out Music. Another excellent piece of music that not only was critically acclaimed by both fans and media but also occupied higher album chart positions around the globe.
[BRT] I was rather skeptical. To me, his latest releases, especially the Ziltoid records, contained too much of hullabaloo, to be honest. In addition, there cannot be denied a certain stereotyped nature in his music too.
[Dajana] Before DEVIN TOWNSEND will embark on an extended Empath Europe - Volume 1 Tour during fall (supported by Haken), he pleases us with a solo acoustic tour, dubbed: An Evening With DEVIN TOWNSEND. A man, his notebook and his guitar. And his plush toys… but more about this topic a bit later… ;)
[Dajana] Four days after a rather stressful Long Distance calling show, the Nocturnal Hall crew returns to the :: Kulturkirche :: in Cologne. Better twice than never ;)
Speaking of the good side of things: It is a working day, Tuesday. Everything went much smoother than last Friday. Traffic, parking, and even inside the church things were more relaxed. Seems like the organizers had learnt from the situation on Friday. There have been more pews in the back of the church. And I think they have sold less tickets, although both shows were completely sold out. However, everybody found a seat. Only a few fans stood in the aisle left and right (where they could have sat too), but, thank god, not in the nave. Fine :)
:: pics :: DEVIN TOWNSEND ::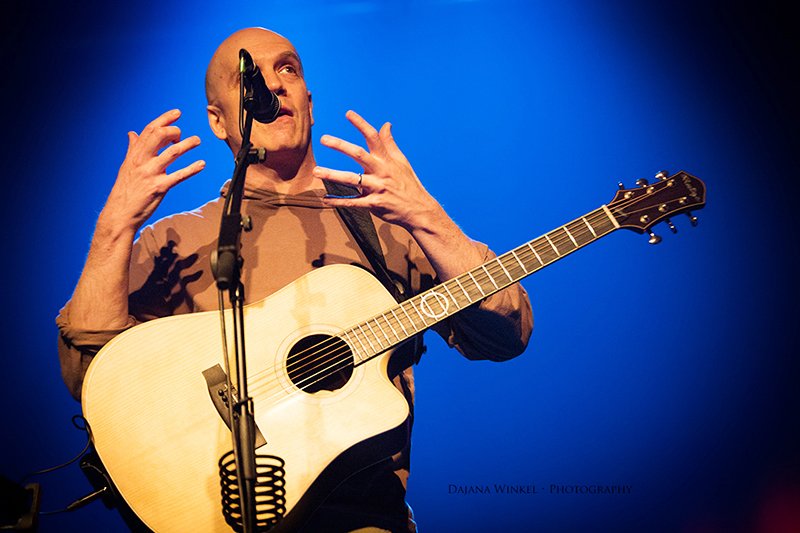 [Dajana] Again, the organizer (or was it the clergyman of the church?) introduced tonight's artist, before :: DEVIN TOWNSEND :: entered the stage under thundering applause. Devin looked tired, somehow… smurfy. He appeared with a beanie and a hoodie and seemed not yet ready for the show. He said it was a strange day to him. So, he spent much time to tune his guitar, arranged his place on stage and introduced the plush toys in front of him. To quote a friend: "Owly and Caty are from Stockholm, Ananassi from Berlin, and Flamingi from Munich. Tomorrow (Hamburg) a super-Sloth will join."
Devin started to jam to warm up his voice and hinted that he had no water on stage. He did it twice, even thrice until a fan jumped up, went to the bar and brought him a glass of good ol' German water. Suddenly it made click in the stagehand's mind and he came running with a few bottles. Well, he got the laugh…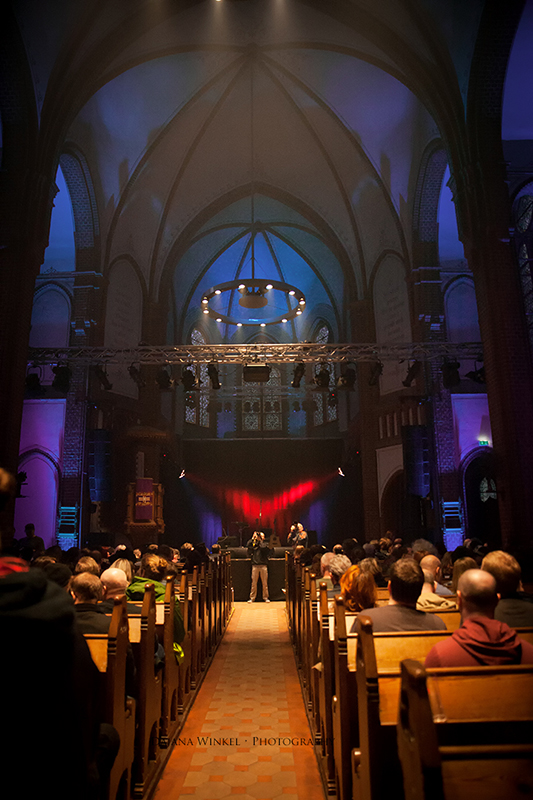 [Dajana] DEVIN TOWNSEND told many stories, about the songs he played and how they were created, about playing live and being on tour for weeks, about being shy and introverted, about his fears, neuroses, psycho drugs and mental state. He was honest to the bone and gave us a deep look into his soul. My deepest respect for that! When he finally started to play his songs, I had my difficulties to recognize them. It took till Ih-Ah! and Hyperdrive until I got a feeling for them and was on the safe side recognizing the songs fully. That shows how creative Devin interpreted his songs for this acoustic performance. All songs were rather quiet and calming down. Here I think Mr. Townsend could have added a bit more pep. On the other hand, I got downright astonished by the wide range of his voice up to even operatic fields. Wow! Rad! Chills.
[Dajana] The biggest laugh came up when DEVIN TOWNSEND came up with Schnappi, The Little Crocodile after he finished the Strapping Young Lad smasher Love?. I have no idea where he got that from. But I could not stop giggling from there on. Later, at his Q&A part he also mentioned another really strange German musician (I cannot remember the name anymore) he once bought a vinyl of for 25 Cent or so.
After a good hour of music he started with all those question, fans sent in sometime prior the show (I guess). He had them all printed and started reading. Some were quite interesting, others just irrelevant and some just to puzzle out its meaning. Questions face to face right there in the church did not happen.
[BRT] The question & answer game is nice idea but did not work 100%. On intelligent questions, DEVIN TOWNSEND gave surprising insights into his soul and private life. At others, he seemed to wonder if they were meant seriously. But Devin is the perfect entertainer, he went through them like a pro and provoked some jokes. Much more, especially during this part DEVIN TOWNSEND displayed what likeable man he is, how smart and witty but also how torn inside. Yes, that was fun, but the part could have been a bit shorter.
[Dajana] I was extremely fascinated by his guitar effect tool that made such a dense and compact sound. I mean, I already have seen musicians working with loops to layer their sounds and make it dense this way, but that Devon tool was just awesome. He explained and demonstrated how it works after someone asked for. With the additionally soundscapes from his notebook, unobtrusive but dense, he created a sound almost as epic as we know it from his previous band. Admittedly, the special sound in a church played into his hands and his music was perfectly made for such surrounding. What a great one-man show! Pure awesomeness! Wow!
[BRT] At a first thought, DEVIN TOWNSEND and a "stripped-down" acoustic set might be two things that hardly match. Devin without his cinematic bombast sound is almost unimaginable. But it became quickly clear that his acoustic guitar was pimped with much reverb and delay creating an almost cathedral-like Ambient sound. That was indeed spectacular and my initial (musical) doubts vanished into thin air in a twinkling of an eye. The songs were well-chosen, worked perfectly without a band and Devin itself was in best shape and mood. The thin line between adroit entertainment and slapstick was crossed several times but it did not narrow the overall pleasure. I also had difficulties to correlate what I heard with the backing catalogue but it speaks for Devin too not to play the album tracks as a 1:1 version acoustically. At least, now I can imagine how he writes and creates his tracks. Just great!
[Dajana] It followed a 20 minutes break to get a drink, fresh air, a fag, whatever. DEVIN TOWNSEND returned fresh and energetic with Bring Him Home, a wonderful song, and two more, before he started that Q&A part again. Devin now acted way more relaxed now. No slapstick anymore so the audience could enjoy the last tracks in its entirety without interruptions. After the last question the evening got eventually closed with Life, its refrain was sung by the crowd. Hesitant at first, but with increasing power after every phrase. Of course, the fans sped him off with thundering applause, screams and standing ovations.
[BRT] The grand final with bombastic Life (Ocean Machine) and its (unwanted?) sing-along-refrain was definitely the highlight of the evening. This was for sure a great and intimate evening with an outstanding musician in a beautiful location. That was a real pleasure. I did not expect that.
[Dajana] Yes, that was really a special and unique performance. One of a kind. Devin did not do it the first time. There were fans around with shirts from a British acoustic tour in 2015. But without that Q&A part. To me anyway, this evening was exceptionally special. It was likewise intensive as intimate. DEVIN TOWNSEND is a naturally born entertainer and of course an exceptionally gifted musician. He is not called the "nutty professor" for nothing ;) Splendid concert evening I will keep in great memory.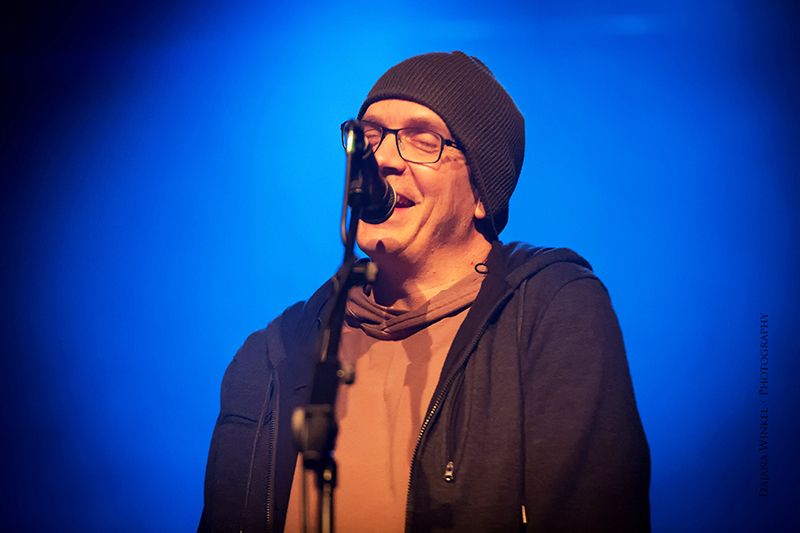 Setlist: Let It Roll (DTB – Synchestra), Funeral (Ocean Machine: Biomech), Deadhead/Watch You (DTB - Accelerated Evolution), Ih-Ah! (DTP – Addicted), Hyperdrive (DTP – Addicted), Love? (SYL – Alien), Coast (DTP – Ki), Divine (DTP – Epicloud), Solar Winds (Ziltoid), Q&A Part 1 // Break // Bring Him Home (Les Miserables), Terminal (DTP – Ki), Sister (Ocean Machine: Biomech), Q&A Part 2, Life (Ocean Machine: Biomech)