We are the ones who have come for your rapture
All you shall bow to the will of your captor
[Dajana] A DEVIN TOWNSEND show, no matter in what constellation, is always a highlight, a great pleasure. No matter if he plays in a small club or in a big hall or on a huge festival stage. No matter if with good or bad conditions. The Canadians always do their best. Ok, the entertaining qualities of Devin Townsend are widely known as well as the dedication of their fans. And especially this combination of band and fans makes every show so special.
Well, a couple of days have passed since I saw the DEVIN TOWNSEND PROJECT playing live. It was in summer 2015 in my hometown, to be exactly. So, to attend another show was long overdue. Thank Buddha, DEVIN TOWNSEND PROJECT has released a new album, Transcendence, of course supported by a large European tour :) DEVIN mania!
:: pics :: LEPROUS ::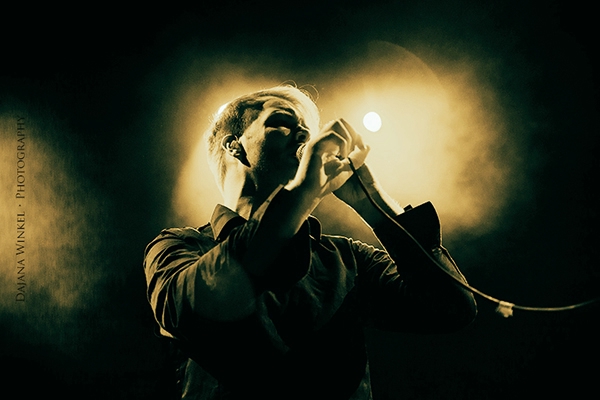 [Dajana] The third last show on the mainland brought the tour trek to the :: FZW Club :: in Dortmund, Germany. And this trek includes illustrious guests, such as the Norwegian exceptional talents :: LEPROUS ::. Those guys not only shine with their own outstanding records but also as single musicians in various Norwegian bands. And LEPROUS played a stunning show from the first to the last tone of their 35 minutes set. Challenging progressive tracks, sophisticated guitar, bass and drum work combined with an unusual vocal performance by Einar Solberg. Despite of the complexity of the songs they always have a harmonious flow. Avant-Garde but not overdone. The band's sound was cracking. Powerful, clear and differentiated. Only the lights were utterly shit. Well, you can't have it all. Great show of an outstanding band! Oh, guys, what about a new record? It's time…
[BRT] LEPROUS is indeed an exceptional band. To me they offer the perfect blend of progressiveness, energy and great and catchy melodies. Their last three records are masterpieces. Though, I always missed them playing live so far. Of course, 35 minutes were way too short. But LEPROUS did their best and served a best of set of the last two records. The band was well rehearsed and tight, every note played perfectly. Especially Baard Kolstad is a master if its own. It is such a pleasure to watch him doing his magic beyond the 4/4 beats. Songs such as Foe, Slave and especially the crushing Rewind electrify and entertain. Top, absolutely top! And I definitely have to get me the live-DVD/album Live at Rockefeller Music Hall.
Setlist: Foe, Third Law, The Price, The Flood, Rewind, Slave
:: pics :: BETWEEN THE BURIED AND ME ::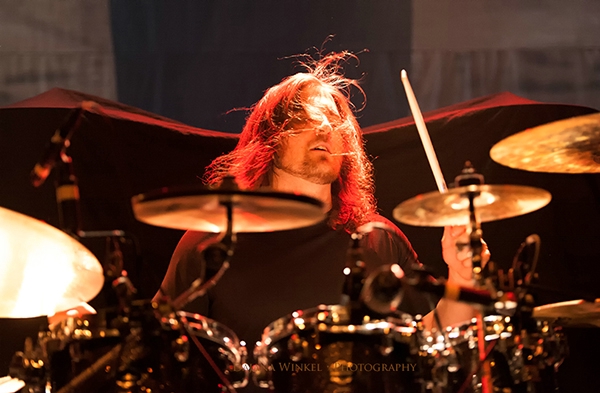 [Dajana] When talking about complex and progressive songs you're in good hands with US MathCore masters :: BETWEEN THE BURIED AND ME ::. Again just a short and crispy 35 minutes show that actually felt much longer, which is due to fact that BTBAM stuff their songs with progressive structures to the max. That makes them tricky, unwieldy and too intellectual. The guys are highly skilled, no doubt, but it's bloody exhausting to listen to them. Sorry, can't warm up to them…
[BRT] BETWEEN THE BURIED AND ME fulfill all requirements for a thrilling and highly energetic program. At least I can detect this ability on their records. Though, the band doesn't captivate me at all. Neither live nor on CD. Yes, songs are played with much delight and thrilling ideas but it all went up in smoke, because flow hooks and charisma are absent. And singer Tommy Rogers has a voice that doesn't leave any impression. Hmm. No show for me and my present friends. But most of the crowd was enthused so I guess they don't do it really wrong.
Setlist: Fossil Genera - A Feed From Cloud Mountain, The Coma Machine, Lay Your Ghosts To Rest, Bloom, Option Oblivion, Life In Velvet
:: pics :: DEVIN TOWNSEND PROJECT ::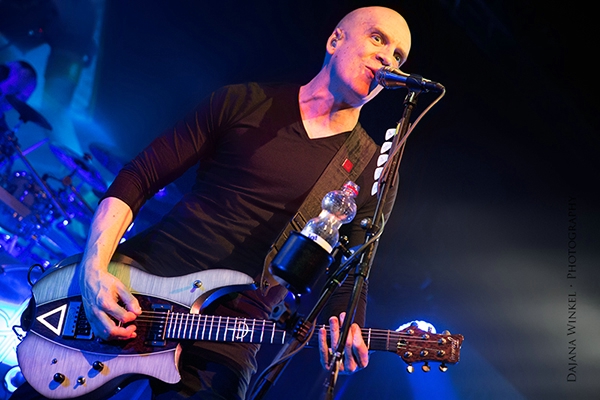 [Dajana] Right after the sound of the :: DEVIN TOWNSEND PROJECT :: was like a relaxing treat. Just too loud and partly overdriven. But… who the fuck cares? ;)
To build thrill and dramaturgy the bands and their order were perfectly chosen. And hall was now really packed. It didn't look like that in the beginning. I even somehow expected to see the bands playing the small club. Thank Buddha, they did not. It wasn't sold out but I guess around 1000 fans have been there.
When the band entered the stage the welcome was thundering. I saw many Ziltoid puppets that were raised in the air (Note to myself: I have to buy them too! The planet smasher is killingly cute ;)). The warm hearty welcome made the musicians grin like a Cheshire cat. And the guys were really in high spirits, brimming over with energy and delight in play. The DEVIN TOWNSEND PROJECT kicked off their set with Rejoice from the Z² album and I immediately missed Anneke van Giersbergen. I never have seen a DTP show with her so far. Damn it! Only the Dutch fans will have this pleasure on the following two shows. Instead, DTP got accompanied by their keyboard player Mike St-Jean this time. As it is known, Devin Townsend is a much talkative guy, especially on stage. Tonight he even talked nineteen to the dozen, in a neck-breaking word speed. He delivered one joke after another, wittily and self-deprecating, making fun of his mates, the fans, the clichés of the scenes, whatever, but so fast that it was impossible to keep it all in mind. We really had a good laugh. Again and again.
Musically, the DEVIN TOWNSEND PROJECT dwelled on latest material, playing songs from the last couple of records. Those, who wants to hear older material – in September the DEVIN TOWNSEND PROJECT will play Ocean Machine: Biomech in its entirety during a very special anniversary show. Just keep it in mind.
There seems to be one thing Bohren und der Club Of Gore and DTP have in common: they don't like encores. Of course a reason to joke about, then Devin stepped aside, still visible for everybody, animated the crowd for clapping and encore shouts and then - tooootally surprised - jumped back on stage. Alone, only armed with his acoustic guitar, to let the crowd sing Ih-Ah!. It took a while till the fans got it right and did it correctly. More reasons to have a good laugh ;)
That was indeed an amazing show. Once again. The atmosphere was even more striking. Just great. The DEVIN TOWNSEND PROJECT never disappoint. And I'm much looking forward to see them again at Dynamo Metal Fest :) And then, in Plovdiv, in September.
[BRT] Well, what's left to say? Great music, awesome sound, perfect entertainment. There ain't that many bands out there that are capable to do it the way Devin and his mates do. Songs and show are just a real pleasure. And I'm much happy that he meanwhile reduced the silliness of the Ziltoid era and instead focuses on bringing us great music over the pond. A great concert evening and an entertaining finale. Happy face everywhere. Top!
Setlist: Rejoice, Night (Devin Townsend song), Stormbending, Failure, Where We Belong, Hyperdrive!, Planet Of The Apes, Ziltoid Goes Home (Devin Townsend song), Suicide (The Devin Townsend Band cover), Supercrush!, March Of The Poozers (Devin Townsend song), Kingdom (Devin Townsend song) // Ih-Ah! (acoustic), Higher