Teratism - Void Meditation Cult - Hellvetron - Obeisance - Nocturnal Fear - Prosanctus Inferi - Satanik Goat Ritual - Perversion
Missing the first CATHEDRAL OF THE BLACK GOAT festival was painful. When the second ritual was announced, I was not going to miss a chance to witness eight of the most Satanic bands the United States could produce. So much darkness squeezed into one small club was not going to be easy and the earlier you arrived the better your chance to get in the door. It was no surprise that worshippers of the goat came out in droves to show their undying support for the fest. Chicago is known for a die hard cult metal following. Being centrally located in the Midwest, many of us traveled quite a few hours to be encompassed by the music and atmosphere these bands give off.
:: pics ::
Kicking off the fest was Detroit's :: PERVERSION :: They had more of an old school thrash/death type of style. Their music surly amped up the crowd and got the night off to a blasphemous start.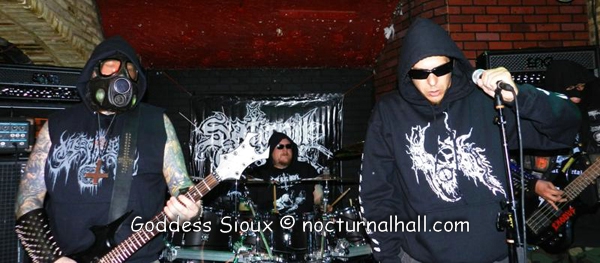 :: SATANIK GOAT RITUAL :: then entered the stage. With camouflage and gas masks I didn't know what to expect. Their music was brutally aggressive in the name of Satan. With a performance hitting you like a kick with a steel toed boot to the face. It was a real surprise when a guest vocalist in the form of Impurath from Black Witchery joined SATANIK GOAT RITUAL onstage for a few songs. This really seemed to excite everyone and the camera flashes began looking like strobe lights.
After their set, it was time for Columbus Ohio's :: PROSANCTUS INFERI :: Although their blackened death metal was rather good, I really wasn't impressed with the vocalist of this band, his growls seemed a bit of a struggle for him. However, what was lacking there was sure made up for by impressive guitar work. This power trio were a treat to watch just for the crazy riffs and musicianship. Head banging furiously ensued and after every song the vocalist ended it with a strained "rahhhh!"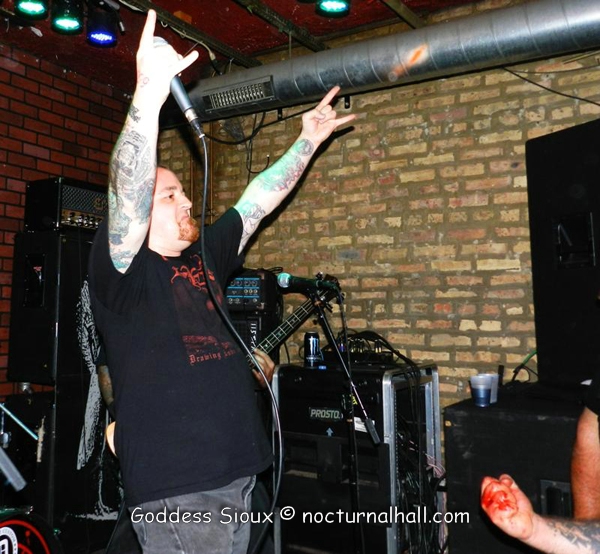 Next up was :: NOCTURNAL FEAR :: from Detroit, Michigan. This militia style Satanic group created a complete uproar. So much hate poured from this band it was unbelievable. Blood was flying as one crazy fan decided to beat himself in the face until the blood trickled from his nose and ran all over his fist. This was about the time the club filled to capacity and things got a little rough. It was time to retreat for a while and grab a cold one.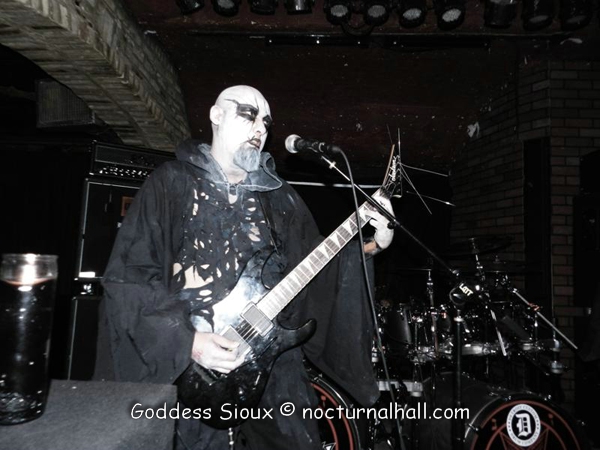 Due to metal socializing I missed all of :: OBEISANCE's :: performance. Now that I felt recharged I wanted to witness El Paso Texas' :: HELLVETRON :: Finally, it was time for corpse paint and black robes to appear. HELLVETRON absolutely crushed with their heavy doomed out black metal. Although a trio, you could tell the bass player was new to the band. He seemed to look over at the guitarist for clues every now and then, other times he seemed to be in a trance. He also delivered some very cool higher pitched screams. This was also amusing due to the fact that he would reach up every time as if pulling the vocals out of the air. Though their performance was short, it was quite intense and put the crowd into a hellish coma. The final two bands were the climax of the show.
The time had come for the ritual of :: VOID MEDITATION CULT :: This band is also from Ohio and rarely plays live. Identities totally hidden. All five members were fully cloaked in black robes. Their delivery sounded heavy and evil as fuck. There is no denying the power that radiated from this band. I was suddenly aware that there were other forces at work in the room as they played. The feeling got rather scary and thrilling all at the same time. In awe and admiration the crowd fed off this dark energy as it swirled about. VOID MEDITATION CULT produced an absolutely stunning ritual that I can't get out of my head.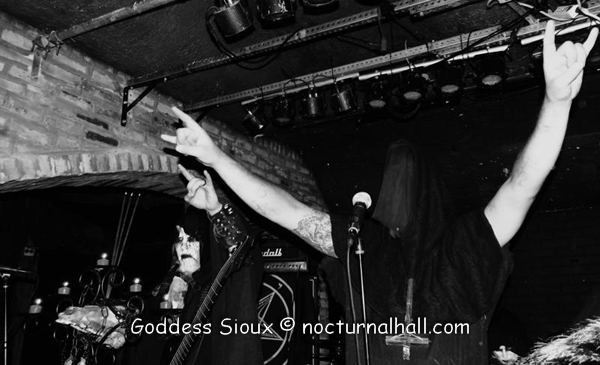 However, there is no better way to end the CATHEDRAL OF THE BLACK GOAT than with :: TERATISM :: This band from both Minnesota and Texas has quite a cult following and it just wouldn't have been worth it without them there. A burnt bible and skulls were a precursor as they materialized onstage in black robes with incense and candles lit. As they unleashed their first song a rabid fan appeared upfront and began cutting himself. It was fucking insane. As he bled for Satan the music and atmosphere really intensified and took on a malicious tone. It felt like a gateway to hell opened, as others joined in the bloodshed. TERATISM fed from this exorbitant energy and exchanged transfers with the audience. Gilles De Rais is the fucking bass master. With his six string fretless bass he was hitting notes I've never heard before. Truly mind blowing to watch him play that thing. V. Wrath's vocals were demonic as fuck. The guitars sounded insatiably evil and the drums were dead on. No other band comes close to the league that they are in. Out of the five times I've witnessed TERATISM, this ritual was one of their most astonishing yet. With the festivities drawing to a close around 2am, things began to wind down and everyone was kicked out of the bar. I certainly hope that the CATHEDRAL OF THE BLACK GOAT III can live up to what was commenced here tonight.