[Dajana] Yay, finally. Another concert highlight and long-held wish from my concert list came true: CULT OF LUNA. For this show I have waited a long time as the Swedes ain't around that often.
Well, they don't tour just for fun but in support of their excellent new record A Dawn To Fear. Six years have passed since Vertikal (if you put the collaboration album with Julie Christmas, Mariner, aside). And again, the seventh effort is a manifest that will affect the whole genre. A Dawn To Fear is even heavier and more fundamental as its predecessor.
[Dajana] Once more we had to hit the road down to Cologne to meet the Cult of Luna at :: Bürgerhaus Stollwerck ::. Good time management, good travel, but… Despite announced 8 pm opening act A.A.WILLIAMS got to the stage 7.20 pm. Luckily, I checked the event prior the show and found the running order with changed times. Tight, but we made it ;)
[BRT] Yeah, let's go to Cologne to see one of the most relevant bands for a long time, one that is still and constantly developing and is meanwhile to see completely detached from the Neurosis/Isis universe: CULT OF LUNA! Expectations were immense, which was actually unfair, but, the band delivered. Fully.
:: pics :: A.A.WILLIAMS ::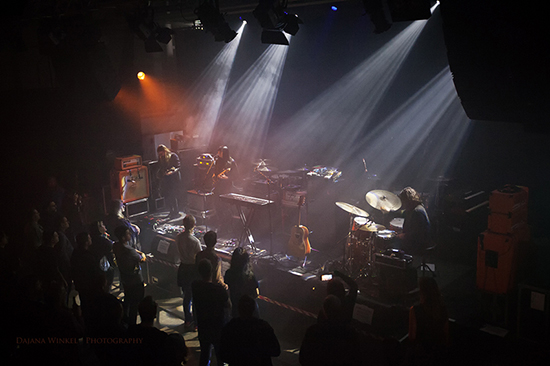 [Dajana] :: A.A.WILLIAMS :: kicked off the evening exactly on time. Unfortunately, many fans were still out there or did not even arrive. The venue looked still empty but billowing dry ice and only a bit of light covered the flaw. And her music is so magic that, once started, people quickly rushed in. I have seen A.A.WILLIAMS for the first time just a month ago when supporting The Sisters Of Mercy and was enthralled. Now, in a significantly smaller venue music and atmosphere worked much better. Lights did not. Oh, and the nameless new songs back then now have names. Officially ;) Great show once again!
[BRT] I actually most recently listened to A.A WILLIAMS after a friend mentioned her together with Chelsea Wolfe and Emma Ruth Rundle in one breath. Great songs, perhaps a bit too reserved on stage but a perfect appetizer for the bands to come. I'm really much looking forward to the debut full-length next year. The girl and her husband right after showed up at the merch to personally sell the CDs and talk to the fans. They are very courteous and likeable conversational partner. That's the way I like it!
Band: A.A.Williams, Tom Williams, Wayne Proctor
Setlist: Cold, Love & Pain, Belong, Wait, Melt, Control
:: pics :: BRUTUS ::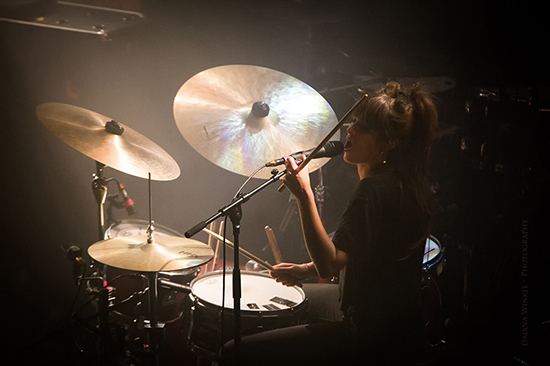 [Dajana] :: BRUTUS :: I actually did not have on the bill. They have been added to the tour later. Good for me, I never saw them live before ;) The change-over took only 10 minutes. The evening's timetable was really tight, at least for the support bands. Without any ado, the Belgian trio got in to their 40 minutes set, consisting songs from their two records Nest (2019) and Burst (2017). Excellent music, especially in combination with the pure voice of drummer Stefanie Mannaerts. She was, without doubt, the center of the band, even if put aside. It was just enchanting to watch her thrashing the skins and sing at the same time.
[BRT] With their records BRUTUS have created something new and thrilling and I was curious if they would stand the test live on stage. And yes, they promptly got it started and put a spell on me. Their very own blend of Hardcore, Post-Punk and Post-Black Metal (…) has drive, power and energy. Unfortunately, the voice of Stefanie was too much in the foreground, which, over the curse, made her singing monosonic. So it happened with the song selection too. After half of the show, the set was predictable. All in all it was a good show, but I like the music on CD more.
Band: Stefanie Mannaerts (drum&vocals), Stijn Vanhoegaerden (guitars), Peter Mulders (bass)
Setlist: War, Cemetary, Horde II, Drive, Space, Justice De Julia II, Techno, Baby Seal, Sugar Dragon
:: pics :: CULT OF LUNA ::
[Dajana] Okay, :: CULT OF LUNA :: had an half hour to get everything ready and took it easier.
And here we are to answer the question from last Friday at the Amenra show: Did CULT OF LUNA top that show? Hmm. Yes and no ;) To me, Amenra was more intensive and more brutal. CULT OF LUNA were more… massive, more atmospheric and cinematic. And, CULT OF LUNA had a great light show. Both shows have been absolutely mind-blowing, and definitely concert highlights in 2019. Because of the lights I'd say, CULT OF LUNA are one step ahead ;)
[BRT] Um… yeah. WOW! What an intensive experience! The combination of the impact of two drum sets and three guitars, the aggressive and rad singing, as well as the atmospheric soundtracks paired with the stunning light show was just… mind-blowing!
CULT OF LUNA fulfilled advance praise and exceeded all expectations. By far. The next band I see live must bend over backwards to come even close to this…. well… inferno. The Swedes did not even offer the whole nine yards of the wall of sound, as there were quiet passages and clean singing too. It was just insane!
Concert highlight in 2019? Who else could that be?
[Dajana] I still have names to be thrown in. From my personal concert list, of course. However, it is not meant to narrow the CULT OF LUNA show any tiny bit. This was a hell of a show in every aspect.
Band: Johannes Persson (git, vox), Fredrik Kihlberg (git, vox), Kristoffer Jankarls (git, vox), Andreas Johansson (bass), Kristian Karlsson (keys, vox, Anders Teglund?), Thomas Hedlund (drums), Magnus Lindberg (drums),
Setlist: The Silent Man, Finland, Nightwalkers, I: The Weapon, And With Her Came The Birds, Lights On The Hill, In Awe Of, Passing Through, The Fall