CYNDIE LAUPER burst onto the world stage as the quintessential girl who wants to have fun. After more than 30 years and global record sales in excess of 50 million, she has proven that she has the heart and soul to keep her legion of fans compelled by her every creative move.
LAUPER's celebrated musical journey takes an unexpected southern turn on Detour, her latest studio album (released on May 6), which finds the Grammy, Emmy and Tony-winning singer-songwriter putting her signature spin on a dozen classic country songs. Recorded in Nashville alongside a band comprised of the city's top session players, Detour showcases CYNDIE LAUPER's unmistakable voice on country classics from the 40s, 50s and 60s. With those new songs CYNDIE LAUPER embarked on a short, 9 dates spanning European tour, playing only one single show in Germany, to my luck, taking place nearby at Cologne's :: E-Werk ::.
While most of the Germans sat in front of their TV screens dying a thousand deaths at the quarterfinal of the UEFA Euro against Italy, we were pleased with empty highways and an easy-going journey down to Cologne. Lines in front of the E-Werk were long though. On Sunday Cologne is going to celebrate its 25th Christopher Street Day and many (also international) fans and participants of that event took the chance to see CYNDI LAUPER live on stage. It doesn't wonder, since CYNDI LAUPER is known to represent and lend her voice to the (American) LGBT community. .
:: pics :: NEIL THOMAS ::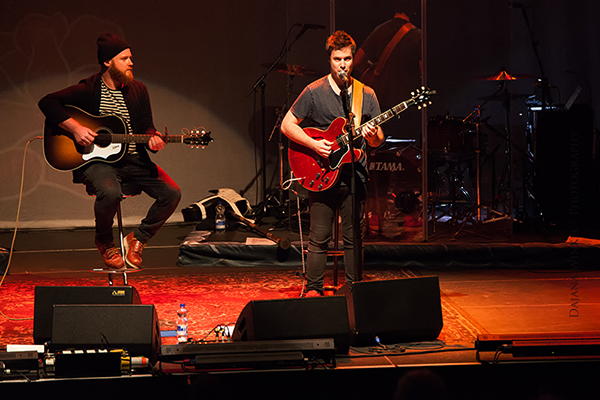 One day prior the show, :: NEIL THOMAS :: got announced as the support act for the Cologne show. I never heard of the British singer/songwriter before (because no, I don't watch German soaps on commercial TV). New music to discover ;) Photographers got banned to the (empty) balcony. So, we were in fact far from stage but had an excellent overview. At 8pm lights went out and NEIL THOMAS came on stage accompanied by a friend and fellow musician. He played a 30 minutes acoustic set with songs from his just released debut EP Home and a few more. Unfortunately, songs such as the wonderful Close To Your Heart sounded acoustically less exciting than the original versions.
:: pics :: CYNDI LAUPER ::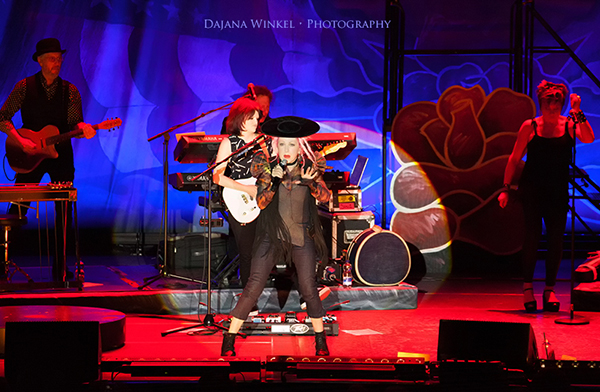 One coffee and some chocolate later lights turned into blue for a Duran Duran intro (another band from the 80s I definitely want to see live one day), preparing the stage for :: CYNDI LAUPER ::. Under frenetic applause she appeared on a platform kicking off her show with a new track from Detour, Funnel Of Love. No, she did not just kick off, she started to rock out! 63 years old and still going strong. And loud. She ran, jumped and danced as if there were no tomorrow. Perhaps less wild than 30 years ago, but still very lively. CYNDI LAUPER is still full of dedication and energy of what she does musically and live on stage.
The country songs went down pretty well. I wouldn't have expected them sounding that good. But of course, it were the classics that let the crowd freaking out and made them sing along full-throated. The Prince cover When You Were Mine for example plucked heartstrings.
In between, CYNDI LAUPER told little stories about her new album, why it was such a need and important to her to make a country record (consisting of cover versions from the 40s, 50s and 60s) and even conjured a stick horse up ;) CYNDI LAUPER was joking, quick-witted and scored. So lovelym so charismatic. What a lady!
Money Changes Everything then heralded already the end of the show after only 50 minutes. Three encores followed after the crowd went wild clapping, screaming and chanting. What a stunning show! After the mega hit, Girls Just Want To Have Fun, the band left again, seeing CYNDI LAUPER quickly returning with the words: "okay, okay, I'll be singing"! ;) Without the band. Without any music. CYNDI LAUPER just stood there and intoned True Colors. Frecking hell... Goose flesh allover and moved to tears. What an emotional finale!
What an incredible concert, what an amazing singer. It can't be done any better! An evening of awesomeness! Truly! Greetings from the Cheshire cat ;)
Setlist: Funnel Of Love (Wanda Jackson cover), She Bop, Heartaches By The Number (Ray Price cover), I Drove All Night (Roy Orbison cover), The End Of The World (Skeeter Davis cover), Walking After Midnight (Patsy Cline cover), I Want To Be A Cowboy's Sweetheart (Patsy Montana cover), You Don't Know, When You Were Mine (Prince cover), Money Changes Everything (The Brains cover) // Misty Blue (Eddy Arnold cover), Time After Time, The Goonies 'R' Good Enough, Girls Just Want To Have Fun (with Matt Henry) (snippets of "I Know What Boys… more) // True Colors (acoustic)
And, as if that was't enough already, we took part in a never ending thrilling quarterfinal. Thanks to the great WDR2 reporters we laughed and were close to heart attacks, while imagining what happened on the field during the regular playing time and during the additional playing, jubilating at the 1:0 and tearing at our hair at the 1:1, all while driving home. At the time the German soccer team entered the penalty shootout we arrived Münster, stopped and listened to every shoot on the P+R till a liberating 7:6 catapulted Germany into the semifinal and us into our beds, well deserved ;)