Dissection - Rotten Sound - The Duskfall - The Vision Bleak - TotenmonD - Sayyadina - Abrogation
WINTERNOISE FESTIVAL is one of three festivals organized by the BurningStage team and this year living up to its name. And this not only because we had –10°C, snow and icy streets, but also and first coz of the billing! Especially bands like ROTTEN SOUND and SAYYADINA point out the noise factor... although… DISSECTION and their announcement to play only songs from the old albums for the very last time and Swedish elk-killers THE DUSKFALL definitely have their parts in noise too ;)
However, despite rumors of an already sold out festival the Eventcenter B51 was relatively empty. At the end I guess around 500 fans were attending this festival. Due to the Battlelore cancellation organizers took the situation as an opportunity to bowl down the entire program and didn't stick to the time schedule any longer. Lucky ones who showed up on time with the doors opening… *lol*
:: pics ::
:. ABROGATION ~ kicked off the event a little later as planned, but pushed themselves hard to please the crowd (none was outside anymore, was too cold, eh? :P). ABROGATION served Death Metal with German lyrics focusing on the album 1487, which was released last years. It's of course never easy to thrill the audience as an "afternoon" opener part of a festival. But audiences showed "behavior" and the band got a well deserved applause :)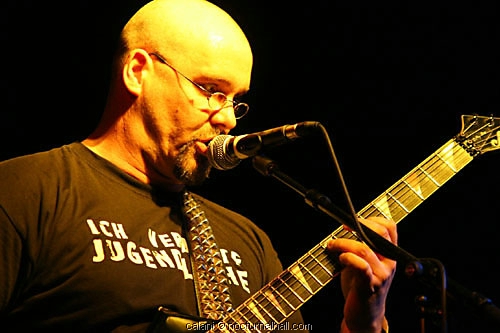 :. SAYYADINA ~ instantly emerged as the first – and as for me – the final highlight of this festival. That this show was the last one on a one month running tour they dissembled. Founded back in 2000 by Ove Wiksten (vox.) and Jon Lindqvist (git. Ex-Nasum), some illustrious musician joined the fold as there are Adde Mitroulis (drums – ex-Birdflesh; General Surgery) and bassist Andreas Eriksson (ex-General Surgery). Ok, roots are clear; it's only one thing they could have come out with: GRINDCOE! Blatant, sick and exquisitely entertaining. While Ove was rampaging like a dervish, jumping and pulling faces like an insane (btw. … he really looks like a "mini-issue" of our writer BRT), axe man Jon was exercising himself in how to spit and snot best in his own face *lol* The bassist showed some better manners and was just confining himself to do… erm…belches or grunts, he mastered perfectly ;) SAYYADINA played approx. 100 songs (attention! Overstatement!). Absolutely great! Damn fucking bad-ass show! Yeeeeaaaaah, I want more!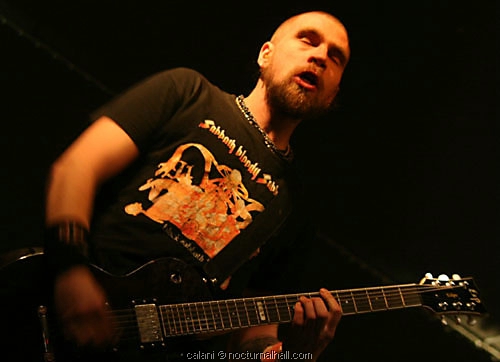 :. TOTENMOND ~ were the biggest disappointment of this event afterwards. Pissed twice they were just dull and bloody boring. They had endless breaks between the songs, too stupid to pipe up and generally left a quite blonde impression, if you know what I mean. Stupidly the band got one hour playing time (dunno what for?) they mercilessly used to full capacity. Senf was torturing his 3-string bass and adjusting his sound with the pick-ups. At the end TOTENMOND were rattling down some punk covers and finally finished their felt-like-2-hours-and-tough-as-a-chewing-gum-set. Only positive aspect during this boring show was the fan-boarding with high percentage alcohol. That might be the reason that fans were satisfied with the show though…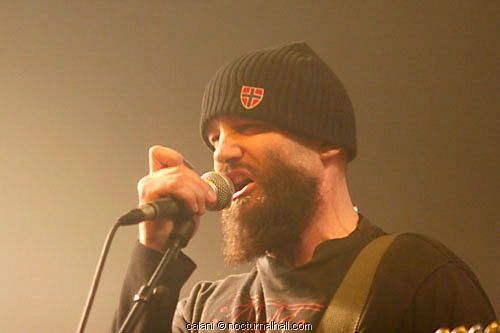 :. THE VISION BLEAK ~ admittedly get out of line a little stylistically (Gothic Metal) and polarized afterwards. And TVB explained the high female appearance in front of the stage ;) Anyway, since I have seen them performing live several times I knew what to expect from their show: they'd rock the house down to earth, grooving as hell and offering much variety. So they did and the hall was first time crowded with a wildly headbanging audience in front of the stage. But it seemed singer Allen B. Konstanz wasn't sober anymore as well, but that didn't derogate anything. Likewise noteworthy was the handling of the fans afterwards, very friendly, signing stuff and getting mugged with fans.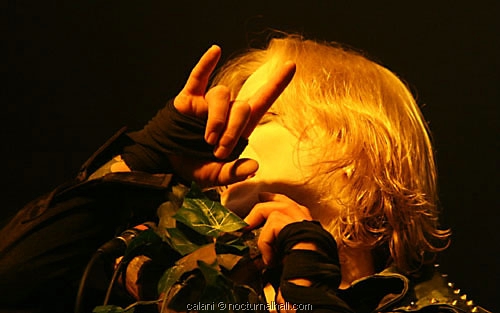 :. THE DUSKFALL ~ are probably one of the coolest Swedish-Death-exports. Once more the band had to struggle through some staff rotations but though released another masterpiece with Lifetime Supply Of Guilt. With full speed they served a thrashing, cracking set of Death/Thrash/Black Metal. Warmed-up crowd was now turning up and the band got a fantastic response THE DUSKFALL honored with free CD's and T-shirts. Great show!
:. ROTTEN SOUND ~ were thrashing in the second round of Grindcore. And again the crowd got at least twice as many songs and was downright freakin' out, creating moshpits. Just fucking, fucking great! Awesome!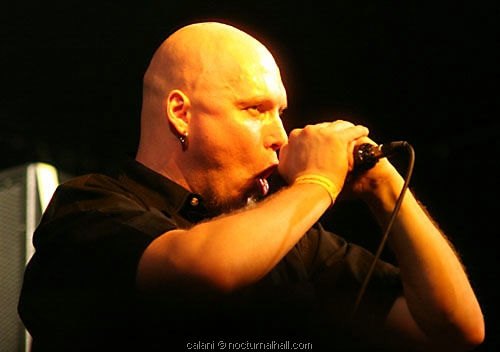 :. DISSECTION ~ took loooooong time, leaving the fans waiting… and waiting …(wasn't the rebirth of DISSECTION finished long ago?)… for 75 minutes (to be exactly) the stage was cloaked, were fans drinking themselves into coma, falling asleep and the rest bored to death. Seemed, the headliner was donnishly demanding its starting time on 11.55 pm.
Finally, lights turned out and DISSECTION kicked off their show with a cuddly candlelight atmosphere on stage. But… wtf… the sound-engineer seemingly forgot to open the knobs. First two songs were completely pulpy. Anyway, most fans didn't realize and were letting off steam sprightly, while the band obviously enjoyed goings and feedback, egging them on more and more. In almost two hours DISSECTION were really playing all songs their history has to offer. Storm Of The Light's Bane got played completely, even very old pearls like Son Of Mourning from the '93 7" EP. As a special treat fans got Priest Of Satan Jon originally has recorded in 1993 with The Black.
Setlist: Intro - At The Fathomless Depths, Frozen, Retribution - Storm Of The Light's Bane, Unhallowed, Son Of The Mourning, Where Dead Angels Lie, Soulreaper, Intermezzo - No Dreams Breed In Breathless Sleep, Black Horizons, Shadows Over A Lost Kingdom, In The Cold Winds Of Nowhere, The Somberlain // Night's Blood, Elizabeth Bathory, Priest Of Satan, Thorns Of Crimson Death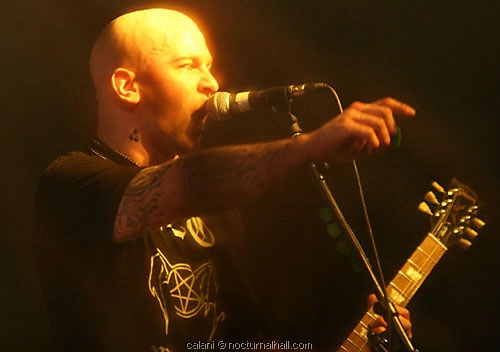 Upshot: Another great festival under the roof of BurningStage. But I guess sold ticket contingent won't make them too happy. I actually expected a sold out event. On the other hand, many international fans were attending this festival, and I don't mean Dutch neighbors from the next corner… ;) All things considered: a great evening. Just the time-hole they could have avoided…
Ok, see ya again at Tomahawk Festival ;)