To me, BRAINSTORM is the best German Power Metal band to date. Older albums of them still regularly end up in my player. Nevertheless, I pretty much lost sight of them through the recent years. I in fact gave every album they released a listen but rather superficial, en passant, so to say. I did not deal with them any closer (what a mistake!). And it seems I have never seen BRAINSTORM playing live so far. I can't remember a Show or festival and I actually did not find any live report on Nocturnal Hall nor did I find photos on my hard drives. Wow, that's odd. Luckily, BRAINSTORM have released a new album last year, their 12th effort so far, entitled Midnight Ghost, and again tour across Europe to support it. The first leg of the tour last year I missed out, but now, now I got the chance! Yeah!
So, tonight's concert evening turns out to be a special one. Three bands I know by name and their discography but I have never seen live before. I think that does not happen that often. Did it ever? Anyway, BRAINSTORM are popular, and so are MOB RULES and GLORYFUL. It does not wonder that the :: Turock :: is almost sold out, packed and crowded from the first minute on the doors opened. A cozy and sweaty night of finest Power Metal.
:: pics :: GLORYFUL ::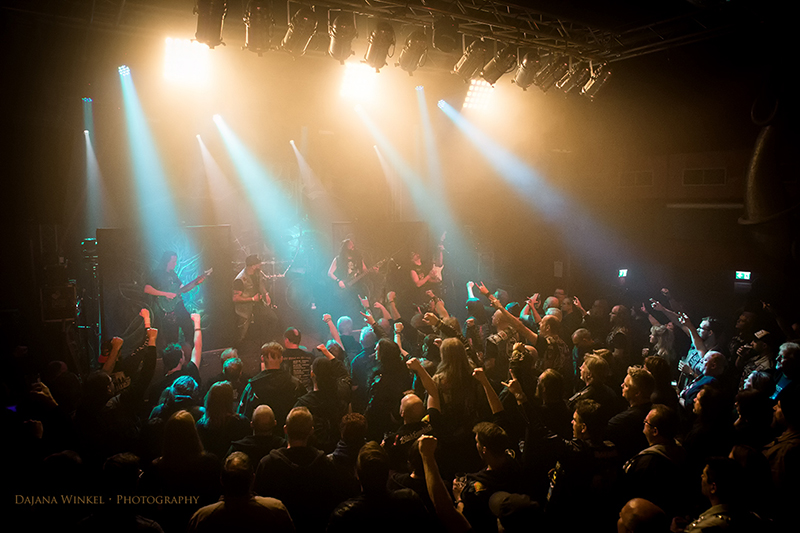 :: GLORYFUL :: kicked off the evening to the tick. Well, it is Friday and there is party time afterwards, so the club needs to be cleaned out on time. The band behaved as if the Turock was its home, which is kind of true. GLORYFUL played for the 10th time here or so. And since they come from the neighborhood and play at every crossroads everybody knows them. Except for me. Gap in education, eh?
Tonight's show was also release day and party for GLORYFULs fourth album, Cult Of Sedna. Their scant 30 minutes set included only three new tracks. The rest were older material to get the party started. And GLORYFUL did an excellent job in this matter, never taking themselves too serious. Tracks like Gloryful's Tale and The Glorriors were introduced that the band thinks they are so awesome that there was a need to write songs about ;) Witty. That was a hell of an entertaining opening!
Setlist: Cult Of Sedna (Intro), This Means War, Brothers In Arms, Gloryful's Tale, For Victory, The Hunt, The Glorriors, Void Of Tomorrow
:: pics :: MOB RULES ::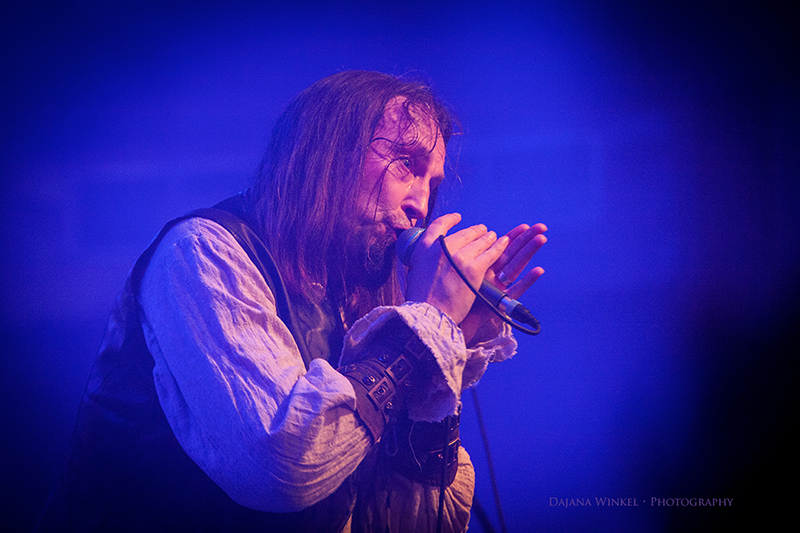 Next up was :: MOB RULES :: who celebrate their 25th anniversary. And they never played the Turock before. First night for me, first night for them. Fair share ;) Like Brainstorm, MOB RULES have released their new album, Beast Reborn, in summer 2018. But, if I got it right, they have not toured yet to support it. They do it now and they could not have found any better companion to share the stage with, musically as well as personally. Great package. The band's original guitarist Sönke Janssen could not take part in this tour and gets temporarily replaced by Words Of Farewell axeman Tristan Wegner. He mostly hid in the darkest corner (which was easy as there was hardly any light) but was dragged to the fore at the end of the show.
Again, only three new tracks were played, plus older material and two classics. Most of the songs were brisk and snappy and even fueled the already great and hot atmosphere. Raised fists and swinging hips everywhere. That's the way it has to be!
BUT… guys. What fucking shitty lights did you have? Nothing to see on stage. That was a turn-off. Really. Such kind of music, lyrics and concepts downright demand an excellent light show. And the Turock has enough lights to do it great! Ah damn… what a pity. It was great but could have been awesome.
Setlist: Intro, Ghost Of A Chance, Somerled, Black Rain, Sinister Light, My Kingdom Come, Last Farewell, Children Crusade, On The Edge, (In The Land Of) Wind And Rain, Hollowed Be Thy Name
:: pics :: BRAINSTORM ::
Backdrop down, backdrop up, covers off, ready! In no time :: BRAINSTORM :: entered the stage and broke into Devil's Eye, the opening track of the new album Midnight Ghost. The band was so frenetically welcomed that singer Andy B. Franck was left speechless. His happiness was painted on his face and thousand times he said thank you. And he certified the Turock crowd the highest level of craziness ;) Many fans seem to follow BRAINSTORM on their current tour. Andy recognized faces from the last show in Hamburg. Other ones he knew personally for a long time and said hello to them personally.
Meanwhile the club turned into a hot sauna Finns would be jealous of, with an audience brimming over with enthusiasm and dedication. Goosebumps-feeling! I did not expect that.
BRAINSTORM look back on a 35 years and 12 full-lengths spanning history. They played half of the songs from their new album Midnight Ghost and very old stuff. The band made tonight's show very special. For the very first time they played Divine Inner Ghost live and they played Jeanne Boulet (1764), the favorite song of fronter Andy he is especially proud of, so he told.
Yeah, indeed, BRAINSTORM nailed it. Such likable band and guys. I actually did not want to stay till the end due to an early shift next day, but I was not able to leave. Neither was the band. An encore, one more encore, and the fans still were chanting for more ;) But sometimes even the best show must come to an end. It was truly a pleasure! Except for the lights it was a stunning concert evening. Yes, it was!
Setlist: Intro, Devil's Eye, Worlds, Falling Spiral Down, Trinity Of Lust (Shiva's Tears, Forever, Soul Temptation), Revealing The Darkness, Divine Inner Ghost, End In Sorrows, Highs Without Lows, The Pyre, Jeanne Boulet (1764), All Those Words, Firesoul, Ravenous Mind // World To See, Fire // Under Lights