Everybody who is even just a touch into Punk should have seen a BALZAC show at least once in life, which is – admittedly – not that easy for us Europeans. So called "more stylish Japanese Misfits" have quasi left the originals behind. If they are clones, copycats or just unique, many heads are still arguing. But with the legitimation of the Misfits itself BALZAC already have achieved cult status. Now in support of their brand new album Came Out Of The Grave, BALZAC is touring Europe for the very first time, leaving enthusiastic fans show by show. I and myself could not resist either when the Atom-Age Vampire 308 Express quasi stopped at my door. And this evening had so much more to offer. There was much to see, even much more to learn, about the Japanese culture per se (I'm very interested in), present Japanese generation, huge Hardcore and Punk scene in Japan and a strange sub-cultural group.
:: pics ::
:: THE OTHER :: are way more known under their alter ego Ghouls – European 1# Misfits cover band. But no matter if you take them as Ghouls or THE OTHER these horror punks from German Rhine area breathe the Misfits with every fucking pore and continue with what is supposed to be their legacy. You will not find that many varieties of music wise between all involved parties. Just the fact that THE OTHER play own material, of course in the veins of mighty Misfits. Not meant to be a bad thing since THE OTHER stand behind of what they are doing with convincingly truth. But it seemed the final spark did not want to jump over. Either the crowd was too lame or the gentlemen Roderich Usher – vocals; Sargeant von Rock – guitar, backing vocals; Andy Only – bass, backing vocals und Dr. Caligari – drums were lacking of a certain grain of energy and spirit. Generally speaking the audience liked what they got though since the band got more than just a courtesy applause. Fans can wallow in expectations, and then the very first full-length entitled They're Alive is set for a worldwide release on August 16th through Fiendforce Records.
Setlist: Ripley 8, Army Of Machines, Tarantula, Imp Of The Perverse, Beware Of Ghouls, Wolf, Arise Undead, Return Of The Repressed, Hyde Inside, Down, Invasion, 666 Ways To Die, Dead Boys // Misfits – Halloween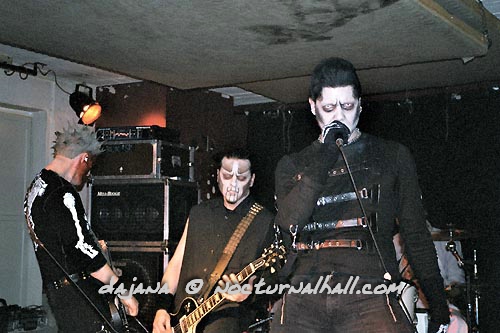 Whoever has accused :: BALZAC :: of being a Misfits plagiarism has either never listened to Misfits or BALZAC respectively. Of course there are significant influences since the Misfits are the big idol for the band for ages. But BALZAC made the step to emancipate and to develop themselves, doing their own thing. While the gents were utmost disciplined and professional in the run-up of the show, they downright exploded on the small stage. Delivering what seemed to be a stunning firework display of good-humoured punk. Considering I'm not into the punk scene, but these cats captivated me right from the start. The fans at this well-attended location Gleis 22 were freaking out already with the first tones of the intro, which brought me some bruises in the twinkling of an eye ;) After touring for 4 weeks these Japanese were used to bursts such like this one and even knew how to top it. An amazing show for one must to see! BALZAC is a great live band to experience!
Setlist: Zetsubou No Ano Basho; Day The Earth Caught Fire, In Your Face, Silence Of Crows, Season Of The Dead, Inside My Eyes, Zennou Naru Musuu No Me Ha Shi Wo Yubisasu, Came Out Of The Grave, Art Of Dying, The World Without End - The Pain Is Not, The End Of Century, Into The Light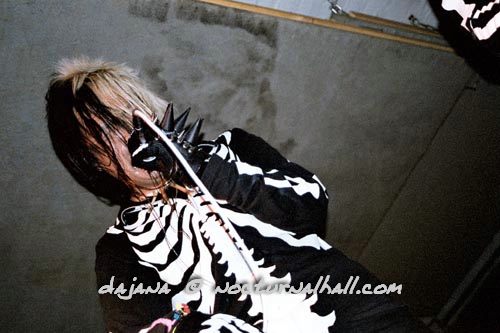 Well, I guess approx. 130 people attended at Gleis 22 and the audience was quite varied, which is a good thing. Everybody seemed to have fun, although some bottles of beer got broken – risky thing when you have such a wild mosh pit. After the show I got to learn about a sub-cultural group of so- called "Trash-girls" ;) These are girlies, that looking like a mixture of Goths and Punks, having cuddly handbags with many buttons on it, hunting their darlings for a photo or an autograph for their diaries. According to Tilo from G-Force Records it is a classic phenomenon in Japan, that now seems to carry on over Europe too. But I guess it is as with many things concerning Japanese way of life, you will first understand it, when you have visited Japan and experienced these things by yourself. Well, it was really amusing to glance at them. These trash girls might be a little assertive at times but the Japanese are generally downright polite and patient.
Getting to this ending mark here, let me say thank you to Jörg "Lobi" Lobedan for his translation duties during the interview and both Jörg and Tilo for all of their explanations regarding Japanese culture. I have learned a lot and had a terrific evening!