Spark*n Bow ~ Taers Of Mystigma ~ Eve Of Destiny ~ Anonymus IV
I'm not really sure if the first issue of ASTAN FESTIVAL in this year's June was a success, but the crew of German Gothic Magazine seemed less afraid and came up with a second edition 4 months later. And what a better day would fit than Halloween! Again a location called Cultura was booked, a nice, central and spacious venue next to the main station. Another recidivist has to be the Japanese duo EVE OF DESTINY, who already killed the stage at first ASTAN FESTIVAL, leaving the fans freaked out. If this was a successful evening – I doubt. As of lately this event also was suffering from guests. For a (quite expensive) mite of 15 € (8 € at first Astan fest) around 100 people got lured into a hall, where 500 people might fit in (ok, seems I was wrong, according to the organizers more than 200 people were been there). Good thing is that the first 100 (practically everybody) received 2 older Astan issues (with a CD included) and a sampler for free. Not a bad catch to attend a show!
:: pics ::
:: ANONYMUS IV :: is a band with a name that already has an ancient musical background (this anonymous cleric is one of the earliest sources of the term "Bordunus") and freshly was founded by our reviewer Ole, former keyboardist of the native Gothic band Neon Dream. On this evening ANONYMUS IV not only opened for the Astan fest, but also gave their first ever live debut. One might imagine how edgy the band members were. At least live Ole did hand on the keys to someone else, taking over the duties behind the mic. Additional support came from female singer Julia, so that it got very crowded on the tiny stage (not to mention the neck-breaking chair as stage stair). I do not know, why the organizers did not use the full capacity of room for the stage … Musically speaking A IV try to tie serene but melancholic rocking tunes, touching different styles and influences ranging from Gothic fields, Rock, Alternative and Hard Rock fields, gathering a sophisticated repertoire. First aural impressions can be heard on the demo Larger Than Life, recorded in summer 2004. There is certainly to work on things here and there, but musically there is nothing to nag about. Well-done live debut!
Setlist: Tragic Hero, Belief, Another Racking Call, Legacy, Irony Of Fate
:: EVE OF DESTINY :: had not even arrived at scheduled time, causing some trouble. EVE OF DESTINY was intentionally placed as second band on stage because many underaged fans attended, forcing the organizers to deal with some protection-of-minor laws. So it took some longer time to "change the backline". Anyway, afterwards the audience faced real legends, since singer Haruhiko Ash (ex The Zolge) and guitarist Kozi (ex Malice Mizer) can truly be called "cult legends" in the Japanese visual kei scene, which now and slowly attracts attention in Europe (the visual Rock style in Japanese started out in the 80's), setting sort of a new wave off. Just started EVE OF DESTINY kicked me somewhat out of my socks. Wild and wilful Industrial-influenced noisy EBM tunes blown me away. Have to admit I love that blend of styles. The audience needed to repress themselves as well, since one of the magazine organizers promised to break up the entire show if (hysterical) fans enter the stage. The ecstatic chaos got even heated up when a guitar string broke and both Haruhiko Ash and Kozi left the stage. It seemed that the cats were slightly unmotivated, on edge and drunk (maybe it was still the jet lag and the long trip from Berlin?), showing a rude site that is quite unusual for Japanese. The fans were screaming "mo ichido" heatedly and for minutes, verbally dragging the band back on stage. At the end EVE OF DESTINY have delivered an intensive, wild and energetic headliner show. I liked it tons and can hardly await to get their first output Nervous And Innocence in me fingers (European release date on December 12th)
:: TEARS OF MYSTIGMA :: got pretty stitched afterwards, since everybody left the melancholic Goth rocker for an autograph session with Eve Of Destiny. Speaking my mind here it was admittedly quite unfair. The band itself was not thrilled either, especially since the remaining people did not take much pleasure in listening to the band's material. To be honest, I liked the songs on the band's homepage (e.g. Insomnia from forthcoming album Universal Surrender) more than what I got to experience on stage. Shit happens and life happens! Hopefully there will be better shows attended in the future (crosses fingers).
Setlist: Intro/Insomnia, Universal Surrender, Mirrorblade, Tomorrowless, Heart Broken - Left And Thrown Away, Wrong With Me, Thoughts Unspoken, Higher Circumstances, The Corridor, I'm IN Hate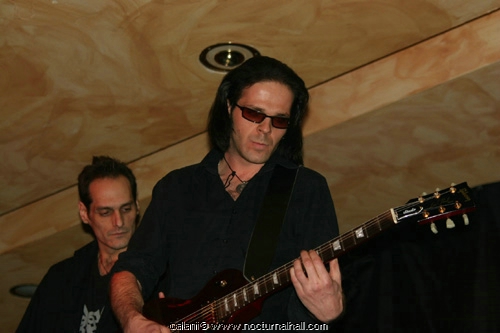 :: SPARK*N BOW :: has to be the second highlight on this evening – no doubt! The band's name was familiar to me but I never have heard anything from them or did see them play live. Shame on me since it is another band from my hometown. Bad Cal, bad Cal… and it seems I missed something special…
With their blend of Gothic, Wave, Folk and deep-melancholy violins SPARK*N BOW spread moving energy, enchanting the audience in no time. Especially vibrant front woman Bibi knew how to allure the fans with her voice, light gadgets and candles, was roaming the mesmerized audience and coquetting with the fans or started to recite. A fantastic and exclusive show! I just hope that we can expect any output soon. And I wanna seem them live again!
Setlist: Parents Mad Song, When May's Inside You, Ballad Of The Butcher's Son, Folsom, Shadows Will Survive, I Saw I Heard I Died, Down, Highlands, Summerroses And Winterdreams // Direction Nowhere, Come On Board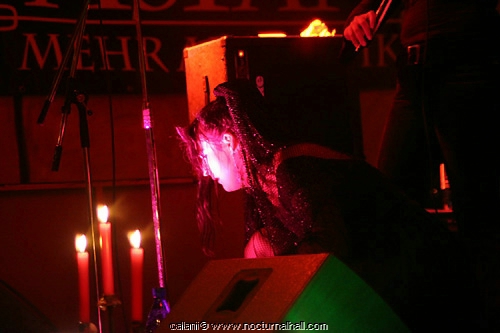 No matter, if this evening was a success or not for the organizers (would be a shame, if not), but it was a nice one for me! I had a great Halloween party blast and have broadened my horizon. Afterwards I got comfortably wasted at the Sputnik hall, where the aftershow party took place.
Fortunately I had changed me shift, because this time I would not have made it to work on time (as I did 2 days ago;)) And of course no show with the Calii without some chaos around… ;) (To the ones that know me this goes hand in hand). This time it was a small lilac wristlet, I thought I got coz of press stuff. Later this evening (after a few beers) they informed me that this wristlet was branding everyone over 18, allowing them to stay until 1am at this venue and to consume alcohol. Of course, I did not believe that and asked the organizers … and of course, it was true! But other than that there was no need to mention that my face let other ones laughing their asses off… Alcohol wristlets (*shakes head in disbelief*)… tststs… Thanks to the organizers for such a funny evening & cheers!