When freaky Finns set forth to conquer Europe, once again, be sure they have cellos on board. With their seventh album released, simply entitled 7th Symphony, APOCALYPTICA hit the road again for a month long running European tour.
I saw them in 2007 on their last tour for the very first time and was much enthused, so that there was no question, where to be on October 28 ;) The E-Werk in Cologne had to house a huge amount of fans eagerly awaiting the show to kick off.
:: pics ::
On time support act :: LIVINGSTON :: got onto stage hearing the first rows screaming. I didn't know the band before and had just a short listen on myspace. Nice Alternative Rock so I thought and got then blown away ;) This London, UK-based band emerged as a multicultural powerhouse with members from South Africa, UK, Germany and Italy, recently relocated to Berlin. When LIVINGSTON played Broken I realized that I heard of this band though, since that is sort of a smash hit with lotsa airplay (just as the current single Go). Ok, such band as support of Apocalyptica? Does that work? Oh yes, it does ;) Since Apocalyptica do appeal to many more fans than just metal heads LIVINGSTON in fact got well received by the crowd. LIVINGSTON performed much lively and energetic and the guys seemed to be in best mood, were talkative and visibly had a blast on stage. Yes, it truly was a pleasure to see them playing live. Me likes ;)
Recommendation: Check out LIVINGSTONs website for the 3 exclusive German shows to follow right after the tour. The guys are going to present brand new tracks from the almost finished sophomore ;)
Setlist: Smile, 6 By 4, Whatever, Disease, Broken, Man Overboard
But of course, the real highlight everybody was here for had to be :: APOCALYPTICA :: The venue was now much packed and the atmosphere right from the beginning more than just rompy. Eicca Toppinen started to master the audience but when Job Tipe Jonson (Leningrad Cowboys) took over the job for a couple of guest vocals (would have loved to see Gavin Rossdale at End Of Me tho ;)) he did it even better with his mix of German, Englisch and Finnish language, telling about his wet dreams… of the APOCALYPTICA drummer… when he played cello too *lol* Headword for Mikko Sirén, he left his kit aside and played the cello for Beautiful. Beautiful indeed ;)
Just to top scenery and the frolic atmosphere Perttu Kivilaakso took over and… erm… introduced the band, making the crowd laughing all time. Girls got especially pleased seeing some members getting undressed. Guess what… tongues on the floor and drooling *laughs* can't deny that is was a delicious view… ;)
Setlist: On The Rooftop With Quasimodo, 2010, Grace, Master Of Puppets, End Of Me, I'm Not Jesus, Refuse/Resist, Beautiful, Sacra, Bittersweet, Last Hope, Bring Them To Light, Seek & Destroy, Inquisition Symphony / At The Gates Of Manala, I Don't Care, Hall Of The Mountain King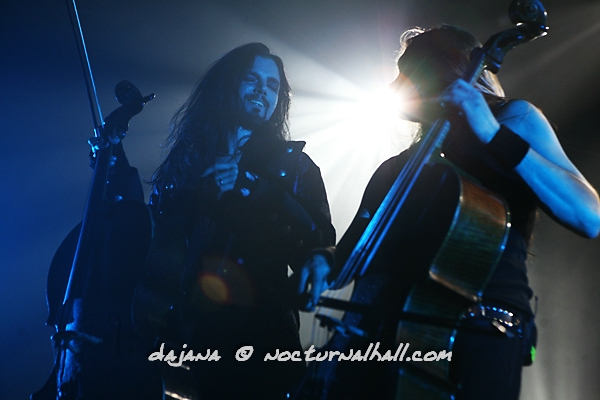 However, APOCALYPTICA played over 1 ½ hrs and left stage under frenetic applause. Fans screamed and chanted for more and got pleased with three encore songs in a row. Supported by a great lightshow fans experienced a fantastic highly energetic show full of fun and entertainment.
I guess the three quiet songs in the middle could have been placed in a better way, on the other hand, they gave us the time to take a breath, before APOCALYPTICA started to rock the hell out of Cologne again. Because they did! Definitely!