An exceptionally wonderful concert evening VIC ANSELMO and Mick Moss of ANTIMATTER brought us on this cold Tuesday evening. Weather patterns have its twists and turns today, ranging from sun, rain, snow and hail, all at the same time, just to mention…
I am a fan of ANTIMATTER since their beginning and saw them playing live back in 2003 (still with Duncan Patterson in their ranks), as show as intensive as touching. Music to die for… I also got already enchanted by VIC ANSELMO supporting Deine Lakaien and I love her two records. 2012 has seen Vic joining Mick to contribute guest vocals for ANTIMATTERs new record Fear Of A Unique Identity and now both protagonist go on tour acoustically, making a stop in Bochum at the • Kult • bar. It is actually the tour kick off, the very first show. And this show was per se meant to be stunning! After enjoying an extraordinarily delicious Sushi dinner I entered the Kult and first scooped out the merch… ;)
:: pics ::
The Kult is per se a nice location, more a bar than a club, where people usually watch soccer games there or have some karaoke fun. It is not really suitable for shows as the place where the musicians act is on a higher platform over the stairs down to the basement. Means, people have to look up the band that was playing behind a railing. Suboptimal. But it didn't do any harm to the mood and audience. Sound was great, lights… well, no hard feelings!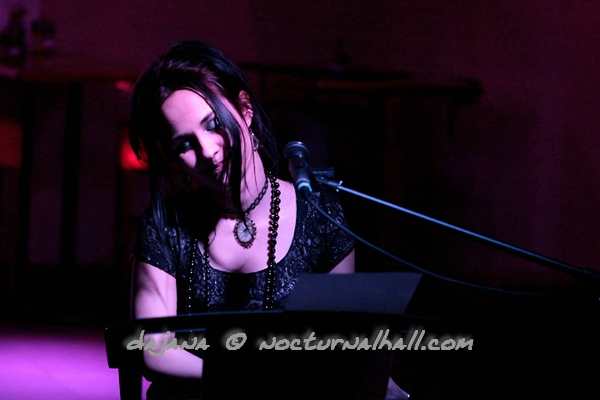 It takes another our till :: VIC ANSELMO :: is ready and takes her seat behind her electronic piano, intoning Who? with cold fingers. Causes goose bumps. Already. This petite woman with this big voice. So clear, so powerful and such a wide range. VIC ANSELMO has a huge talent for melodies, drama and theatrics. She laughs, she smiles, she sighs, has big eyes and small squeaks, depending on mood and intention of the strophe, phrase and line. And she is an exceptionally gifted piano player and creative songwriter. That she misses the text in Open Wide makes her just more likeable, just as much as her response: "A lesson learnt, I'm not a machine, I forget lyrics" ;) Hardly an hour and she is done with her journey through her both records Trapped In A Dream and In My Fragile. Unfortunately. But just for a short period of time…
Setlist: Who?, Basilisk's Eyes, Underwater, Open Wide, Horizon, I Am The One, Wellspring, Bone's Blues, Tumsha Nakte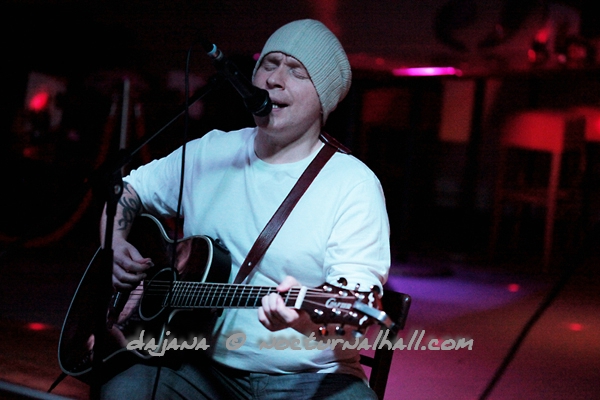 …As she of course accompanies Mick Moss too, who jumps onto "stage"… just to tune his guitar. A little later he finally kicks off with Over Your Shoulder from the :: ANTIMATTER :: debut Saviour. Also Mick Moss has cold fingers and so both rub their hands unanimously during the song breaks. One of those Mick uses to tell us that his manager wants him to tell more often things during these breaks, says: "that's it" and this was his only announcement. Be sure he scored ;) Mick has some minor problems, starts once wrong and is at odds with the piano measure once or twice. Mick and Vic wonderfully harmonize but need to play together more often (as they will do on this tour ;)) Here the piano is a little bit too dominant, killing the quieter guitar parts. But again, no worries, no harm, the concert is wonderful, intensive, intimate. Both voices just creep under your skin, make you closing your eyes and dream away. An outstanding experience, a grandiose show, didn't I already mention? ;)
Setlist: Over Your Shoulder, The Last Laugh, A Portrait Of The Young Man As An Artist, Monochrome, Here Come The Men, Leaving Eden, Power Of Love, Angelic, Conspire, Fear Of Unique Identity, Uniformed And Black, Saviour, Redemption, A Place In The Sun, Fighting For A Lost Cause // Where The Wild Roses Grow // Working Class Hero