Three days later (after I attended Kataklysm and Co.)… same venue, the bigger room, this time very crowded with more than 700 fans. The evening made way for the Swedish warriors AMON AMARTH, supporting their brand new album Fate Of Norns, that even entered the charts European-wide (German chart entry #31!). Of course, I have seen the Swedish lads quite often playing live, that's the reason why I'm here tonight, but the bonus is – without a doubt – DISILLUSION, Germany's finest progressive Death Metal export, that finally made it on a bigger tour trek to enchant European fans with their outstanding album Back To Times Of Splendor.
:: pics ::
::. IMPIOUS ~ started letting off steam with Hellucinate that just came hot off the presses. After a short intro the mates served a full broadside of finest Swedish Thrash/ Death Metal. The fans got what they were longing for so that there was no need for singer Martin Åkesson to convince the attentive and mostly quite young audience and letting them freakin' out. Of course, the band focused on the new material, but they also made to squeeze two songs from legendary The Killer album (2002) in between. What struck me odd: even live IMPIOUS' sound was in contrast musically acquainted in variation to the bands of The Haunted and partly The Crown. I think, this way these gents lose quite a bit of their own identity. There is not that much room left for new musical tendencies, like in Suicide Park from Hellucinate album …
Setlist: Intro, Inject, Hellucinations, Wicked Saints, Death_Wish_Scar, Show Me Your God!, Burn The Cross, Toxic Paranoia, The Deathsquad, Infernique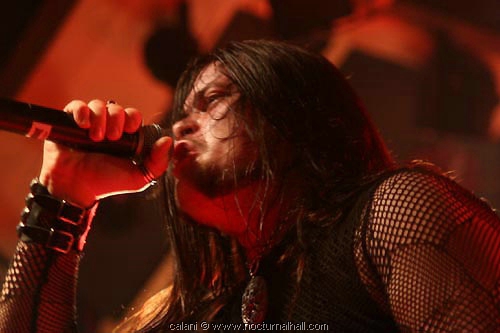 ::. DISILLUSION ~ also just got 40 minutes of playing time. That was enough for just three tracks! As singer Vurtox explained in the interview I've done prior the show: DISILLUSION see themselves just as a colored splash on this tour, leaving sort of a musical card… which is bollocks regarding the German crowd. The band's masterpiece Back To Times Of Splendor is in everybody's ear, so they got celebrated the way they deserve. The show was somewhat quieter, more intellectual as with Impious, but luckily the audience got access to the more sophisticated music :) DISILLUSION just let themselves flow with the magic of their own music and delivered once more an awesome show of quiet and heavy tones. But admittedly, I agree with the "colored splash", at least as a band between Impious and Amon Amarth… ;)
Setlist: Back To Times Of Splendor, Alone I Stand In Fires, The Sleep Of Restless Hours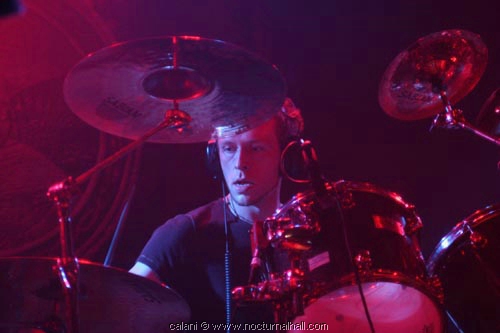 ::. AMON AMARTH ~ kicked off right off the grip and lived up all expectations. I think, there is no need for too many words about an AMON AMARTH show. Everybody knows what will close in. Right from the first second the fans were been on a boiling temperature, mosh pits were formed and crowd divers started their rides on the masses. The audience was as violent as the band was on stage, while the Swedes shot song by song from the new album at the masses, banging their heads off and always drinking from their beer-filled horns. Two hours of an energetic eruption that did not leave any prisoners. Two hours, where the Vikings played most of the songs from Fate Of Norns and kind of a best of through the rest of previous albums.
Setlist: An Ancient Sign Of Coming Storm, For The Stabwounds In Our Back, Fate Of Norns, Masters Of War, Valkyries Ride, Bastards Of A Lying Breed, Pursuit Of Vikings, Once Sealed In Blood, The Sound Of 8 Hooves, Last With Pagan Blood, Vs The World, Death In Fire, Victorious March, Bleed For Ancient Gods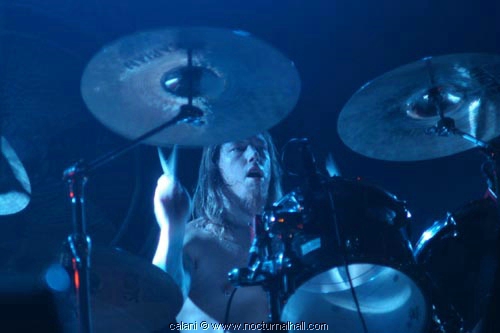 Final words: Great show! ;) And I'm sure this location did not house such masses for ages. They seemed to be surprised by this run. The girl, and sometimes added guy behind the bar could not handle the duties and one had to wait for ages for a drink. Since they started early with the shows, they stopped early, to give the ground free for the Saturday-night-Pop-posers. Well, if they would have set off a Metal after show party/disco, 700 paying guests would have brought much money into the cash. Shit happens, guys!