Yes, that I call a phat package! Swedish Vikings of AMON AMARTH have started another raid across Europe. But they not only maraud and burn down but bring us their latest number 1 effort Berserker ;) AMON AMARTH are already a force all alone, known for bringing excellent and entertaining shows. But, as if that were not enough, they invited their compatriots in ARCH ENEMY and HYPOCRISY to join the raid, an extraordinary Swedish Death Metal package deluxe, so to say ;) It (almost) cannot be any better.
Expectations are high, anticipation is huge, the venues too. Seems, AMON AMARTH really want to put their popularity to the test and booked the big halls for the Berserker World Tour. Since there are no 7k/8k locations in the Ruhr area (which mostly were sold out on this part of the tour), they decided for the :: König Pilsener Arena :: in Oberhausen, which was packed with approx. 8500 fans but not sold out.
As usual for the city Oberhausen and especially for the area around CentrO - the traffic was brutal. Even more during the Xmas-time. As already experienced 3 weeks ago, I got stuck in sight of the venue yet made it on time. Phew. I would have killed someone if I had missed HYPOCRISY!
:: pics :: HYPOCRISY ::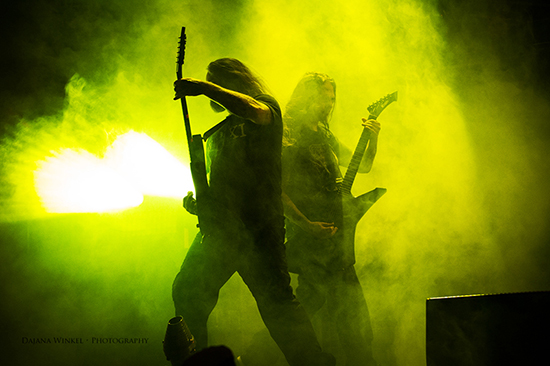 No time left for anything. :: HYPOCRISY :: got on stage early and exactly on time, while the arena was still slowly filling. There is still no new record in sight, not even a note, if the upcoming one is recorded at least (as promised for the summer). Peter Tägtgren rather plays man and woman with Till Lindemann instead or works on other people's music ;) Of course, that did not do any harm to the show and once again, we got a set of classics, highly cheered and enjoyed to the max ;)
Opening with Fractured Millennium HYPOCRISY kicked off heavily. A deep sigh escaped my chest – how much I love this special HYPOCRISY sound!
For fleeting 30 minutes, the Swedes gave their best. The show was so short that it felt like a spook. Did it even happen? Can you please repeat? The crowd enjoyed the show as much as I did, the response was enthusiastic at every song. And there was even light on stage ;)
Nope, the final chapter has not been written yet for HYPOCRISY. There is still much more to come. And I will always love to see and hear them forever. I just wish, more people would have seen them play. Great show! And now, Peter, get that fucking new album done!
Band: Peter Tägtgren, Mikael Hedlund (bass), Reidar "Horgh" Horghagen (drums), Tomas Elofsson (git)
Setlist: Fractured Millennium, Adjusting The Sun, Fire In The Sky, War-Path, Eraser, The Final Chapter, The Gathering, Roswell 47
:: pics :: ARCH ENEMY ::
Hardly out of the arena, the photographers had to gather again to get escorted down into the pit for mighty :: ARCH ENEMY ::. After a short intro, front woman Alissa White-Gluz jumped onto stage with a big roar that was tremendously replied by the audience. What a welcome! The arena was meanwhile packed, the photo pit too, as the show was streamed live for German/French TV channel ArteTV/arteCONCERT (watch it HERE till Jan 15)
ARCH ENEMY got off the grid with The World Is Yours from their 2017 album Will To Power, and generally focused on their last three records, with a few classics in between. Some might already long for some new material, but, as Michael Amott mentioned in an interview, the band has only started to gather new ideas. So, new songs are far ahead. Luckily no tracks from the (to me) useless Covered In Blood album were not played either.
Alissa, of course, utterly owned the stage, was prowling or jumping off the drum riser. With her studded bat sleeves jacket she looked like batwoman. Guitarists Michael Amott and Jeff Loomis rarely left their stage positions, while drummer Daniel Erlandsson was hardly to be see behind his kit. Bassist Sharlee D'Angelo stood anywhere between, while Alissa was whirling around all of them, growling and shouting.
As known, ARCH ENEMY played a technically perfect, highly energetic show with finesse, aggressiveness, and non-stop ferocity. A professional performance of a band with great musicianship yet played done too routinely.
Band: Alissa White-Gluz, Jeff Loomis, Michael Amott, Sharlee D'Angelo, Daniel Erlandsson
Setlist: (Set Flame To The Night - Intro), The World Is Yours, War Eternal, My Apocalypse, Ravenous, Under Black Flags We March, The Eagle Flies Alone, First Day In Hell, Saturnine, As The Pages Burn, No Gods, No Masters, Dead Bury Their Dead, Nemesis, Enter The Machine
:: pics :: AMON AMARTH ::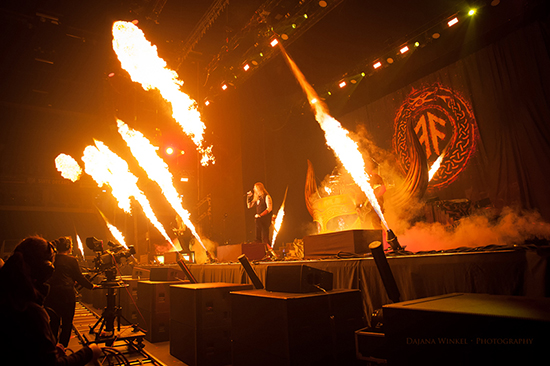 Hidden behind a black curtain with big Berserker letters the equipment was completely changed. I had finally some time to take a breath, to look around merchandise and to get me a cool drink in a fancy :: AMON AMARTH :: cup ;) Shirts could be bought for 30 Euro, zipper for 70 Euro and a very special for 100 Euro. Same for Hypocrisy. Arch Enemy merch I have not seen. Ok ready, let's enter the fire battle ;)
Brought down to the photo pit again we were met with a briefing from both venue security and the AMON AMARTH team about all the fire that was about to go off and how to keep ourselves safe, as there were still the camera people in the pit too.
When AMON AMARTH speak of their biggest and most ambitious tour production to date, it is meant literally. After Iron Maiden's Run To The Hills as an intro the curtain fell with a big bang and set the arena under fire with Raven's Flight. Also Death In Fire lived up to its title, while at Runes To My Memory those burnt. The fire instructor was right, it became cuddly warm in the pit with pillars of fire 16 m high.
In May, AMON AMARTH have released their 11th full-length Berserker, they only played four of the twelve songs from. They rather relied on fan-favorites and classics.
The show itself actually has not changed that much from the ones in previous year: The Viking helmet as drum riser was a bit higher, with more animations behind the "eyes". Changing backdrops as well as battling Jormsvikings have been there at The Way Of Vikings, the mighty hammer Mjölnir with whom Johan Hegg heralded the last battle and of course the serpent at the end of Twilight Of The Thunder God. The burning runes were new, the golden confetti and the figures at Guardians Of Asgaard I think. And there was much more fire this time ;)
However, Johan Hegg did his chats in German language and scored. Fans were thoroughly enthused, from the first up to the last minute. Every song was sang along, fans jumped on demand at Crack The Sky and created moshpits, while crowd surfers kept the security busy. What a show!
Tonight was the last German gig and the second to last show of the European part of the Berserker World Tour. They might have been tired and exhausted but still, the band was in high spirit, had visibly fun to perform and to burn down the stage ;)
What's left to say? Sure, the whole show is much of theatrics yet a great and entertaining performance. It is truly a pleasure to see AMON AMARTH play live. But also without all that, the music itself would have stood the test. This way it is just more fun.
Sound and lights have been excellent, ticket prizing fair, and merch prizing was ok. Nothing to nag about, really. Stage setting and fires were awesome. There cannot be enough fire at all ;) Next tour I expect the band's own road tanker for the shows, the Rammstein style ;) I left with a happy face ;)
Band: Johan Hegg, Johan Söderberg (git), Olavi Mikkonen (git), Ted Lundström (bass), Jocke Wallgren (drums)
Setlist: (Run To The Hills, Intermission), Raven's Flight, Runes To My Memory, Death In Fire, Deceiver Of The Gods, First Kill, Fafner's Gold, Crack The Sky, The Way Of Vikings, Prediction Of Warfare, Shield Wall, Guardians Of Asgaard, Raise Your Horns // Pursuit Of Vikings, Twilight Of The Thunder God